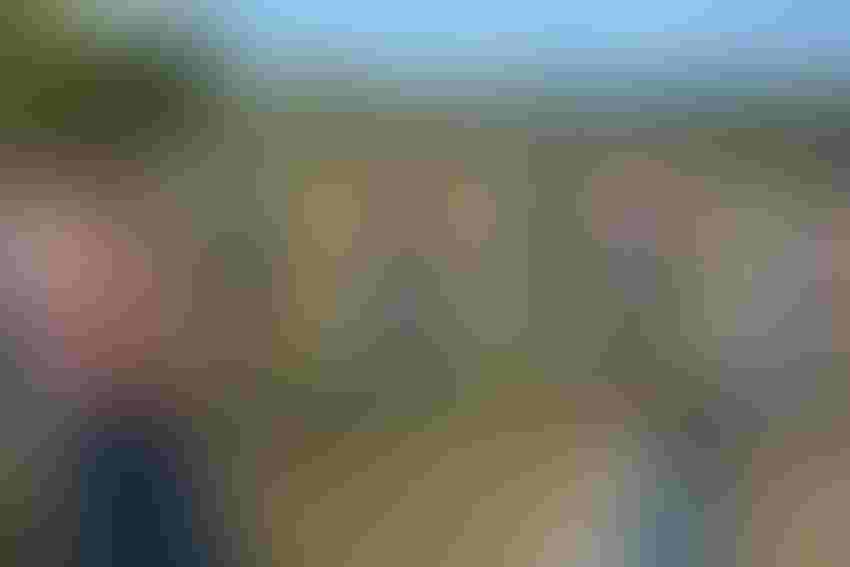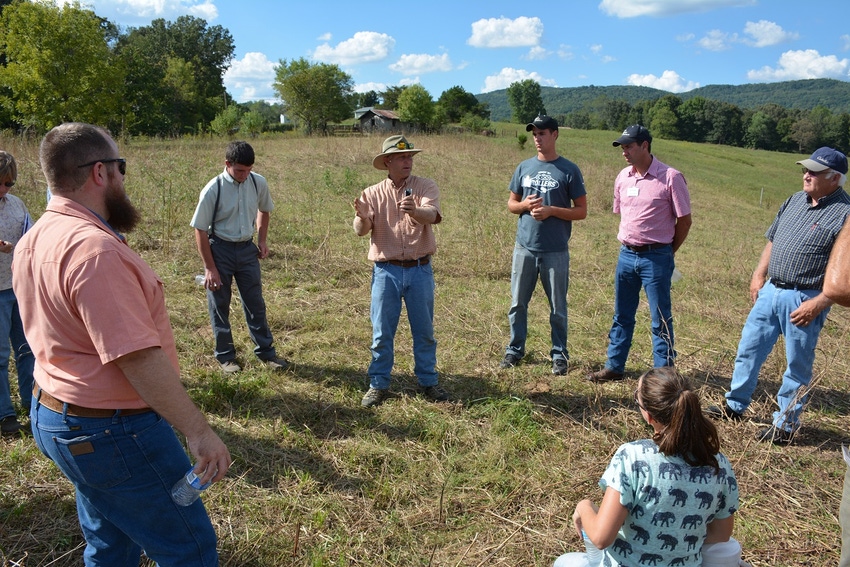 Missouri grazier and soil health specialist Doug Peterson talks about warm-season forages as soil builders at R.P. Cooke's ranching school in September.
Alan Newport
At our 499 Ranch College back in September we spent a lot of time demonstrating soil health increasers that lead to animal health and profit improvements.
Doug Peterson, NRCS soil health specialist and rancher from northern Missouri, explained how most soil growth could be produced only with the near-complete growth and expression of tall, warm-season (C4) plants, mostly grasses.
"You are not going to build any new soil with the cool season (C3) plants," he said. "They will hold soil and produce some feed but not grow the soil."
Hopefully, we also showed everyone at the ranch college how we plan, grow and manage a standing haystack, that grows from late May through December and beyond. From a management and animal health standpoint stockpiling of fall-grown forage for winter grazing is another road to failure. Several reasons for failure of fall stockpile that I have seen are listed here.
1. Lack of late summer and fall moisture. Remember that soil health and structure and organic matter are necessary to successfully catch and utilize moisture. We are required to help our soil grow and get in shape in order to succeed every year.
2. Clipping pastures in August or September is a mistake. Outbreaks of pinkeye are more common in clipped pastures than in pastures that are left standing. Ditto the same remark concerning footrot. Clipping also tends to take out a lot of plants that the cattle, wildlife and birds need. The cattle need the other members of the ecosystem. Also, we are not going to ask the cattle to pay $10-15 per acre for clipping pastures.
3. Chemical fertilization of pastures in the late summer is a mistake. The same is true of early or mid-fall application. A lot of folks are still recommending applications of 33 to 66 pounds of nitrogen per acre to fescue-based pastures in the fall. The cost locally is 44 cents per unit and spread costs $7 per acre, for a total of $24.60 per acre to put on 40 pounds of applied nitrogen. On 100 acres this would cost $2,460 to prepare for Winter. Hopefully the cattle were removed and it rained. The cattle are strip-grazed starting in early December through January and we might get twice the amount of fescue growth. The problem is the cost, the maybes, the cattle market, and the health of our cattle.
Cattle health and profitability are a necessity in the ranching business. Forage availability, mineralization, energy level, soil health, moisture capture and utilization, and plant diversity are all closely interrelated. Forage energy is most often the limiting factor of production. Lack of mineralization and lack of plant diversity are major health problem causes with the cattle.
Nitrogen application grows fescue and other C3 plants in the fall if it rains and the fescue responds with growth. The grass needs to be 4" or taller and the cattle need to be off-site. Fall-applied nitrogen also results in increased fescue growth in the spring. With few exceptions, this means non-protein-nitrogen (NPN) levels in green fescue will be a problem.
Such fescue requires dilution to be valuable. Lots of other forage, energy supplementation, and usually hay are required to keep the cattle healthy after 4 to 6 weeks grazing lush green fescue.
Quality warm-season plants cannot get started in April and May under a sea of cool-season forage, whether it is bluegrass, fescue, smooth brome, ryegrass, or another C3 species. The result is poor cattle production and health, grass stems and seed heads without biomass.
Remember that chemical nitrogen burns up soil organic matter (SOM) and SOM is our secret weapon for success. Remember also that the summer slump is actually started in May by the overgrowth of cool-season plants. The work and money expenditure of stockpiling fescue is often another way of shooting yourself in the leg and cattle health and performance can also suffer.
To summarize, I will just say that programs based on growing a bunch of cool-season grasses and fescue in pretty pastures are destined to failure. Before jumping on the wrong wagon make sure you have looked at the whole situation. Calves that bring $500 in 2017 will not pay the cost.
Subscribe to receive top agriculture news
Be informed daily with these free e-newsletters
You May Also Like
---