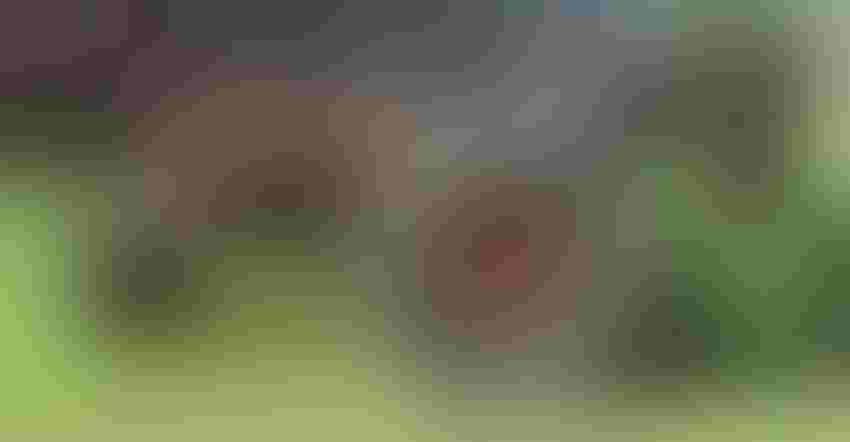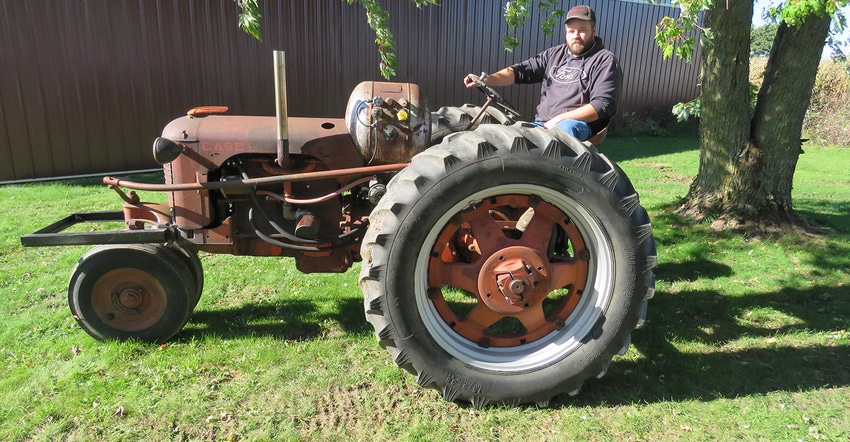 LABOR OF LOVE: Nick Johnson of Westby, Wis., bought a 1952 Case DC tractor with an attached trip bucket loader for $600 in the spring of 2016.
Harlen Persinger
Nick Johnson of Westby, Wis., was searching for equipment parts when he stumbled onto a 1952 model Case DC propane row-crop tractor. Although the engine was seized up and it was missing a left rear tire, he made a deal with the owner of L&M Salvage in Richland Center and bought the old clunker with an attached trip bucket loader for $600 in the spring of 2016.
Johnson knew the tractor was manufactured in Racine, cost $2,500 when it came off the assembly line, was introduced in 1939 and had a 33-hp rating.
"Once I brought it home, a friend mentioned it was owned by Raymond Wedwick from Viroqua," Johnson says. "He had used the tractor to load manure for neighbors and often pulled in the antique weight class of 5,500 pounds."
Various components and features include: a narrow front end, three-point hitch, belt pulley, steel seat, toolbox on the right side, four forward gears and one reverse gear, a 63-hp rating on the PTO, hand clutch, and two foot brakes on the left side. The tractor weighed 4,600 pounds. It had no power steering, fenders or tachometer.
When Johnson began the restoration process, the pistons were locked up in the cylinder. He poured in Evaporust, which cost $25 per gallon, let everything sit for two weeks and used a large pipe wrench on the shaft by the side pulley to help break the engine loose. Once the cylinder head was rebuilt and the tractor was running again, Johnson searched eBay for a new amp meter and oil and temperature gauges. He bought two used tires for $150.

DIAMOND IN THE ROUGH: Nick Johnson rebuilt this dilapidated tractor after purchasing it nearly two years ago.
Although the tractor was in poor shape, all the LP and coolant hoses were still in good condition. Johnson also rebuilt the weight bracket, which needs 300 pounds to hold down the front while driving, and was able to find a drawbar from the original owner. Due to the overall design, the front wheels are set in a perch in front of the tractor, which tends to make it look ungainly. However, that alteration doesn't affect its overall operation.
"The Case DC is built like a rock — very solid but certainly not flashy. This has become my favorite tractor because I was able to save it from being cut into scrap iron and shipped to China. These days I take it to local tractor pulls," Johnson says. "Now that it's operational again, seeing the reaction from the original owners is priceless. Upon first appearance, this tractor seems rather plain. but it features a basic blueprint. Therefore, I doubt I will ever repaint the DC, because you just can't spit-shine something this ugly."
Persinger writes from Milwaukee, Wis. To have your favorite tractor featured, email or send in a photo of yourself with your tractor, along with a 300-word write-up about the tractor, to: [email protected] or Wisconsin Agriculturist, P.O. Box 236, Brandon, WI 53919.
Subscribe to receive top agriculture news
Be informed daily with these free e-newsletters
You May Also Like
---