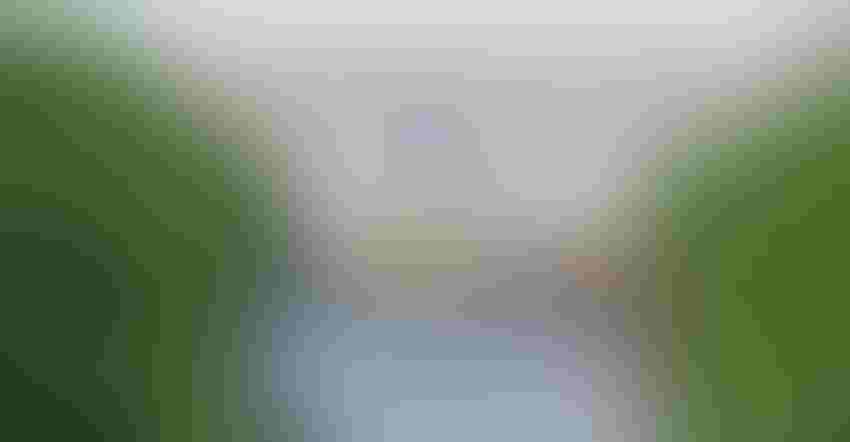 "If a practice does not make the farm more profitable at the end of the day, it is not going to get largely adopted, but automated irrigation brings profitability to the farm," Nick King said.
Farm Press Staff
There are several tools to make furrow irrigation not only more effective in row crop systems but also easier, saving time and money in the long run. Valve automation is a newer tool, allowing farmers to make programable irrigation sets for different fields.
Nick King serves as Mississippi Irrigation Consultant and President of PrecisionKing Technology. PrecisionKing was recently acquired by Valley Irrigation to strengthen their footprint in the Delta region and expand their industry-leading network of 123,000 connected ag devices. King recently spoke on fully automated irrigation in furrow irrigated crops during the virtual 2021 National Conservation Systems Cotton and Rice Conference.
"Farming is tough work with a lot of details to manage, and that seems to be becoming more and more true every year in the farming industry," King said. "Our goal at Valley and PrecisionKing is to help farmers manage their water systems easily to save money, as well as have more time on their hands to spend with family."
Benefits of irrigation automation
If automation is the future, what does the future of irrigation look like?
"There is a lot of talk about drones and different technologies to control different farm issues," King said. "It is interesting to have conversations with growers, saying they have irrigated a particular way for the past 25-30 years. They want to know what I think irrigation is going to look like in the next several years from now. So why should you as a farmer be interested in automation?"
Related:Planting again after two years of spring flooding
From a news article that King found in December, the headline read, "The global irrigation automation market size is expected to reach $7.9 billion by 2026, rising at a market growth of 22% CAGR during the forecast period."
"This article makes me think how, when the RTK steering and guidance system came out on tractors, it took several years for the industry to adopt the new technology," he said. "Can you imagine farming without it now? The market is starting to see that automated irrigation is on the horizon as the future of irrigation."
The number one reason why you should be interested in automation is profitability, according to King.
"If a practice does not make the farm more profitable at the end of the day, it is not going to be largely adopted, but automation brings profitability to the farm," King said. "Also, efficiency is a big benefit.
"Conservation is always a big deal in today's climate, but rarely do you see profitability and conservation go hand in hand. With automation systems, it does. Additionally, it is easier to manage. Everybody is looking to use their labor wisely, so with these technologies, there is no reason to constantly send a worker to turn the wells on and off or check on things.
"I know I always want to do a task to the best of my abilities, and I have found that is a universal trait with farmers. Everybody is aiming to do their absolute best in farming. When it comes to irrigation, I think we want to irrigate to the best of our abilities."
Four tools for better irrigation
There are four main components of a row crop irrigation automation system. These are computerized hole selection, soil moisture sensors, pump automation, and valve automation.
"Computerized hole selection is a big part of a flood irrigation automation system," King said. "We want to make sure the pipe design is correct and has the right hole sizes. It would not make sense to use all these other tools and not have a correctly designed hole selection for the pipes."
The next three products work together in automation to achieve the efficiency and profitability producers are looking for.
"We want to use soil moisture sensing technology to trigger irrigations," he said. "We need to be irrigating at the proper times, and soil moisture sensors help avoid over-watering.
"Connected crop management technology like Valley 365 enables growers to use real-time field data to make informed decisions and conserve resources. Through the PrecisionKing relationship with Valley, these capabilities are already being integrated. Limited automation of pumps is available now within Valley 365, and additional capabilities will be released soon."
Pump automation needs to be in an automated system, so the pump is only running when it needs to.
"A pump controller simply controls the pump," King said. "We can start, stop, and schedule when we want the well to come on. It is not a complicated system, but it is a controller that goes on electric and diesel wells.
"The missing key in an irrigation automated system is valve automation. This allows you to irrigate multiple sets when using irrigation wells, and you can switch from field to field."
All these products are telemetry products, meaning they are being controlled remotely and through a server.
"Valve automation, as I mentioned, has been the missing key," King said. "Pump automation and soil moisture telemetry have been around for a little while, but valve automation is the newest tool to automated systems. This has allowed us to make programable irrigation sets.
"For example, we can run the first field's irrigation for 15 hours, the second field for six hours, and the third field for 24 hours. It will go through those sets on the irrigation well and water them one by one. It helps us eliminate waste and reduce labor. Valve automation also increases efficiency in furrow irrigation systems."
About the Author(s)
Subscribe to receive top agriculture news
Be informed daily with these free e-newsletters
You May Also Like
---