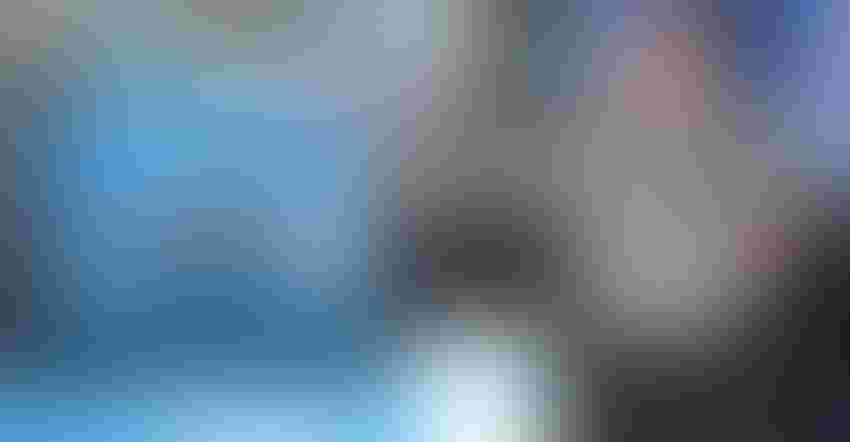 FLAGSHIP PANEL: The ICON10 is available with edge-of-field Wi-Fi. "It basically allows us to connect to the machine within proximity without having to have a cellular connection or a data radio sending the signals out," explains Matt Ondrejko.
Over the course of the 2016 growing season, 225 growers in seven states got an early look at the latest Valley Irrigation smart control panels. The improvements to the new Valley ICON line over the Pro2, its previous flagship line of panels, is what Matt Ondrejko, vice president of global marketing at Valley, compares to "going from a calculator to an iPad," in terms of user-friendliness.
Growers may be asking, "Why the need for an updated panel when the Pro2 panel already did everything we needed?" Jeremiah Johnson, project manager at Center Valley Irrigation, a Valley dealer in Holdrege, asked that same question. "It didn't take too long having the ICON panels around to figure out how wrong I was about that," Johnson says. "I love the Pro2 panel, and the ICON still has everything the Pro2 has; it's just so much easier to use."
CVI sent ICON panels to eight different growers to test out for the 2016 season. Michael Peterson, who farms near Funk, was one of those eight growers. Last year, he got a firsthand look at the ICON5. "It's all right there; you don't have a 3-inch-thick operator's manual to read through," Peterson says. "For me it was easy to jump right in and figure out what I wanted it to do and how I wanted to set it up."
"Really, the user friendliness is what I've wanted in a Pro2 panel. It's so much more user-friendly," adds Brian Petersen, who farms near Minden and tested out the ICONX last year. "There's really no learning curve with it, you don't have to do anything in sequence or steps."

UNIVERSAL CONTROL: The ICONX (pictured here) allows users with competitive brands of panels to be able to control everything under one app and operating system. The ICONX has the same interface as the ICON5, but takes control of an existing panel using that panel's circuits to control the pivot.
Built with upgrades in mind
The ICON line of panels includes the ICON10, the flagship panel, ICON5, ICON1 and ICONX. All panels come equipped with AgSense ICON Link, and are compatible with AgSense and BaseStation3. All panels are GPS-ready, variable-rate capable and compatible, all are modular upgradable, and all are being launched with a five-year warranty. All panels will be available in 14 different languages.
"We've built it in such a way we have a lot of capacity to grow in feature sets in the future," Ondrejko says. "We can constantly add more things and integrate more data into the machine to connect and allow for more products to be integrated, such as sensors or controls."
At $5,860, the ICON10 features a full-color, 10-inch touch-screen display, with a menu layout similar to a tablet. It includes all of the features of the current Pro2 control panel, but with more memory and speed. It's available with optional Edge of Field Wi-Fi, allowing users to connect with their irrigation system within proximity without needing a cellular or radio connection.
Like the ICON10, the ICON5 offers a full color, fully functional touch screen, but in a 5-inch version. The ICON5 also features soft-touch buttons that correspond to each of the different switches on the touch screen for ease of use with the smaller screen. The ICON5 starts at $4,720.
The ICON1 has no touch screen on the panel, just the main controls — forward, reverse and stop buttons to move the machine. It does, however, have full touch-screen control with a remote device, so there's no need to visit the pivot point or open the control panel. Growers can also control their pivots with a desktop, tablet or smartphone remotely through the ICON app on either iOS or Android. Meanwhile, the ICON1 comes standard with Edge-of-Field Wi-Fi built in, allowing users access to a remote display at their fingertips. The ICON1 starts at $4,280.
At $2,495, the ICONX has the same interface as the ICON5, but takes control of an existing panel using that panel's circuits to control the pivot. This means growers can upgrade their existing system with the same functionality, controls and capabilities as the other ICON panels.
Getting connected
Terry Schiltz, CEO at AgSense and CTO at Valley Irrigation, notes the touch-screen displays on the ICON series are designed to resemble tablet and smartphone screens. "[The grower] will see [the display] on his phone or his iPad, but he'll get the same look and feel as the panel," Schiltz says. "It's about making sure everybody's on the same page. In addition to that, we'll extend this into field sensors, weather stations, soil moisture, to bring in the whole ecosystem."
However, the biggest benefit these panels bring to the grower is connectivity, says John Campbell, manager of technology advancement and adoption at Valley. Every ICON panel will be shipped ready to connect via AgSense or BaseStation3.
"That connectivity does more for the farmer, the grower, than just reduce his fuel use, reduce his trips to the field, reduce wear and tear on his vehicles, give him a far better quality of life for his family," Campbell says. "What it really does for that grower is give him easy access to data. All that data that's generated out in the field — things like soil moisture, soil chemistry, as-applied water, weather history. All that data allows the grower now to make smart, intelligent, informed actionable decisions."
To learn more, visit valleyirrigation.com.
About the Author(s) Tyler Harris is the editor for Wallaces Farmer. He started at Farm Progress as a field editor, covering Missouri, Kansas and Iowa. Before joining Farm Progress, Tyler got his feet wet covering agriculture and rural issues while attending the University of Iowa, taking any chance he could to get outside the city limits and get on to the farm. This included working for Kalona News, south of Iowa City in the town of Kalona, followed by an internship at Wallaces Farmer in Des Moines after graduation.
Coming from a farm family in southwest Iowa, Tyler is largely interested in how issues impact people at the producer level. True to the reason he started reporting, he loves getting out of town and meeting with producers on the farm, which also gives him a firsthand look at how agriculture and urban interact.
Subscribe to receive top agriculture news
Be informed daily with these free e-newsletters
You May Also Like
---