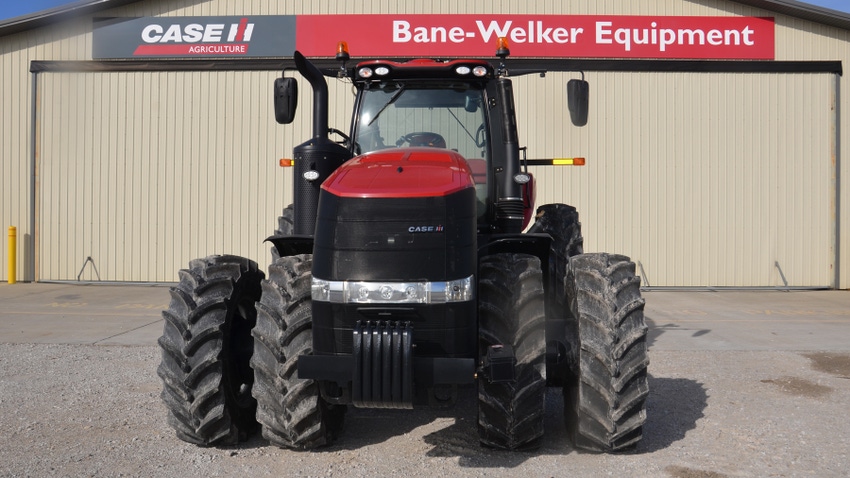 HOT COMMODITY: High-quality used tractors remain in demand in the tight used farm equipment market.
Tom J. Bechman
Most people think nitrogen fertilizer is the most expensive part of corn production today. But what about when you consider all costs, both variable and fixed? "Your machinery inventory makes up about 40% of your production costs," said Tyler Mark, an ag economist with the University of Kentucky.
"Sometimes people overlook it," Mark said. "That's one reason we're studying the used equipment market, determining how people make decisions about buying used equipment.
"I grew up on a farm that probably had more equipment than we needed for our size. My goal is to help people realize that managing machinery and making good decisions is critical."
Current equipment situation
Recently, Mark updated farmers at the Purdue Top Farmer Conference about the used farm equipment market. Mark and Brady Brewer, a Purdue Extension ag economist, discussed how farmers could better understand that market.
"The used equipment market was white hot at the end of 2022," Brewer said. "How did we get to that point?"
"The story starts in 2012, when drought led to high crop prices," Mark explained. "People traded equipment, but then prices fell off in the '13 to '18 period, and farmers hung on to machinery. Margins were tight, and equipment companies backed off making new machinery because of slow demand.
"By late '18 and '19, farmers were needing to trade equipment, and used prices went up. Then COVID happened early in '20, and production of new equipment shut down. Plus, there were supply shortages and a computer chip shortage. Guys couldn't get new machines. It was a perfect storm, and used machinery prices shot to record levels."
"So, it sounds like a double whammy," Brewer said. "Normally, we get strong demand or low supply, but not both at once."
"That's exactly right," Mark said. "We have pent-up demand for new machines, and the supply simply isn't there."
"What do you see going forward?" Brewer asked.
"The market may have cooled a bit, but not a lot," Mark said. "If you order a new tractor today, you might get it in '24. Plus, companies are taking steps to move chip production here, but it doesn't happen overnight. It looks like at least into '24 before supply issues straighten out."
"So, should a farmer who needs a machine buy used now or wait?" Brewer asked.
"To me, it depends on the farm situation," Mark said. "If you need a bigger planter tractor, for example, you may not be able to wait. There isn't a one-size-fits-all answer."
Better machinery purchase decisions
"What have you learned from researching used equipment sales trends that might help someone?" Brewer asked.
"When it comes to tractors, people put a premium on tractors made before 2014," Mark explained. "All the environmental equipment wasn't required, and they're easier to work on.
"For combines, surprisingly, there seems to be a preference for newer combines versus just combines with lower separator hours. We need to examine our data more closely, but so far, that's what we've found."
"Is there a best time of the year to buy used equipment?" Brewer asked.
"It varies, but in general, used equipment prices tend to be highest in the fourth quarter," Mark said. "People are looking for good equipment before tax deadlines. We hope to tease out more of these types of trends soon."
Subscribe to receive top agriculture news
Be informed daily with these free e-newsletters
You May Also Like
---