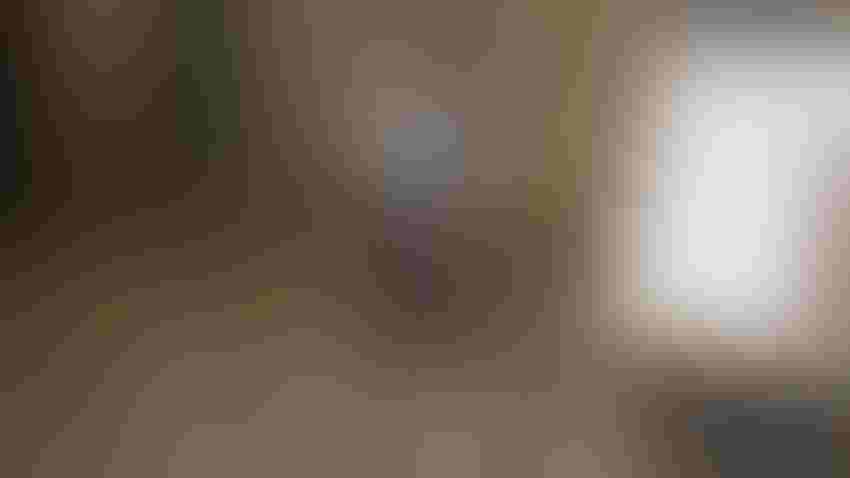 MEASURE OUTPUT: Kara Pittman, Extension educator of agronomy and natural resources at Penn State Cooperative Extension, demonstrates how to measure nozzle output during a crops conference in Lebanon, Pa.
Chris Torres
You might feel confident that your spray program is giving you the right amount of coverage needed to control those pesky weeds. But how can you be sure you are not just wasting product and potentially throwing away money?
Calibrating your sprayer before the growing season is a good start. It starts with the nozzles.
"Our pesticide performance can be directly correlated to our nozzle quality and our nozzle selection," Kara Pittman, Extension educator of agronomy and natural resources at Penn State Cooperative Extension, said at a crops conference in Lebanon, Pa. "Making sure you're choosing the right nozzle for the job."
This is important because the nozzle controls the flow rate and droplet size of your sprayer and disperses what you're spraying in a specific pattern.
Reading the product label is also a crucial step, Pittman said, because the information provided can help you decide what nozzle to choose and what droplet size you'll need to spray.
"Some labels will give you the actual nozzle to spray; others will tell you the actual droplet sizes to use," she said. "So, it depends on what you're looking at. Really make sure you're looking at labels and the outputs."
Droplet size is also important to understand when considering drift. Using larger, heavier droplets will ensure the product you spray will fall where you place it. Using a smaller droplet size increases the risk of drift, especially if the water pressure is too high, or if the size of the nozzle is small.
"You're creating these droplets that are more likely to move off-target in the wind," Pittman added.
Here's some more tips to ensure your sprayer is ready for the growing season, including some notes on calibration:
Know your application goals. Pittman said if you are working with a product that is a contact product —meaning something that will only affect parts of the plant it touches — you may want to think of a smaller droplet size to get adequate coverage. If you're using more of a systemic product, something that will move throughout the plant on its own, a larger droplet size might be needed.
Know nozzle spacing. It is important to know what your nozzle spacing is, Pittman said, as this can help you determine how high off your target plant you need to be.
For example, choosing a nozzle that disperses at a wider angle will give you more coverage, but you will need to bring the boom down closer to your target to reduce the risk of off-target drifting.
Have tools to calibrate. A stopwatch, measuring tape, calibration bucket and marker flags are the basic tools needed for calibrating a sprayer, said Jamie Kopco, pesticide educator with Penn State Cooperative Extension.
"Make sure the spray gear is ready to go, make sure it is clean and nothing is leaking, and is generally in good repair and ready to use," he said.
The next step is to ensure the nozzles are in good shape. Nozzles only last for so long, Kopco said. For example, brass nozzles, which are relatively cheap, will generally get only eight hours of spray time. For ag work, that might be one or two spray days, he said. Stainless steel or ceramic nozzles can last a lot longer.
"If you're checking through your boom and you see two or three need replaced, odds are the others are not far behind," Kopco said. "So, you should just replace all of them."
He adds that applicators tend to not change nozzles often enough, leading to overapplications, poor spray coverage, less effective spraying and bad drift control.
Check nozzle output. After checking to make sure the nozzles are clean and not clogged, Kopco said to check the manufacturer's label to help measure nozzle output. Fill your sprayer about halfway full of water.
"Then you would measure the outputs of the nozzles. The nozzle manufacturer should provide information on what the output of the nozzle should be, so you can do a test run at the same pressure and make sure your nozzles are at least within the right ballpark," he said, adding that you want your nozzles to be shooting within 5% of the manufacturer label.
If the label states the nozzles should be outputting 20 fluid ounces per minute, and you have some that are spraying 19.5 fluid ounces, or 20.5 fluid ounces, then you're likely good to go. If they are spraying over that, Kopco said the nozzles are likely worn out and need replaced.
Use calibration cylinders and spray the water into them for 15 seconds. Measure the amount of water in the cylinders to check fluid ounces.
Measure nozzle spacing. Penn State Extension has a table that tells you how long of a calibration run you need to do based on the width between your nozzles. Following the chart, Kopco said, can also allow you to convert fluid ounces to gallons per acre.
"So, if you do a run for 20-inch nozzle spacing for 204 feet, the number of fluid ounces in that run is the same as gallons you would get per acre," he says.
Drive the calibration course. With any calibration, Kopco said applicators should set up their gear exactly as if they were actually applying. "Drive the tractor at the same speed, use the same RPMs, use the same pressure and record how long it takes to do the run," he said. "Repeat it a couple of more times. Take an average, keep track of all conditions you used … when you calibrated. Make sure everything is the same."
"Make sure the output your equipment is giving you is in line with what the product label says," he added.
If it's not, then some more work needs done. If you need to make a small change, Kopco said that adjusting the spray pressure usually will do the trick. If you need to make a bigger change, he suggests adjusting your speed, or even changing the nozzles.
"I personally prefer to just do trial and error," he said. "I find it easier to just change the pressure and do another catch and see what I get, rather than do all the math to figure out how much I need to increase that pressure."
When to calibrate. Kopco said calibration should be done anytime the equipment is changed up, so if the nozzles are changed, or your travel speed is changed, a recalibration might be needed.
"More often recalibrating is better than less calibrating," he said.
But realistically, if you're not making any big changes to your equipment or spray program, doing it once or twice a year should be good.
Subscribe to receive top agriculture news
Be informed daily with these free e-newsletters
You May Also Like
---