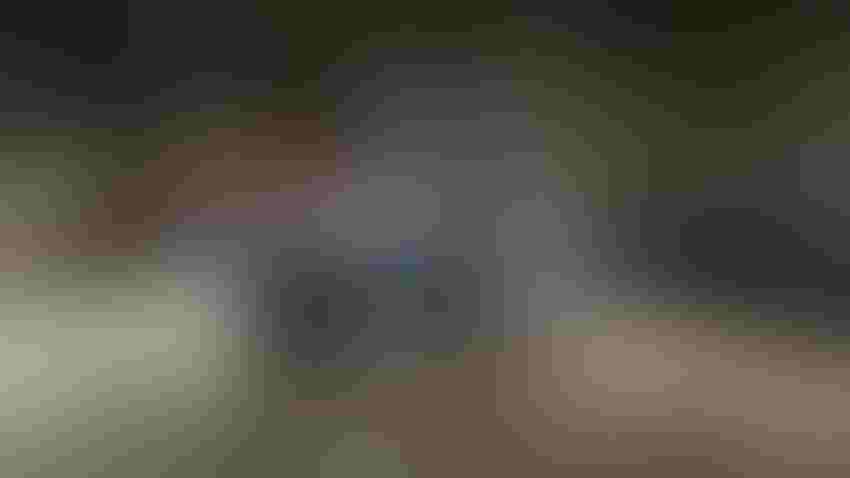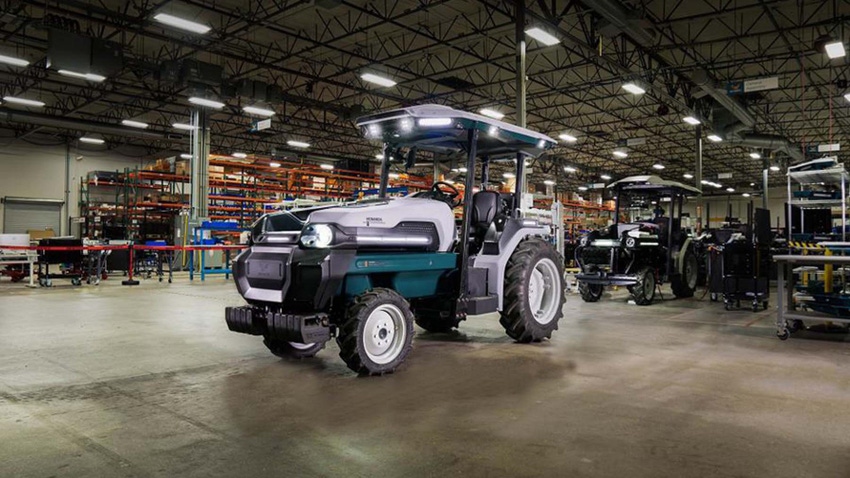 ELECTRIC POWER: Monarch's flagship MK-V model 40-70 horsepower autonomous/electric tractor began rolling off assembly lines in 2022.
Monarch
By Jacob Whitson
Electric tractor start-ups like Monarch Tractor and Solectrac, along with e-vehicles from Kubota, New Holland, and Fendt, are transforming the $38 billion U.S. ag vehicle industry.
According to Researchandmarkets.com, the U.S. electric farm tractor market was worth $220 million in 2021. Adoption, still in early stages, faces difficulties in high upfront costs, range anxiety and power capacity. Assuming those issues get sorted, where is the market headed?
CALSTART, a non-profit organization working to develop clean, efficient transportation solutions, has conducted research in partnership with market intelligence company Interact Analysis into the penetration of battery electric and hybrid electric tractors. A total of 57 battery electric tractors were sold in the U.S. in the first months of 2022, making up only 0.02% of total U.S. tractor sales. By 2029, however, battery electric tractor sales are projected to pass the 3,000-unit mark, constituting a 1% share of total tractor sales in that year.
Meanwhile, sales of hybrid electric tractors are expected to make up approximately 8% of total tractor sales in 2029, with almost 22,000 vehicles being sold into the farming sector. That's up from about 500 in 2022.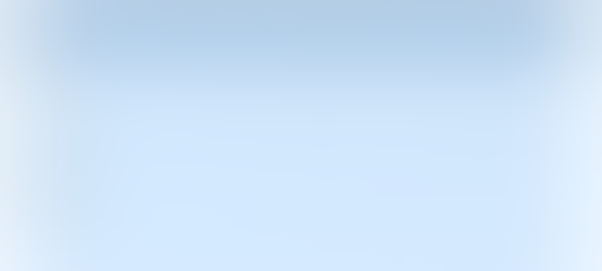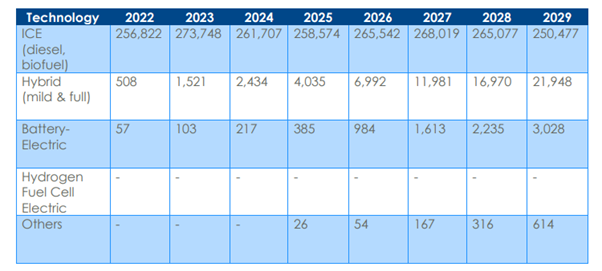 Projected Annual U.S. Tractor Sales by Powertrain Type, Source: Hayfield & Zhang, Interact Analysis, 2021
Because of unique ag businesses focused on specialty crops and vineyards, the state of California is expected to lead the way, with 12% of approximately 8,000 expected tractor sales in 2029 being battery electric models, and a further 8% hybrid electric.
Key players in the electrified U.S. agricultural market – so far - include Solectrac, which has introduced its E25compact electric tractor; Monarch, which is marketing its Mark V 'driver optional' tractor; and New Holland, with its T4 Electric Power tractor.
The Beachhead effect
Calstart believes electrified technology will transition progressively into the agricultural equipment sector. This process is known as the Beachhead effect and envisages technology transformation through transference. For example, if you look at the illustration below you see light ag vehicles being adopted in Wave 3, with larger equipment like combines coming later in Wave 5.
The Beachhead model, conceived by CALSTART and the California Air Resources Board (CARB), foresees compatible tech transferability between different groups on-road and off-road vehicles, as shown in the figure below.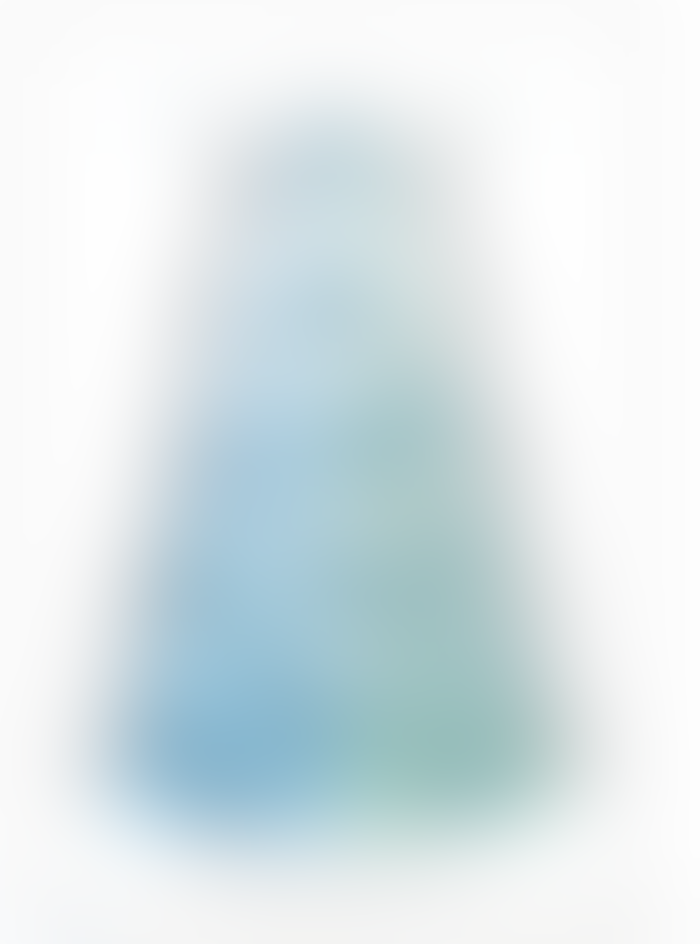 It's all down to technological advancement and economies of scale. The result will be the downscaling of the internal combustion market as those engine types are phased out of on-road applications, with a consequent ripple effect on the off-highway market, as traditional diesel powertrains and parts become less available and more expensive.
While this is more likely to principally affect lighter agricultural equipment in the near term, those in the agricultural sector need to be aware that electrification in their industry is expected to spread to heavier equipment, either in pure or hybrid form – these in addition to hydrogen fuel cells, already a proven power source for larger equipment.
What's holding it back?
Recharging infrastructure: Right now, end users are faced with several significant deterrents. One of the main challenges to ag electrification is the installation of electric charging or hydrogen refuelling stations. Farms can be remote, with limited access to electricity; further, hydrogen infrastructure, including its transportation and storage, remains in its technological infancy.

Cost: Electric chargers can be very expensive, with powerful rapid chargers costing up to $100,000 per unit. The batteries required to run large equipment are currently too large to be feasibly incorporated into that equipment.

Duty cycle (The percentage of time that a device is operating over a specified period): A positive ROI on expensive electrified agricultural equipment (especially larger equipment deployed for managing crops) is difficult to achieve when equipment stands idle for significant parts of the year. When they are in use, the long dawn-to-dusk duty cycles of some farming equipment precludes the use of current battery technology, given that batteries will not hold sufficient charge to meet these duty cycles. Stopping for several hours to recharge is not an option when adverse weather forecasts mean that equipment may be needed around the clock.

Battery size: Battery technology is a constraint to electrifying larger agricultural vehicles – both in terms of the battery size that would be needed for the largest vehicles and the issues raised by periodic intensive dawn-to-dusk harvesting requirements of certain types of agriculture. Batteries of the size needed to power the largest vehicles seem a long way off (although a quick look at the beachhead model graphic above does show that wave four has already been reached in many cases – and who could have imagined just a few years ago that Scania would have released a 66-ton electrified truck by 2023?). The problem is not only that it is difficult to mount such large batteries on machines, but also that, even if you could, their weight could cause soil compaction.
While the electrification of the largest agricultural vehicles is clearly not as imminent as the electrification of compact vehicles, CALSTART remains confident that it will happen. If battery technology proves unable to meet the task, then the solution will be either hydrogen fuel cells or hydrogen internal combustion engines (ICEs). Ultimately, the standard ICE is on the way out, and it is highly unlikely that the economics of maintaining ICEs in production would remain viable if the only market for them was the very largest of agricultural machinery.
Gridtractor: A model for progress?
Infrastructure has also been noted as a major challenge to electrifying the agricultural industry, and is one that can only be addressed through federal and state initiatives; just such an initiative is the Biden administration's $96 million project announced in July 2022 to push forward the technology and charging infrastructure for off-road equipment, including farm vehicles.
In California we have seen the emergence of Gridtractor, a subsidiary of Polaris Energy Services. Gridtractor studies existing farm electrical infrastructure and types of equipment used, quantifies the benefits of electrification, and presents a plan to farmers based on tariffs, equipment usage, available incentives, and cost savings, enabling them to decide which agricultural equipment to electrify.
The company is further developing hardware and remote services that will enable farmers to deploy fleets of tractors and other equipment in such a way as to optimize energy consumption and storage. Gridtractor plans to go nationwide but is initially launching in California where farms already benefit from extensive electrification infrastructure and state-offered incentives.
Whitson is the CORE Program Manager at CALSTART, a U.S. clean transportation nonprofit.
Subscribe to receive top agriculture news
Be informed daily with these free e-newsletters
You May Also Like
---