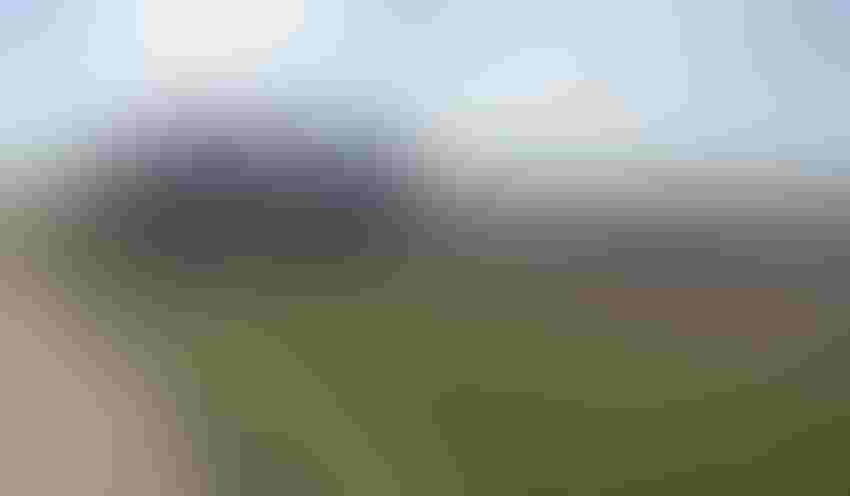 Case IH Patriot 3340 equipped with Pulse Width Modulation nozzles and auto-boom height control system used for research studies at the Sunbelt Ag Expo farm.
Simerjeet Virk, UGA
Spray technologies have advanced considerably over the last few years. Growers now have multiple options to choose from for both their old and new sprayers, and they have questions on what the best options for them are.
Some of the common grower questions regarding pesticide applications still revolve around selection of optimal spray parameters such as nozzle type, spray volume, spray pressure and droplet size so they can make more effective pesticide application while minimizing off-target movement. All these are important questions. Crop protection chemicals are expensive. With recent dicamba registration issues, we fully understand the importance of keeping pesticide applications on target while being more effective and efficient with each application to stay on top of pest control.
To provide research-based answers to these grower questions, the University of Georgia is conducting multiple research studies funded by the Georgia Peanut Commission, National Peanut Board, and Cotton Incorporated. Two of these studies are being conducted at the Sunbelt Ag Expo Darrel Williams Research Farm and will be showcased at the Expo's annual field day July 22.
Three nozzles
In our first study, we are comparing spray coverage and efficacy of three different nozzles types commonly used by cotton and peanut growers, the Teejet standard flat-fan extended range XR, the air induction extended range AIXR, and the Turbo TeeJet Induction TTI, and studying all three at three spray volumes of 10, 12.5 and 15 GPA.
In this study, the primary difference between all three nozzles at a given spray volume is the droplet size, which is an important application consideration as it affects both coverage and off-target movement.
Generally, smaller (fine to medium) droplets are needed for increased coverage, however they are also more susceptible to increased spray drift potential. Therefore, larger (very coarser to ultra coarse) droplets are recommended where spray drift management is important, such as when spraying dicamba or 2,4-D. But larger droplets can result in reduced coverage and provide less-effective pest control, especially when spraying contact pesticides.
Changing nozzles between crops and spray applications is not common. Once a grower selects a certain nozzle, there's a good chance it is going to stay on that boom for rest of the season. Recently, growers are also trending towards spraying lower volumes to cover more acres; however, lower-than-recommended volume can influence coverage and pest control.
From this study, we plan to provide research-based recommendations to growers on selection of spray parameters as well as considerations on how they can utilize this information for their specific pesticide applications. As much in everything farming, the "one size (nozzle or volume in this case) fits all" approach does not apply here as well when it comes to pesticide applications.   
Pulse Width Modulation
The second study focuses primarily on investigating how precision spray technologies such as Pulse Width Modulation, or PWM, nozzles or auto-boom height control system can help improve on-target applications while reducing off-target pesticide movement.
The individual PWM nozzle system overcomes a major limitation of pressure-based, rate-control systems and provides an added functionality of maintaining constant spray pressure across the boom independent of ground speed changes in the field. Maintaining constant pressure is very important for consistent droplet size and spray application uniformity throughout the whole field. Similarly, auto-boom height systems can automatically adjust boom height in real-time during application, keeping consistent spray overlap and uniformity across the field.
In this study, we are assessing spray coverage, application uniformity and spray particle drift at different ground speeds and boom heights with a Case IH 3340 sprayer provided by Southeast Ag Equipment and Case IH equipped with an individual PWM nozzle control and an auto-boom height control system. Some of these new spray technologies come at a considerable cost to growers so this research is much needed to understand the associated technology benefits and if the extra cost in precision technologies is worth the investment for growers or not.         
This sprayer research taking place at the Sunbelt Ag Expo is part of the UGA Extension SMART Farm initiative. SMART stands for Simple, Measurable, Applied, Relevant and Timely research. It includes various projects focused on grower-driven research across the state to help answer basic agronomic or management questions.
Subscribe to receive top agriculture news
Be informed daily with these free e-newsletters
You May Also Like
---