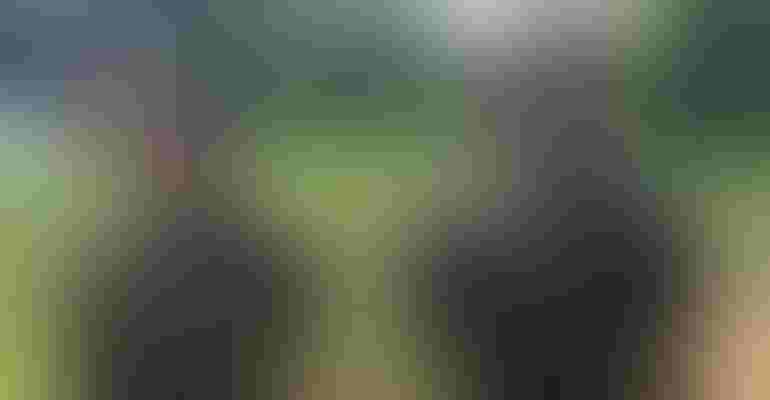 MAKING CHANGES: Susan Cerny and Adam Reed of Tangleroot Farm in Essex, N.Y., have made changes to their vegetable production system to improve soil structure and improve production.
Photo courtesy of Tangleroot Farm
High levels of nutrient use and soil structure issues prompted vegetable grower Adam Reed of Tangleroot Farm in Essex, N.Y., to try reduced tillage.
"Our main focus was reducing the rate at which our very sandy soil was burning through nutrients," Reed says. "We were adding huge amounts of compost and tilling it in at full depth. Every time we did, the soil turned to powder, and the water-holding capacity was terrible. We attributed this to total lack of soil structure."
He operates the 2.5-acre USDA Certified Organic farm with partner Susan Cerny. The couple grows more than 100 varieties of vegetables and fruits for 100 Community Supported Agriculture (CSA) members and sells direct to restaurants, grocers and at farmers markets in Saratoga Springs, Glens Falls, Chestertown and Essex.
At first, Reed set his walk-behind tiller at minimum depth but had to lift up on the handles to achieve shallower depth.
"So then we tried silage tarps as a way to deal with overgrown fields without having to plow, and that worked beautifully," he says.
Reed's use of tarps — 6-mil, black-and-white silage tarps — has since expanded.
"The tarps are now a versatile part of the farm," he says. "We've covered a field we were bringing into production for a full year to eliminate the weed bank. We've pulled them over a hairy-looking onion field after harvest to 'sweep it under the rug' instead of throwing manpower at it. They work for erosion control in winter and we use them on our high-rotation beds instead of hauling crop residue to the compost pile or tilling in."
Benefits on target
While the now tighter soil structure has made growing root and tuber crops, which require deep tilth and digging at harvest, slightly harder, Reed says: "Our soil structure and water-holding capacity have increased dramatically. Earthworm populations are much higher and that is a good sign for soil health!"
Reed credits the reduced till practices, in part, for enhancing crop quality, saying "it's difficult to attribute that solely to no-till as we've also added significant soil amendments in the last three years. Our crop consistency has improved dramatically which can be partially attributed to reduced tillage."
With soil structure improved, the farm's intensive irrigation setup is not needed as much. Tarping has reduced the seed populations of many weeds, but "not purslane, which seems to not care about tarping," he says.
Although tarping and reduced tillage requires more labor than a tractor-based system, Reed says he will try applying tarps more consistently. He says that for tillage they use their walk-behind with a depth roller to lock at 1.5 inches.
"We'll see if the reduced tillage has an effect on our growth," he says. "It would be hard to grow beyond our 2.5 acres without automating given the difficult state of the labor market. I don't know what role reduced tillage would play if we got a tractor as all our systems would have to change."
Reed and Cerny moved into the Adirondack region in 2015 after two seasons on their first farm downstate.
FRESH TO MARKET: Cerny and Reed sell most of their crops through the CSA they run, but they also sell crops at area farmers markets.
"We had been including North Country Creamery products through our CSA and felt there was momentum in the local food movement up here that we could be part of," he says. "We are committed to growing healthy, organically grown food and seasonal eating. Reduced tillage practices are one way we can contribute to the public interest in natural resource stewardship and quality food production."
Expanding statewide
"Tarping in small-scale vegetable systems has emerged as a tool for suppressing weeds, managing soils and reducing tillage, and can be easily incorporated with other soil-building practices such as composting, mulching and the use of cover crops," says Ryan Maher, coordinator of the Cornell Small Farms Reduced Tillage Project.
"For the last 15 years, we have worked to advance reduced-tillage approaches that work across all scales of production and for both organic and conventional producers," says Anu Rangarajan, vegetable production specialist and director of the Cornell Small Farms Program. "We have been grateful for support from the Northeast SARE program as well as the USDA-NIFA Organic Research and Extension Initiative that has allowed us to create specific programs for small-scale growers."
Initial funding from the New York Farm Viability Institute helped Rangarajan launch her research and Extension program focused on reduced-tillage strategies for large-scale commercial vegetable growers.
"The New York Farm Viability Institute is pleased to see interest from growers of large- and small-scale in reduced tillage and no-till practices as a way to enhance soil health and the long-term sustainability of their farm businesses," says David Grusenmeyer, executive director of the New York Farm Viability Institute.
VERSATILE TARPS: Reed says that silage tarps help with overgrown fields at the end of the growing season as well as reduce erosion over winter.
Through a series of educational events, webinars, fact sheets and other learning opportunities, the Cornell Small Farms Program is helping vegetable growers to incorporate reduced tillage, rotations, cover crops and amendments into their farm plan to encourage soil health and farm sustainability.
Learn more about the many reduced tillage opportunities online or contact Anu Rangarajan at [email protected] or Ryan Maher at [email protected].
Dunn writes from her farm in Mannsville, N.Y.
Subscribe to receive top agriculture news
Be informed daily with these free e-newsletters
You May Also Like
---