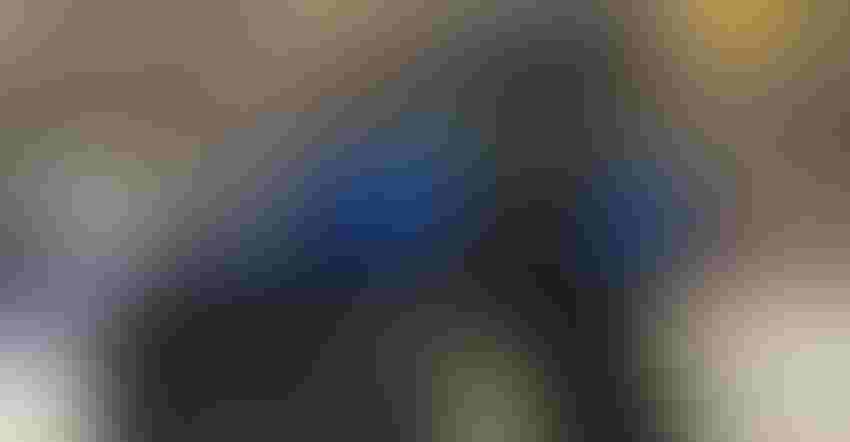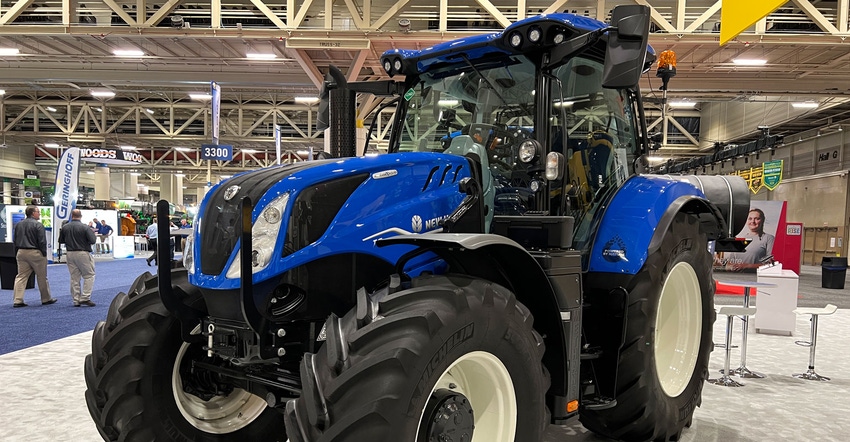 RENEWABLE POWER: On display at Commodity Classic in 2022, this New Holland T6 tractor can run on methane, including biomethane generated from digesters in livestock and poultry operations. The key to success, however, is development of an infrastructure for next-generation renewable fuels.
Willie Vogt
Sitting with Carlo Lambro, brand president at New Holland Agriculture, is an opportunity to discuss a range of topics, but one that remains key is alternative energy. For several years, New Holland has invested in products focused on a circle-of-life approach to farm energy. The main focus has been methane.
Earlier in 2022, the company announced the launch of a T6 tractor designed to use methane as its fuel source. It's part of a strategy that could someday have farmers powering their own equipment with energy produced on the farm. But Lambro says it's not going to happen overnight.
"We need to work on the infrastructure for such a change," he says. "And we are working on this in the United States and Europe."
The critical aspect, he acknowledges, is developing a system that can turn methane generated on the farm into a clean, pressurized fuel to work in the tractor. CNH Industrial is a minority investor in Bennamann Energy Ltd., a firm working to develop contained systems, such as anaerobic digestion, to produce energy.
Lambro notes this will take time, but even at CES 2022, Iveco, a recently spun-off division of CNH Industrial, showed a self-contained methane processor. The off-highway industry is looking for ways to reduce its greenhouse gas emissions and cut its carbon footprint.
While electricity is gaining some interest for the industry, there are limits to the horsepower that can be generated for tractor use. Batteries currently top out at 80 hp for most machines.
Alternative fuels like biomethane and hydrogen, however, show they can fuel true tractor workhorses in a familiar format, like the T6.
Hydrogen gains interest
The push to seek other fuel sources has driven greater use of soybean-based diesel, whether biodiesel or renewable. However, others are looking at hydrogen as a fuel source. Recently engine-maker Cummins announced it was teaming up with the maker of Versatile tractors, Buhler Industries, to integrate the Cummins 15-liter hydrogen engines in ag equipment for the future.
The aim is to decarbonize the fuels used in the ag market. In the announcement, Adam Reid, vice president of sales and marketing of Versatile, said: "While diesel engines continue to be the flexible power of choice for the foreseeable future in agriculture, such a collaboration enables both companies to develop low- and zero-carbon solutions that are ideally suited for farming."
Cummins has announced plans to leverage its existing platforms and expertise in spark-ignited technology to build hydrogen engines. Ann Schmelzer, general manager at Cummins Global Agriculture Business, said: "The high commonality among engine components between diesel and hydrogen leverages scale advantages for OEMs while delivering reliability farmers need."
The move to renewable and low-carbon fuels continues, though infrastructure will be as important as the engine technology deployed by companies.
About the Author(s)
Subscribe to receive top agriculture news
Be informed daily with these free e-newsletters
You May Also Like
---