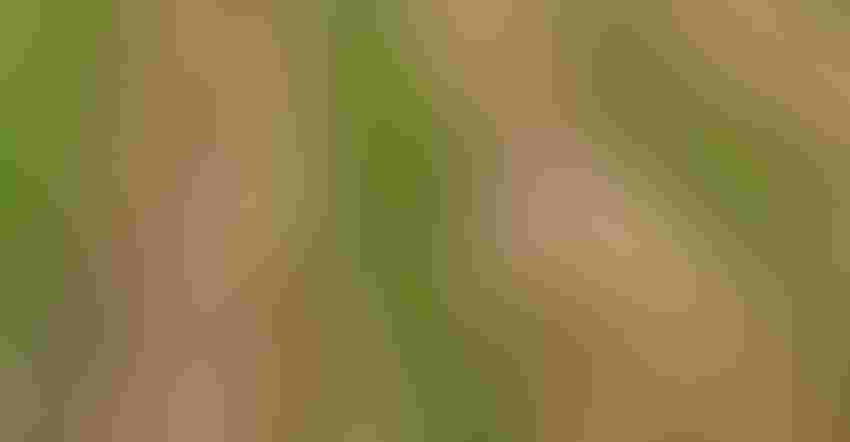 Conservation tillage will be an important practice for producers interested in farming for a carbon market.
That means Texas farmers have some catching up to do, says Texas AgriLife Extension Engineer Ronnie Schnell.
Schnell, in a recent "Carbon Farming in Texas Workshop" in Robstown, Texas, said Texas "lags behind other regions in adoption of no-till production. In 2001, 1.9 % of Texas corn acres were in no-till." By 2005, that number had increased only to 9.5%.
See, Be patient on selling carbon credits
"In 2017, Texas farmers planted 2.6 million acres in no-till, mostly wheat. Conservation tillage exceeds 50% of corn acreage in other regions," Schnell said.
He said weather, soils, and perhaps other factors account for the low adoption rate. He noted that even in regions with higher adoption rates, long-term commitment to no-till or strip tillage is relatively low. "Only 20% of those acres remain in no-tillage or strip tillage for at least four consecutive years," he said.
Various issues — compaction, weeds, ruts — may create a need for occasional tillage.
Challenges
Schnell said he is seeing more and more Texas farmers trying reduced tillage systems. Making it work comes with a few challenges.
He said keys for successful no-till planting include:
Planting at the right time and with the right seeding rate. "Residue alters soil temperature and drying capacity," he explained, so producers need to adapt.

Quick and uniform emergence is crucial.

So is seed placement. "Soil-to-seed contact is critical."

Seeding depth. "Plant deep enough to find moisture and ensure germination."
Schnell said planting into residue poses challenges. "Variation in crop residue distribution from the previous season harvest could be an issue. Weeds and rough soils also cause problems with planting consistency."
See, Conservation management offers benefits
Equipment upgrades
"Producers trying reduced-till systems also need to match their equipment to conditions," Schnell added. "They need to be able to plant in wetter soils and to close the seed trench without air pockets or sidewall compaction."
He said conservation planting equipment has evolved since the cumbersome planters developed in the late '70s and early '80s. Now, residue slicers, residue managers, coulters, and other planter tools improve consistency. "Residue is easier to handle with these newer planters," he said.
He discussed key conservation-tillage tools.
Row cleaners, he said, "move residue to allow smooth travel of press wheels without pinching trash in the seed trench and with no variation of press wheel height. That can affect seeding depth. These are not intended to move soil.
"Coulters cut residue, open and loosen soil to allow seed openers to penetrate the soil." Coulters can be smooth or heavily fluted. "Choose based on soil texture," he said.
"Modern planters properly equipped and heavy enough may not require coulters," he added.
See, Agricultural ecosystem asset credit opportunities changing rapidly
"Seed firmers ensure that seed stay in the bottom of the seed furrow, not in the seed wall."
Schnell said producers have numerous options for in-furrow placement of fertilizer with seed firmers. "They do wear down and lose strength over time."
He said closing wheels should close the seed trench "without sidewall compaction. This can be difficult when planting into wet soils and it is more difficult in high clay-content soils."
Schnell said producers have numerous options for closing systems.
Other challenges
Schnell said other challenges include weed infestations that "dry the soil surface. That's especially troublesome during dry years. Consistency is important and that's sometimes hard when planting into residue. We have to manage variability."
He said conservation tillage makes a difference in soil carbon content. A 9-year no-till study at Weslaco showed a 58% increase in soil organic carbon at a 1.5-inch depth.
A 20-year study at College Station showed a 50% increase at a 2-inch depth. Trials lasting more than 10 years at Bushland and Corpus Christi increased soil organic carbon at 8 inches. "We see large increases at surface levels, but the actual amounts are small," he said.
Improvements in soil carbon take time. "We look at a long-term shift. It takes a number of years to see changes," he said.
Budgeting
Equipment upgrade is one of several expenses Texas AgriLife Extension Economist Steven Klose says producers need to evaluate as they consider changing tillage systems.
He recommends producers develop a "whole farm" budget to evaluate effects of tillage and other conservation changes. That budget would also consider carbon credit revenue should those become available.
"My bias is to whole farm budgets," Klose said. "It takes a lot of work and includes creating budgets for each enterprise on the farm, but the benefit is less reliance on other peoples' estimates.  It allows a manager to budget closer to his own unique situation."
He said producers can then cross check enterprises to determine gains and losses as well as the net return across the entire farm.
"Producers can trace the effects of operating changes and ask what other changes will occur because of a change in production process. What's the bottom line?"
He said partial or single enterprise budgeting often assumes some kind of steady state in terms of overhead structure and might ignore the effects of transitioning your labor force or equipment compliment.
"A no-till or conservation tillage method might be more profitable," Klose said, "but you also have to consider the cash flow implications of making the switch. 
"A whole farm analysis, particularly as you think about forecasting a plan over time," he said, "evaluates the impact of these changes. It allows producers to determine how various scenarios affect cash flow as well as profit."
He said farmers have several aids through Texas AgriLife Extension to assist in developing budgets. He suggested https://agecoext.tamu.edu as a good starting point.
Click "Carbon Farming in Texas Workshop"  to view the worship online.
Subscribe to receive top agriculture news
Be informed daily with these free e-newsletters
You May Also Like
---