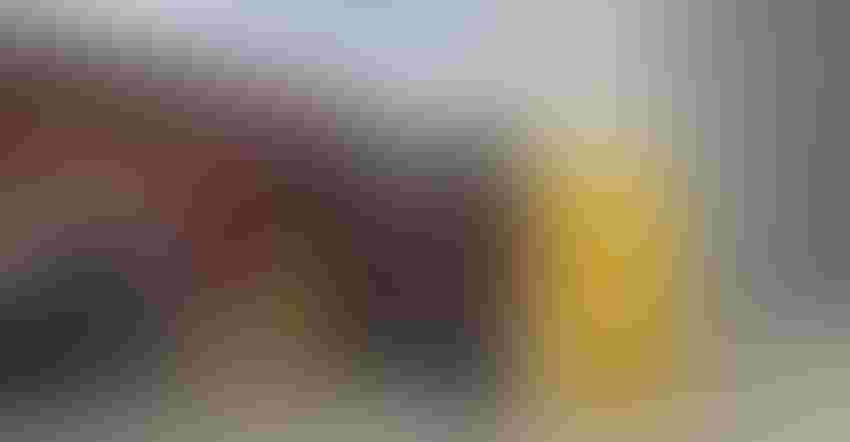 SAFETY AND TRAINING: You can nominate your fire department to receive a grain bin rescue tube along with the training needed. Nationwide has given 152 tubes away in seven years; in the eighth year, it estimates there will be 30 available for departments that apply.
Courtesy of Nationwide
Can you hear too much farm safety information? How do you draw attention that there's a surprising killer on your farm? And is there a way to make a difference in rural communities to avoid death on the farm?
Those are not easy questions to ask or answer, but a program at Nationwide Insurance is working on all three. The insurance firm is in its eighth year of educating farmers about the hazards of entering a grain bin. And to draw attention to the issue, it's all about the grain tube, an important piece of rescue equipment to free someone trapped in a grain bin.
The firm has a Nominate Your Fire Department Contest that began Jan. 1 and runs until April 30. Along with the annual Grain Bin Safety Week, the contest aims to deliver key education and resources to promote safe bin-entry procedures, when entry is absolutely necessary. The program also awards rescue equipment and training to rural fire departments.
"This will be our eighth year," says Brad Liggett, president, Nationwide Agribusiness. "This came out of being ag-focused, and we just kept seeing every year these tragedies strike, where folks would get trapped in the grain bin."
Expanding the conversation
That constant drumbeat of grain bin deaths drew management at Nationwide to a goal of drawing attention to the issue. As much as the idea of the grain tubes and the training, it's also about raising awareness. "We just want to get people thinking before they go into that bin, and have them realize they're entering one of the most dangerous work environments in America," Liggett says.
Liggett explains that Nationwide is working to broaden the message, engaging state departments of agriculture and other groups to promote grain bin safety. "We want to have a big tent on this program," he says. "We don't do this to sell insurance."
Bigger bins, bigger risk
Part of the program is engaging the conversation about the best tactics to save someone trapped in a bin. In the past, the thought was that you cut a hole in the bin and release the grain to free the person. Back when bins were 10,000 or even 25,000 bushels in size, that might have worked (though not often). But today's grain bins are massive, with 100,000 or more bushels lying in wait to suffocate an unsuspecting visitor.
"That transition has definitely transpired over the last decade," says Jason Berkland, vice president, Nationwide Agribusiness. "When you think about going into a 10,000-bushel bin, there's a lower chance of disaster compared to going into that 150,000- or 200,000-bushel bin. You've got more bridged grain, or grain stuck on the sides of the bin. You can have more out-of-condition grain."
Those are all conditions that may require bin entry, increasing risk.
Nationwide works with the National Education Center for Agricultural Safety to provide safety training along with those grain tubes. And that's part of the effort of the program: giving away tubes each year. "We just can't hand over a grain tube to a fire department; we have to train them in its proper use," Liggett says.
And fire departments are stepping up. Liggett says Nationwide gets about 1,000 applicants for the training and grain tubes; however, only around 30 to 40 will be given away in 2021. What does that mean for the other 970? First, there's awareness of the process and training is heightened, and Liggett says local fire departments have held fundraisers to buy tubes and get training. NECAS provides the training and now has two trailers to get the job done. The newest trailer, built in part with funding from Corteva, helps expand the effort to train more local fire departments in this kind of rescue technique.
Keeping safe
Berkland adds that this program is more than about getting grain tubes. "We're getting the education out there to farmers about the zero-entry mentality," he says. "And if they need to enter, what are the policies and procedures they need to have in place? How do you make sure you're using a buddy system, where you're not just going in by yourself?"
He says someone may say they've gone into that bin 40 times without a problem — but will No. 41 be the one where you run into issues, problems or possible entrapment?
The eighth annual Nominate Your fire Department Contest is now open, with nominations taken until April 30. You can nominate your local fire department and get more information about proper tactics for staying safe with your grain bin system by visiting thinkgrainbinsafety.com.
Subscribe to receive top agriculture news
Be informed daily with these free e-newsletters
You May Also Like
---