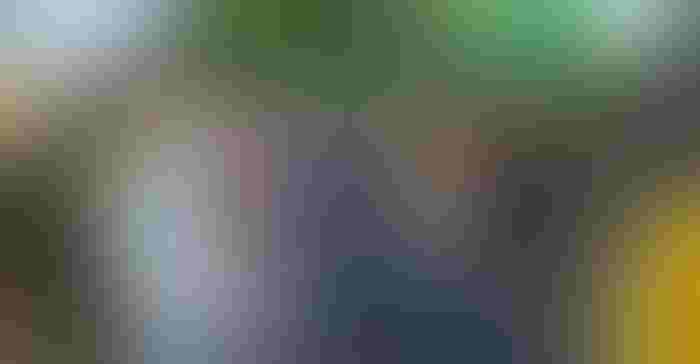 Farris family, from left, Terry, grandson Teague and son of Wes and Kristy, center, and their daughter Marlie, and farm manager Justin McKee, all of Sentinel, Okla.Shelley E. Huguley
On a hot, September afternoon in Sentinel, Okla., father and son Terry and Wes Farris catch a reprieve as they gather around the kitchen table in Terry's childhood home. Their dialogue, often sarcastic and sometimes contradictory, generates laughter and a sense that though partners and family, they have their own ideas.
Terry admits he often says things he shouldn't. Wes confesses that though they farm together, they socialize separately. "I do my own thing, and he does his," Wes says. "We've got to, to be around each other every day."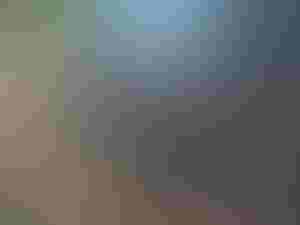 Farris family farm, Sentinel, Okla. (Photo by Shelley E. Huguley)
Together, the father and son duo produce 600 acres of cotton, 1,750 acres of wheat and 240 acres of alfalfa, along with some milo, and all no-till. This year's alfalfa crop was good up until the last cutting. "The first four cuttings were probably the best we've ever made, weren't they?" Wes says, looking at his dad.
"It's the best quantity but not quality because it dewed and rained," Terry responds.
"It put us behind," Wes adds.
"It would rain when we were fixing to cut, and then it would be put off for a week or two," Terry says.
The Farrises cut alfalfa every 26 days with the goal of making six total.
"That keeps the relative food value up," Wes says, which is an index the dairies utilize. "We sell our good alfalfa to the dairies. If it gets a little shower on it, we'll roll it up and put it in the bar ditch somewhere and feed it to the cows in the winter. Even though it gets a little shower, the dairies will run away from it, which I understand-- they're trying to make money just like we are."
"No, they're just trying to buy it as cheap as they can," Terry counters. "We can feed it if it gets too cheap."
"We can feed it and cut back on our cake bill, I think," Wes adds. "But sometimes he wants to argue with me on it."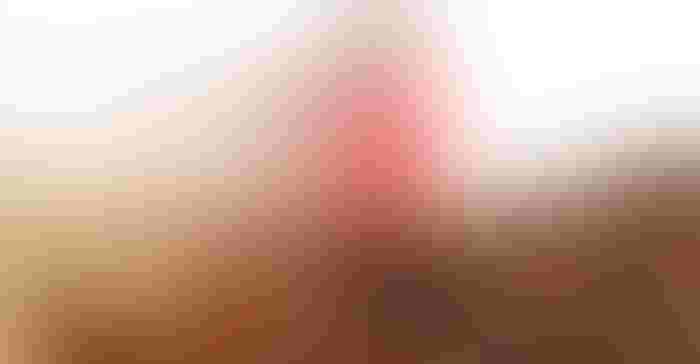 Wes Farris and his father Terry raise all-natural, antibiotic and hormone-free mama cows on their Sentinel, Okla., farm. The cattle are sold to a nearby feed yard and then sold to Whole Foods. (Photo by Marlie Farris)
Wheat
This year, the Farrises harvested better-than-average wheat -- 48 bushels to the acre. "Typically, we average about 30 to 35 bushels," Wes says. "Used to we thought we were doing a good job with that, but not anymore."
"Now we have to make 40 to 45 bushels," Terry says. "It takes the high 30s and low 40s just to break even with fertilizer prices."
No-till
The Farrises utilize crop rotation and no-till to decrease inputs while increasing production. "We were all no-till up until this year," Wes says.
As for what changed, Wes points to the sharp increase in chemical prices, "and then the chemicals that you spend a small fortune on don't work. You can go out there and spray Roundup and it might kill some Bermuda grass or some volunteer wheat but it's not going to kill Mares Tail and pigweed—the stuff you need it to kill."
Terry and Wes have been no-tilling since 2003 when they purchased their first air seeder. "We fought the no-till for two or three years, not wanting to do it. We were diehard (conventional) farmers," Terry admits.
"We thought the only way was to plow it to death, but I don't believe that anymore," Wes says. "We've no-tilled long enough that our ground's getting rough. We're going to plow everything at least one time eventually."
See, Cover crops help reduce input costs
The plan is to plow 500 acres each year, and then, "it's all going back into no-till. We're not going to keep plowing," Wes says. "We're not giving up on no-till."
"Part of it is the ground needed some work, too," Terry adds. "We've no-tilled it for so long that we've got badger holes and washes. Even though we leave a good cover on it, you just can't avoid some of that. When you get a 10-inch rain in a couple of days, no-till doesn't even handle that very well."
Cotton
Wes serves on the board of directors for Western Planters, a cotton gin in Hobart. He says no-till is the only way to grow cotton in his area.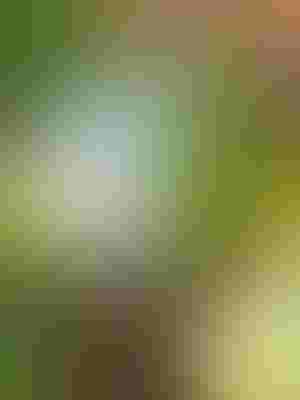 Bolls are beginning to pop open on the Farris farm. (Photo by Shelley E. Huguley)
"I don't care what anybody says, that's the only way to make cotton in this part of the country is to plant it in wheat straw, not plowed ground. There's places out here that the cotton completely burned up because they planted it on bare ground."
The Farrises run a stripper header on their combine. "You don't cut the straw off and that's what we plant into," Wes says. "I love it. When you plant in that straw, that little cotton comes up and it's kind of protected. It gives it a head start."
See, Cotton contamination: Prevention is key
The Farrises raise all-natural, antibiotic and hormone-free mama cows which are sold to a nearby feed yard, Premium Beef, and in turn sold to Whole Foods. They graze their cattle on winter wheat but needed a rotation to reduce weed pressure. For the last six years, cotton's been a good fit.
"It's helped tremendously," Wes says.
Alfalfa
Terry and Wes also no-till alfalfa, which is typically a "no-no," Terry says.
"One year, I don't know how it worked out, but right across the creek down here, we no-tilled alfalfa in stripper straw. The ground was still smooth," Wes says. "It was the best alfalfa stand we've ever had, but you've got to think, it's a perfect seedbed, the ground is settled, there's no loose dirt to roll over the top of the seed, you just go down there and hide it from the birds.
"And that alfalfa actually came up because we had enough moisture. Normally, we dust in alfalfa -- you barely put it in the ground because it doesn't have any push."
"And that's after you've worked that same piece of ground five or six times with hares and packers to get the kind of seedbed he's getting with leaving stubble," Terry adds.
No-tilling alfalfa would be impossible without an air seeder, Terry says. "That's our go-to tool," Wes adds. "The savings aren't in yield; it's in input costs." Terry agrees.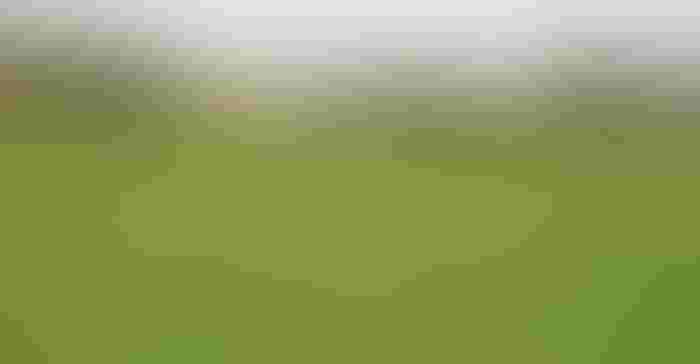 No-till alfalfa on the Farris farm. (Photo by Marlie Farris)
Wes says preparing alfalfa ground using conventional tillage requires about six trips using the chisel plow, and dragging a set of hares over it two or three times, often followed by a land leveler. "And that costs money, a lot of money. We hit a home run that year we planted alfalfa in that stubble."
"We've done it two or three times and haven't failed to get a good stand," Terry says. "And when I say good, I mean good. We don't do halfway stands."
"No," agrees Wes, "because they don't make any money."
The Farrises plant alfalfa shallow enough that it emerges and is growing with at least three or four first leaves before the first freeze.
See, 10 things to consider when establishing an alfalfa stand
"That time frame gives you enough time to get some fall rains and get it up and going where it will survive the winter. We put down a preemerge to control weeds," Wes adds.
This year, at the recommendation of their longtime crop consultant Parker Christian, a preemerge, flumioxazin, will be applied in mid-September for weed control. "We used to spray a chemical called Velpar Alfamax in late January. It was like $20 an acre. This shot will only be $4 per acre and hopefully do the same thing," Wes says.
Concerns
As father and son prepare for the months ahead, they, like many producers, are concerned about the supply shortages along with rising fuel and chemical costs. "Input costs more than anything," Wes says.
Terry says parts and equipment. "We lost a hay rake the other day and we can't find a replacement anywhere. I've called and looked around. Of course, we're a bit picky about what we buy but still, we can't get anything."
Though times are uncertain and farming more challenging, Wes is confident, no matter what, there's always going to be a need for cotton clothes and bread to eat. "People still have to eat. There will always be a need for a farmer."
Subscribe to receive top agriculture news
Be informed daily with these free e-newsletters
You May Also Like
---