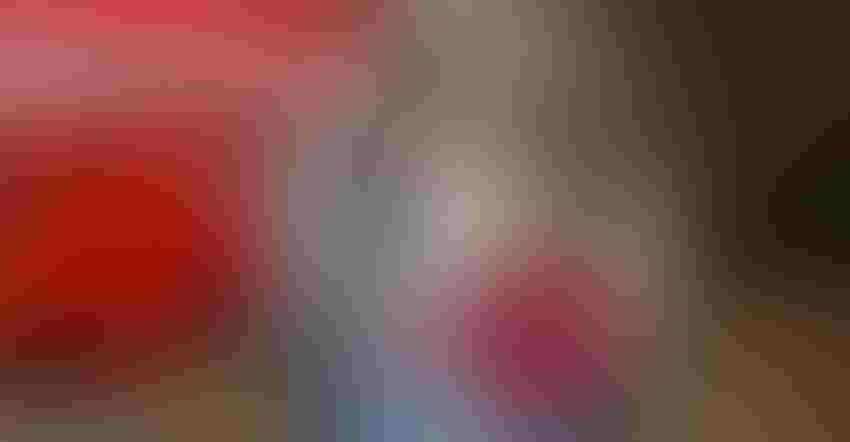 REUNITED: After searching for three months, Malinda Weisensel (left) and Stephanie Halberg were able to find the IH 1206 tractor that their father, Doug Allen, originally purchased in 1983.
Photos courtesy of Doug Allen
A model International Harvester 1206 tractor rolled off the assembly line in the mid-1960s, and for the next 55 years, it would bounce around like it was in a pinball machine, working the land and doing a variety of jobs for several farmers across southern Wisconsin.
One individual who became part of this journey was Doug Allen of Cottage Grove, Wis. He first saw the tractor in 1983 at an auction in Deerfield, Wis., but was a little disappointed when his final bid fell short prior to the auctioneer's last call. However, the next day he returned to the lot, and the new owner offered him a second opportunity to purchase that machine.
Second chance
"He said I could have the tractor for another $100 above the final sales price of $5,325," Allen recalls. "It looked rough but was in good running order and had a full set of front-end weights. At that time, I owned a model IH 806 but needed something with an additional 50 hp, so I thought that spending the extra cash was a good deal. The 1206 immediately became the primary workhorse on my 150 acres. Besides handling all the tillage chores, it also pulled the four-row, 38-inch John Deere 7000 planter and operated the John Deere 24T hay baler."
The 1206 featured a rear-type three-point hitch, row crop standard front end, hydraulic power steering, independent rear PTO, differential hydraulic dry disc brakes, 35-gallon fuel capacity, open operator station, unsynchronized transmission, torque amplifier partial power shift, 16 forward and eight reverse gears, 5.9-liter six-cylinder turbocharged liquid-cooled diesel engine, optional one-door cab, and heat and air conditioning. There were 1,289 models manufactured from 1965 to 1967 at a listed sale price of $9,450 in that final year.
OLD FRIEND: Doug Allen of Cottage Grove owned this IH 1206 tractor from 1983 to 1991.
Allen notes that when he took the 1206 home, it had logged 3,200 hours primarily doing tillage chores. He enjoyed tractor pulling, and entered a half-dozen contests each season, earning some cash awards and several trophies. This activity also rubbed off on his daughters, Malinda Weisensel and Stephanie Halberg, who competed in pedal pulls. After owning the tractor for a year, Allen repainted it and put on new tires for $1,200. Otherwise, only minimum maintenance was done annually.
"I always felt comfortable on that sharp-looking 1206. My favorite job was chisel-plowing at night," Allen says. "I liked to crank up the engine in tough conditions. You could hear its bark, and the turbo had a distinct whistle. After eight years and putting on 900 hours, I reluctantly traded for a model 766 Farmall diesel that only had 2,200 hours on the tachometer. I was hesitant to make the deal because the 1206 ran so perfect, but it was time to upgrade."
On the road again
Over the next few years, the 1206 continued to hit the road. First, it went to Tim Vike in Stoughton and from there to a neighbor, Paul Tyler. Next, the tractor may have been sold through an auction in Spring Green and later possibly ended up in Iowa. Any future destinations were unknown. However, the Allen girls knew their father always had special vibes for the 1206 and that he always regretted selling that machine.
"Last October, Dad gave me the serial number, and with my sister's help, we began the search of reuniting him with the 1206 again on his next birthday," Halberg says. "After checking Craigslist, talking with a couple of individuals and connecting with the IH Group on Facebook, our persistence paid off when we located the present owner, Diane Erb, of Mount Horeb, whose husband had purchased the tractor in 1999."
In January, his daughters asked him to join them for lunch, but they ended up at Erb's farmstead. "When the garage door opened, I just stood there in admiration," Allen says. "The 1206 looked nearly the same except for a shiny chrome exhaust pipe and new hydraulic seat. After taking some photos, I got up on that 1206 again and grabbed hold of the steering wheel. It was such a thrill and for sure the best birthday gift I have ever received."
Persinger writes from Milwaukee. To have your favorite tractor featured, email or send in a photo of yourself with your tractor, along with a 300-word write-up about the tractor to: [email protected] or Wisconsin Agriculturist, P.O. Box 236, Brandon, WI 53919.
Subscribe to receive top agriculture news
Be informed daily with these free e-newsletters
You May Also Like
---