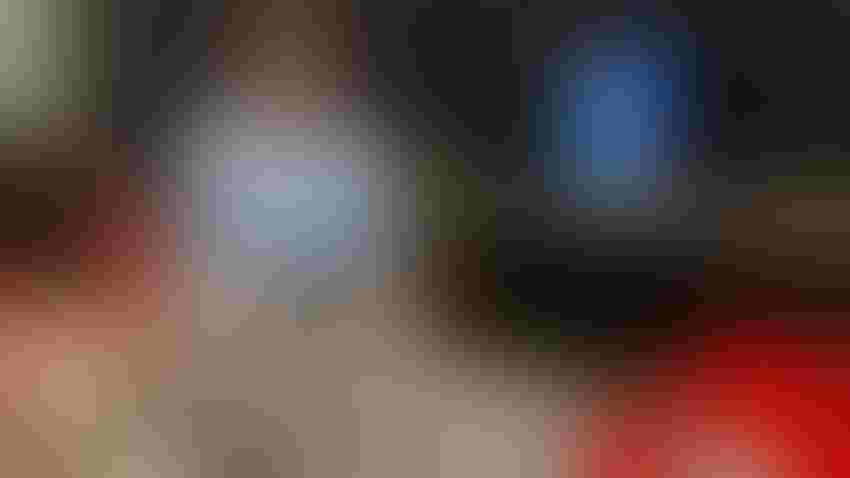 HANDLE WITH EASE: Brad Hennen created the Hennen Pig Chute to remove stress for pigs and producers during the vaccination process.
Kevin Schulz
Born out of a National Pork Board task force searching for ways to eliminate broken needles in pork, Brad Hennen thinks a device he has designed answers that, as well as improves vaccination accuracy.
"A typical vaccine that a farmer is giving to a young pig costs roughly $1, and I want to make sure that they get a full return on that investment of $1," he says, "and that return is much more likely to be high if they get that vaccine right where it's supposed to be — that's behind the ear in the muscle."
The Hennen Pig Chute can be set up in a pen or in an alleyway, wherever a producer is already moving pigs, entering or exiting a building or room within a barn. "That's the easiest way to achieve throughput because you're not doing an extra handling of the pigs," Hennen says. "You're just doing it as your normal handling process."
Pigs from 10 to 40 pounds are channeled to the aluminum chute via attached poly panels, and a pair of parallel conveyor belts comfortably moves the pigs through the chute.
"I'm trying to help facilitate that restraint of the pig for those vaccination purposes," Hennen says, while displaying the chute at the recent Minnesota Pork Congress. He adds that the pigs are restrained only while the pig is being vaccinated, "rather than a whole group being crowded into a corner, so it's less stressful on the pig. It's less stressful on the producer."
Hennen, from Ghent, Minn., is past president of the Minnesota Pork Board, and his day job is as an account manager for Fast Genetics.
Adjusts to operator comfort
The chute is at slat level, allowing the one administering the vaccinations to sit down while the pigs are channeled along in front of them. The conveyors are controlled by a foot pedal, allowing the producer to easily start and stop the belts, which also have speed adjustments.
"You can accommodate the learning curve of the operator, to train them to achieve accuracy, first of all, since that is the first priority," he says. "Then, as they become more comfortable with it, you can up the speed." At top speed, if pigs are coming through the chute nose to tail, producers can process as many as 3,000 pigs per hour, Hennen adds.
Depending on the vaccination system currently implemented by a producer, Hennen says this device may save time and labor needed for the vaccination process.
"There are some operations that are doing all vaccination with one person now, and they may or may not be adequately addressing the aspect of accuracy," he says. "So, chances are in that situation what I'm going to save them mostly — or help them with — is efficacy of the vaccine."
Visit youtube.com/watch?app=desktop&v=CHaHjzAkk4k to watch a video of the Hennen Pig Chute in action, or see it below:
In a testimony on Hennen's website, a Colorado producer says he paid for the device in 45 days strictly due to labor savings, "so it depends on what process they are using as far as the benefits you'll see," Hennen says.
The Hennen Pig Chute also gained attention as it was one of the top 10 finalists in the Farmer Bureau Ag Innovation Challenge, earning Hennen $10,000 in startup funds.
A Hutterite colony west of Watertown, S.D., manufactures the Hennen Pig Chute, which costs $7,000 including delivery, setup and training of the receiving crew. More information can be found at hennenpigchute.com or by contacting Hennen at 507-828-0276 or [email protected].
Subscribe to receive top agriculture news
Be informed daily with these free e-newsletters
You May Also Like
---