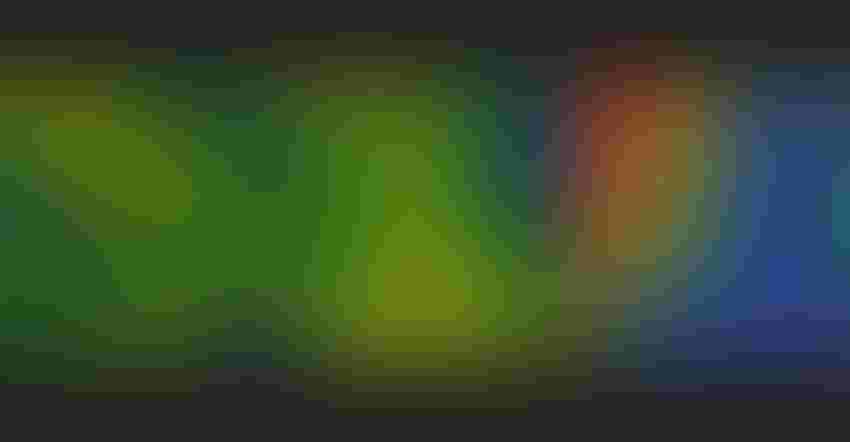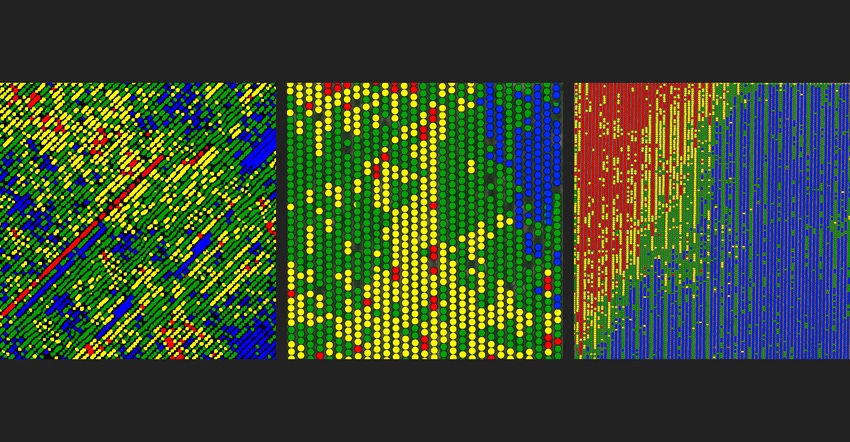 WHAT DOES IT MEAN: Interpreting images from the air for actions on the ground isn't always easy. These three images show different conditions from a microdrip system — the problems in each identified by the Ceres Imaging artificial intelligence solution. From left, you see a clogged microdrip system, a leak in the system and a pressure issue in the system.
Photos courtesy of Ceres Imaging
One of the challenges of aerial imagery, whether from an airplane or a satellite, is making sense of what you see. What is that image telling you? Ceres Imaging, a California startup with offices in Nebraska and Washington, is using artificial intelligence to answer that question.
The company is entering its ninth crop season of providing high-resolution crop imagery for customers. However, John Bourne, vice president of marketing, Ceres Imaging, says the company wanted to work on ways to "productize" the good science it was developing, so three years ago it brought artificial intelligence technology to irrigation issue identification.
"Our main use case for our product is irrigation performance management," Bourne says. "We have this water stress index, which is the most accurate on the market."
He notes that the company has gone beyond managing stress using AI to identify and categorize issues when measuring water. The key is not only seeing there is water-related crop stress, but also knowing the cause of that stress.
Recently, the company issued a publication where it evaluated microdrip irrigation on nearly 1 million acres in California. From that analysis, they learned the value of more precise irrigation management. And while much of that work was in high-value crops, Ceres also works with pivot irrigators in other regions of the country to manage water.
"We provide the customer with a dashboard report showing the size and severity of irrigation issues across an operation," Bourne explains.
But what's the payback of mating aerial imagery with artificial intelligence? Turns out knowing "what" is happening in that water system is important, versus simply knowing "that" something is happening.
The financial case
In its report on microdrip irrigation management, Ceres Imaging ran some interesting numbers showing revenue impact on one crop — almonds. Using information from its analysis, it built a case history for a hypothetical 1,000-acre facility with drip-irrigated trees bringing in roughly $8,000 in yield per acre.
In that scenario, they found that, on average, they detected 27 irrigation issues per season effecting more than 1 acre. The average drip issue effected about 10 acres. The estimated yield impact per issue was about 4.8%. Here's the math: 27 issues times 9.9 acres times 4.8% hit to yield times $8,000 equals estimated losses of about $103,000 for that operation.
Some of the yield losses in the case study involve lack of water, while others may involve over-watering. Ceres Imaging has worked out a way to identify the difference, and help identify field areas where farmers can turn their attention and have the most impact.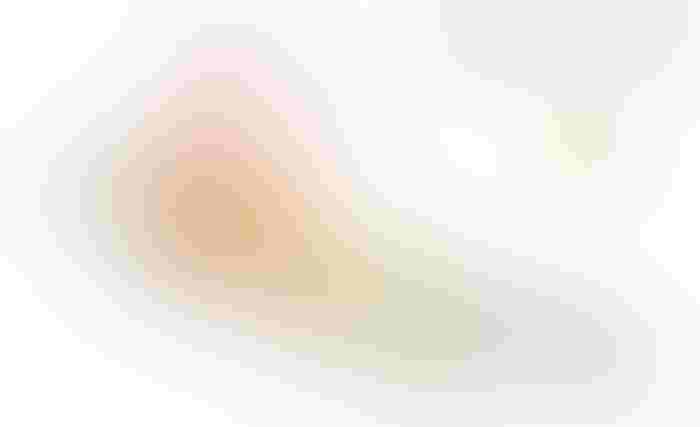 The irrigation issue dashboard Ceres provides customers is designed to help prioritize the work needed to keep irrigation systems running smoothly. "We provide a focused dashboard, and rank issues  by size and impact to yield," Bourne says. "So for a typical grower, when it's Monday morning, they can log on and focus on the top three or four things they need to deal with that day, and then filter out other less-acute issues to keep an eye on or address later. "
He explains users can filter that information by different characteristics to maximize work needed on the farm.
The company uses airplanes and high-resolution cameras to fly over fields. At a minimum, a farmer would have the company fly over a field four times a season, but for more high-value crops, that service can be as frequent as weekly. Providing precision imagery combined with the troubleshooting power offered by AI provides actionable information for maximizing water use.
In California, water use has become critical as drought has returned. However, deploying this type of technology across most any irrigation system may have value across the country. While Ceres does a lot of work in high-value crops, more row crop farmers who irrigate will find precision imagery mated to decision-making advice from AI will improve water management for the future.
To learn more, and to get a copy of the field analysis report Ceres Imagery produced, visit ceresimaging.net.
About the Author(s)
Subscribe to receive top agriculture news
Be informed daily with these free e-newsletters
You May Also Like
---