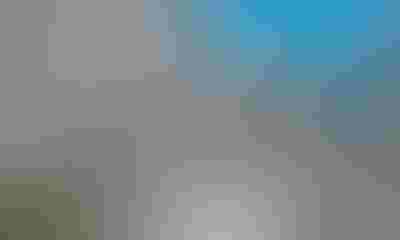 Your grandpa likely thought the first gravity wagon he owned was better than sliced bread. No more using a drag with a finicky motor to unload ear corn out of a flatbed wagon. No more using a grab fork to pull ears of corn down out of the wagon. Now he could simply open a door, and unless the corn was extra wet, most of it would roll out into the elevator. When shelled corn came along, the gravity wagon was super-suited to handling it, as well.

Those first gravity wagons might have held all of 100 bushels. Gravity wagons are still made today. The newest ones hold more than 700 bushels. And now we have grain carts. They can hold well over 1,000 bushels and have features that make it easier to unload into a waiting semi.
Some have augers with spouts you can rotate, and some are designed so it's easy to see how the truck is filling up. Many people add cameras to the combine or grain cart to help monitor how unloading and filling is going, as well.
Your grandpa would likely scratch his head at those ideas. He would certainly be amazed at some of the latest products introduced by companies that are in the business of making equipment to help haul grain out of the field, to the bin and to market. High-tech designs have reached the grain hauling and handling chores.
Precision technology will likely take grain hauling with a grain cart in the field into a whole new area of recording weights and transferring data. From what companies are already showing today, it appears precision technology will encompass the grain handling world very soon. 
Check out this selection of grain handling equipment.
Kinze single-auger grain cart
The Kinze 1051 single-auger grain cart is setting a different standard for grain handling performance. This 1,050-bushel single-auger cart features a front-folding corner auger, frame design, adjustable spout, 20-inch Ultraflyte auger, low ground-pressure radial tires, torque-limiting clutch, powder-coat finish, 20-bolt hubs and pit-dump door. This cart has a frame design to improve the line-of-sight of both combine and cart spouts. Radial tires were added to reduce compaction. For more information, contact Kinze, Williamsburg, Iowa, by visiting kinze.com to find your local dealer.
Instant access to harvest info
Have you sat in the operator's seat in the combine, shelling corn, and wondered what the new weight was after dumping on the go? Now you can know instantly without stopping or contacting the grain cart driver. The Libra Cart grain weighing and information transfer system from Agrimatics makes it possible. Jasmine Brodziak, marketing coordinator, explains that a wireless system can send information 400 to 500 feet from the scales on the cart. Contact Agrimatics, a Canadian-based company, at 888-241-7216 or visit agrimatics.com.
Track grain from field to bins
The REAP app from Scale-Tec brings precision technology to the harvest. You can track grain trucks and grain carts, and be in the know all the time. You will never overload a truck again, spokespeople say. This system is all about knowing weights, moisture level and all pertinent facts about grain from the time it leaves the combine and enters the grain cart or semi until it reaches its destination. The hardware to make REAP work is $979. The REAP app is free. Contact Scale-Tec, with offices in Anamosa, Iowa, and Galion, Ohio, at 888-962-2344 or scale-tec.com.
Big-capacity gravity wagons

If you thought grain carts had relegated gravity wagons to the antique farm machinery museum, think again. J&M not only still makes gravity wagons, but it also just introduced the 55 Series of gravity wagons. Models range from 455-bushel capacity to 755-bushel capacity. The models feature steeper side slopes so grain empties easier. They're equipped with wider unloading doors and a bigger door-opening wheel for easier operation. The model shown lists at $28,870. Contact J&M Manufacturing Inc., Fort Recovery, Ohio, at 419-375-2376 or jm-inc.com.
Grain carts with more reach

If you want a grain cart that doesn't require Houdini to load or unload it safely, J&M has designed grain carts worth your attention. The 12 and 22 series X-Tended Reach grain carts provide greater reach upward, outward and forward compared to previous models, spokespeople say. They accomplish this with a straighter auger tube. The Model 1150 pictured, with 1,150-bushel capacity, lists at $84,335. That includes big tires but doesn't include scales or a tarp. Contact J&M Manufacturing Inc., Fort Recovery, Ohio, at 419-375-2376 or jm-inc.com.
Portable drive-over dump to unload grain

Sudenga introduces the PDOH 125 model portable drive-over grain dump. If you don't have a fixed dump in a grain center, then this is a product you will want to check out. It's rated at 12,500 bushels of capacity per hour and is driven by hydraulics. It's designed from the start as a mobile pit that you can move from site to site as necessary. List price is $39,500. Contact Sudenga, George, Iowa, at 888-783-3642 or sudenga.com.
Move more grain with portable double-dump hopper
Sudenga introduces a double-dump, drive-over, portable hopper to help you move grain quickly. This model features two belts that allow you to dump out of two places in a semitruck at the same time. That was the inspiration for this model. It's capable of moving 7,500 bushels per hour. The unit is powered by an all-hydraulic drive system. Contact Sudenga, George, Iowa, at 888-783-3642 or sudenga.com.
Brandt grain vac
The latest Brandt grain vac can move 8,000 bushels per hour. Features include Brandt's signature cone separation system, MaxFlo nozzle and self-adjusting air throttle. For more information, contact Brandt Agriculture Products at 866-427-2638 or brandt.ca.
Ultima62 by Conveyair
Conveyair's Ultima62 comes with a 6-inch-diameter suction discharge hose, a heavy-duty 5.3-cubic-inch positive displacement blower and a high-efficiency silencing system. For more information, contact Thor Manufacturing, Winnipeg, Manitoba, at 800-582-3944 or thormanufacturing.com; or Grain Vacs Inc., Clear Lake, Iowa, at 800-909-3234.
Walinga diesel vac goes where you need it

Walinga's self-powered, stand-alone diesel vac systems can be moved around a bin site to maximize grain transfer efficiencies. Features include a Rhino-lined boom cyclone and square back elbow. For more information, contact Walinga, Guelph, Ontario, at 519-824-8520 or walinga.com.
Quick unloading and gentle grain handling

The WCX 1800 Pitstop grain unloader offers quick and convenient unloading and gentle handling of grain. With a low clearance of 7.5 inches, the unit has an easy-access dump platform that measures 8 by 12 inches. It has a hydraulic lift on transport wheels for easy setup, and is available with an optional self-propelled kit. The Pitstop retails for $17,550. Learn more at grainaugers.com.
Efficiency the name of the game with drive-over hopper
The MKX GULP2 Series of hydraulically controlled drive-over grain hoppers from Westfield and AGI takes efficiency to a new level. The hydraulic landing gear raises, lowers and drives the GULP2 with minimal time spent. The system comes fully integrated and ready to use, and is easy to transport and deploy with your MKX auger. The unit has a drive-over height of 4.5 inches, and a large 52-by-80-inch catchment area. Learn more at grainaugers.com.
Subscribe to receive top agriculture news
Be informed daily with these free e-newsletters
You May Also Like
---