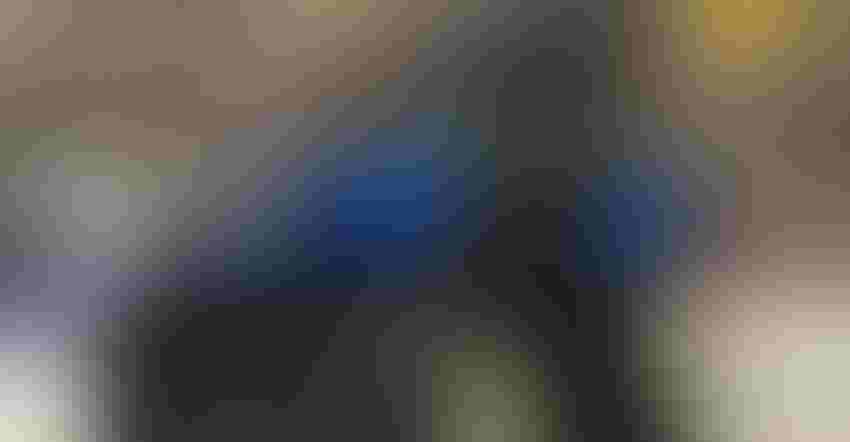 LOOKS LIKE A TRACTOR: The new T6.180 Methane Power tractor produces the same horsepower and torque as its diesel cousin, but burns a new kind of fuel — methane or compressed natural gas. Methane from a livestock operation, properly cleaned and compressed, can fuel this machine.
Photos by Willie Vogt
There's a phrase that's becoming more popular around ag circles these days — circular economy. It's the idea that there is a cycle from planting to harvest that can bring added value to the farm. A prime example is on-farm methane production. And while that was popular for selling electric power to the grid, back in the day, New Holland has a different idea: burn that methane in your own tractor.
The idea of a methane-powered tractor has been under development for some time by New Holland's engineers. The first commercial machine coming to market is the T6.180, with a 180-hp engine that can run on methane or compressed natural gas.
"This is a spark ignition engine, rather than a compression engine," says Mark Lowery, director of marketing for New Holland. "Our requirement for the engine was that it deliver the same horsepower and torque that someone would expect in a tractor this size; otherwise, farmers are not going to accept it very well."
The new machines will be trickling into the U.S. market as the company ramps up production. There is a machine in the field at a dairy in California running on methane produced in an on-farm digester. And that's the ultimate model for the circular economy: The dairy produces milk, and the methane from manure is powering tractors to produce feed.
The engine from FPT Industrial is an all-new NEF 6.7-liter engine specifically developed for agricultural applications. FPT has a 20-plus-year history of producing engines that run on natural gas, and that experience went into the design of this engine for the new tractor.
Making methane for fuel
Burning farm-raised methane in a tractor might be a dream for some producers who have invested in a methane digester capturing the gas for use on the farm. In the past, those captured gases ran natural gas engines providing electricity on the farm. There was little processing done to that fuel as it moved from digester to engine.
For this new tractor, it will be a different story. "The key is that [the fuel] has to be cleaned, compressed, and obviously, it has to meet the fuel standards," Lowery says.
Farmers won't simply siphon the methane directly from the digester. There are companies that make filtration and compression systems to be installed in remote areas like farms.
"We have a relationship with a company called Bennamann in Europe in order to make economical, more or less, scrubbers and compressors to make on-farm methane more of a reality," Lowery explains.
The European market is more advanced in its use of biomethane as a fuel source. CNH invested in Bennamann in 2021. Their relationship offers an example of ways companies are working together to play in the circular economy.
Lowery says CNH is looking to install a system on the company farm in New Holland, Pa., to test the model. "We've got 150 head of beef cattle we finish every year right there, so we have a good operation and can do some validation ourselves," he says.
In the early planning stages, this farm project would help demonstrate the circular fuel economy at work, Lowery says. The cattle produce the raw material, which is processed, compressed and pumped into the tractor's tank for fuel. The tractor then hits the field to help produce feed for the same cattle.
Details of T6.180
Methane power isn't as energy dense as diesel, Lowery explains. He notes that on a fill, the machine will run continuously for about four hours, depending on the workload.
Holding 49 gallons of fuel, the seven gas tanks are located in the same position as diesel tanks on a standard T6 model. The fuel storage has been optimized to ensure production tire size offerings and track width settings.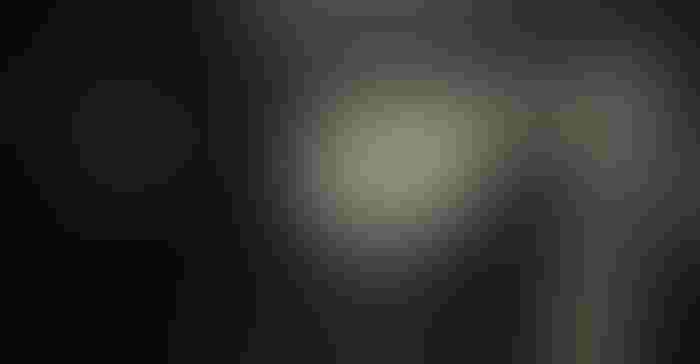 A mid-mount valve is also available. And for between fill-ups, you can use an optional front-mounted range extender with an added 71 gallons of fuel capacity. This add-on tank, which can offer some additional ballast, uses a bolted connection to a port on the front of the tractor. The tractor also features added gas connection points at the front and rear, where additional fuel storage could be added if mounted on trailers or implements.
With this design, the machine can see as much as a 30% reduction in operating costs by using methane or compressed natural gas, Lowery says. Compared to emission limits allowed under European Stage V emission regulations — which are stricter than the Tier 4 standard in the U.S. — the T6.180 Methane Power produces 98% less particulate matter.
Running with biomethane, the machine provides a 10% to 15% reduction in carbon dioxide. A maintenance-free, three-way catalyst is used for aftertreatment, eliminating the need for exhaust gas recirculation and selective catalytic reduction components.
About the Author(s)
Subscribe to receive top agriculture news
Be informed daily with these free e-newsletters
You May Also Like
---