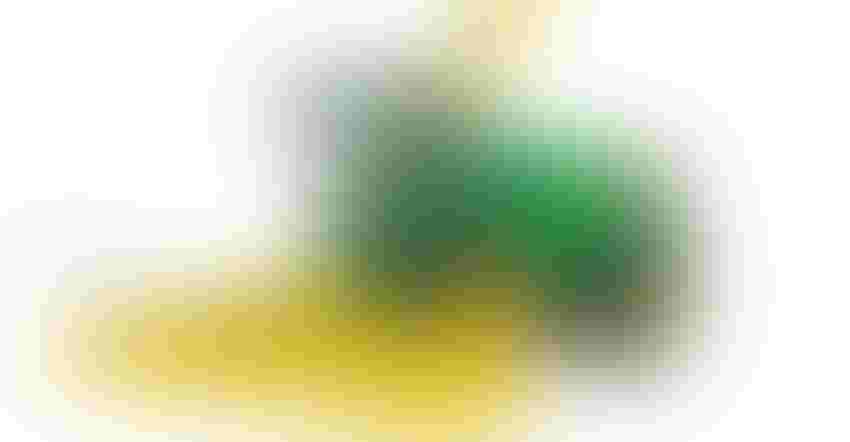 NEW FORAGE HARVESTER: The 9700 Series forage harvester has been upgraded with a new John Deere JD18X 18-liter engine, which the company claims is 13% more efficient than the previous engine used.
Courtesy of John Deere
John Deere has added three new self-propelled forage harvesters to its lineup, including one that is a brand-new offering.
"John Deere expanded the horsepower offerings for our wide-body forage harvesters that include the 9500 to 9900 models to provide improved performance, and made updates to maximize machine uptime and reduce cost of operation," says Chase Milem, marketing manager for John Deere.
The new forage harvesters start with the 9500, which Milem says is completely new and has a maximum 755 hp. The company is also offering an upgraded 9600, which also has a max 755 hp, and the 9700 with 813 max hp.
The three machines feature a brand-new John Deere JD18X 18-liter engine, which the company claims is 13% more efficient than the previous engine used in these models, largely because it's diesel only and does not require diesel exhaust fluid.
The new engine has a 750-hour service interval, an improvement of 33% compared to the previously used 13.5-liter engine. And since no DEF fluid is required, ownership costs are kept low and machine reliability is increased, according to the company.
The company also offers the 9800 (855 max hp) and 9900 (956 max hp), which are equipped with a Liebherr 24L engine, in its 9000 Series line.
Another feature of the new engine is the company's HarvestMotion Plus technology, which Milem describes as providing a unique low-rise torque curve that can provide extra power at lower RPMs.
"That's going to allow an increase of horsepower when they are moving through tough conditions," he says. "Total throughput is another need, to push the crop all the time and keep pushing forward with boosted hp."
The 9000 Series forage harvesters also come equipped with a new spout that provides better operator visibility while unloading. With additional clean-outs and a change in the geometry of the spout, customers can run in "sticky" crop conditions for longer periods of time without plugging, the company says.
You can also get fully integrated AutoTrac RowSense guidance, Active Fill Control with rear unloading and a new Generation 4 cab display in the 9000 Series. "These are industry-leading features that are available as options from the factory," Milem says.
Another option is John Deere HarvestLab 3000, which provides on-the-go constituent sensing and documentation.
"It can be used as a manure-sensing tool and as a stand-alone stationary test unit that can analyze up to seven constituents," Milem says. "These constituents include NDF, crude protein, moisture, sugar, starch, crude fiber, ash and ADF. Using the documented information, farmers can quickly analyze data from worked fields, adjust fertilizer use, select optimal varieties for the upcoming season and improve water management."
Each model is now available for purchase, with prices starting at $673,000 for the 9500 Series. For more information, visit deere.com.
Subscribe to receive top agriculture news
Be informed daily with these free e-newsletters
You May Also Like
---