Mitch Lazenby investing in irrigation for farm's future
Mitch Lazenby investing in irrigation for farm's future
<p>&bull; One of the ways Mitch Lazenby is fighting back against the elements is through undertaking an irrigation project aimed at converting under-utilized land into irrigated cropland.</p><p>&bull; Mitch Lazenby acknowledges he needs to be more invested in irrigation, but Alabama farmers traditionally have less irrigation than their counterparts in neighboring states.</p>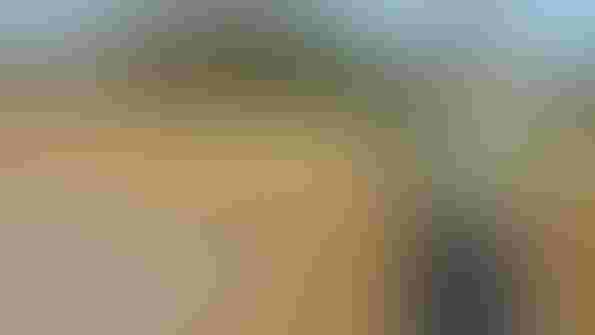 <p><em><strong>EAST ALABAMA FARMER Mitch Lazenby stands next to a pond that eventually should pump about a foot of water on 30 to 40 acres of land. </strong></em></p>
East Alabama farmer Mitch Lazenby witnessed unprecedented disasters on his family's farm in 2009 and 2010, but with an innovative new irrigation plan in the works, he's keeping his eye on the future.
"In 2009 and in 2010, we had catastrophic crop losses," says Lazenby, who farms in Lee County, Ala.
"My family has been farming since the late 1800s, and that has never happened here. In those 100-plus years, we've always had at least some crop to harvest."
In 2009, he explains, he planted primarily peanuts, and it began to rain in the fall. "It never stopped, and we lost the entire crop. Then, in 2010, when we planted mostly cotton, it didn't rain past May 31, and all the way into the fall. In two consecutive years, we never put any harvest equipment in the field," he says.
Lazenby normally rotates two-thirds cotton and one-third peanuts with one-third cotton and two-thirds peanuts. "This past year, we had a yield of approximately 700 to 800 pounds per acre on our cotton, which is phenomenal compared to the previous two years. We're still behind the eight-ball, because it takes a long time to get those funds built back up. I don't know how long it'll take us. We know that nothing is absolute in farming, but we're still swinging and we're fighting back," he says.
One of the ways he's fighting back is through undertaking an irrigation project aimed at converting under-utilized land into irrigated cropland.
"It'll still be a very small percentage of our cropland that's irrigated, but we're trying to do anything that'll help," says Lazenby. "We've done more in the last three catastrophic years that we've had on this farm than we've ever done before, as far as the amount of resources and the money we've spent. So in one sense, it's amazing that we've done as well as we have. As tough as things have been, we're trying to position ourselves so that we can take advantage when conditions do improve."
Realizes the need
Lazenby acknowledges he needs to be more invested in irrigation, but Alabama farmers traditionally have less irrigation than their counterparts in neighboring states. In many cases, a lack of water resources has been the primary obstacle, but Lazenby's project — one of only a few like it in the state — could change that.
The project is part of the Agricultural Water Enhancement Program (AWEP) administered by NRCS, promoting ground and surface water conservation and improving water quality by helping farmers and ranchers implement agricultural water enhancement activities.
Alabama AWEP has focused on the installation of upland storage ponds. Practices include constructing upland irrigation storage ponds, installing pumps and pipelines to fill storage ponds, irrigation system improvements or enhancements to improve the efficiency of and reduce the energy needs of existing irrigation systems, and the installation of soil moisture sensors and water meters to monitor and improve irrigation efficiencies.
Applicants for the cost-share program are ranked competitively statewide, with plans implemented over a two to three-year period.
With so few of the projects being awarded to farmers in Alabama, Lazenby says he feels fortunate, but also challenged.
"These projects are by no means slam dunks, especially considering the price of fuel needed to run an irrigation system. AWEP makes an unsensible project sensible. Many farmers don't know if they should spend the money required to make this work, but it may be the only option for some."
In addition to growing peanuts and cotton, Lazenby also grows corn and hay, in addition to raising about 200 head of registered Angus. His family also has an agri-tourism venture that offers something for visitors during three seasons of the year.
"Primarily, we're a row-crop operation, and that's what is driving this project — we want to micromanage our water here at this farm. The land we're using for this project never laid well and was wet. It's hard to find sites that really fit the program really well because you're trying to find a place that's conducive to building a pond, but it can't have any runoff in it.
"They don't want you to dam up a creek with this program, so the first challenge is finding a site that doesn't have a stream running through it, but also is conducive to building a pond. Secondly, you have to be close enough in proximity to pump water from a stream to the pond, and you must have a stream you can pump water from."
Lazenby says he had land that couldn't be farmed, and a site that was densely populated with trees. "It was bottomland where beavers backed up water, and we could never do much with it. It was difficult to get farm equipment into the area."
Coming this spring
After two and a half years of work, Lazenby expects the first irrigation system to be operable this spring.
"The first year, we came in and took out all of the big trees," he says. "We came in and opened it up, got the beavers out, and improved the drainage. We also sloped the ditches on it and put in our water bars."
In the following spring, Lazenby planted a crop of wheat on the land. "This past May and June, we harvested a crop of wheat from the ground we had cleared. Then, we started the second phase of the project after the wheat was harvested, putting in the core and building the dam.
"We excavated and got as much soil as we needed for the core. We stockpiled as much of the topsoil as possible, since we don't need it in the bottom of this body of water, and we've been able to sell some of it to landscape companies. We'll also put it back out in fields in certain places where it's needed."
There's still a considerable amount of field dirt left to be removed from the pond site, he says.
"Right now, we're at about 15 million gallons of water, with about a 4.5- to 5-acre surface area. That should put us at about 30 to 40-acre feet of water. This pool of water should put out about a foot of water on 30 to 40 acres, which is really good for us."
The premise of the entire project, says Lazenby, is to hopefully catch the winter water that's going to the Gulf of Mexico or wherever it might wind up.
"We're trying to retrieve it during these months when people are just feeding cows and waiting for spring to get here. We'll have three pivots on this one farm – one that'll do a full circle, one that'll do a semi-circle, and one on the other side of the road that'll do a semi-circle. We'll do those in two stages, putting in one this winter, and then putting in another one next winter.
"The beauty of this project is that we were able to take some of the topsoil and fill in two bottoms, so now we've got one smooth bottom behind the dam. It made the land more workable for us. Rye is now planted in the bottom."
He'll put a pumping station in the creek and pump water out of the stream to help fill the pond during about three months of the year. What's remaining to be filled will be fed by rain.
Lazenby says he has had to "wear a lot of hats" during the project, and that it hasn't been without its challenges.
"We dug down to about 20 feet, and then my irrigation guy told me you couldn't efficiently lift water but 10 to 12 feet. You can push water as far as you want, but you can only lift it a certain number of feet. We didn't want any pumps or pipes on the dam for the aesthetics of it, so we decided to go to the center of the bottom of the pond and dug a canal. As this body of water starts to draw down, we have a floating pump."
It's well known, says Lazenby, that Alabama is under-irrigated. "But the only way I think we can effectively irrigate is with standing bodies of water. We can't effectively dig wells.
We had some subsurface drip irrigation on our farm in the past, but it was difficult to manage. For us, to apply with a pivot is the most efficient way to water our crops."
Subscribe to receive top agriculture news
Be informed daily with these free e-newsletters
You May Also Like
---