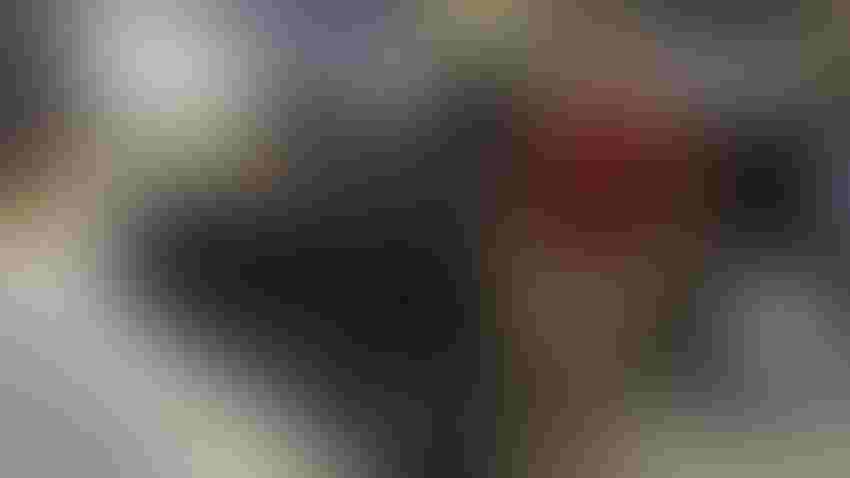 SOIL WARRIOR: Tyler Fickenscher stands with a SoilWarrior Edge strip-till tool at Commodity Classic.
Mindy Ward
Most strip-till machines do not provide a sharp turning radius, making it difficult to work up the soil, which ultimately leads to fewer corn rows planted. Eager to reclaim that area of the field, Ty Fickenscher found the new SoilWarrior Edge system, which provides the tillage that mirrors his planting.
Fickenscher, along with other farmers in his area of Axtell, Neb., uses a mounted planter for his corn-on-corn acres.
"This planter came as farmers used gravity-flow irrigation, and there was a need for tight-turn rows on the end of fields," he explains. He says SoilWarrior Edge is a strip-till tool to use with his current planting equipment that breaks up the soil and reduces end rows.
SoilWarrior Edge is a three-point mounted strip-till system with flexibility of use around the farm, says Tanner Schuldt, regional sales manager with Environmental Tillage Systems out of Faribault, Minn.
"It works to break up the most difficult soil conditions and helps create an optimal seed bed for spring planting," he adds. "It also attaches to nearly any type of fertilizer system and can apply dry, liquid, anhydrous ammonia or a combination of these fertilizers."
Strip-till specs
Farmers can choose which toolbar is right for their operation, whether that is a rigid 6- or 8-row on 30-inch centers, or a folding toolbar from 8 to 18 row units that is single- or double-fold, allowing for narrow transport. They also have the option to buy SoilWarrior Edge row units to mount to their current toolbar.
The row unit can run with a single tillage coulter, single coulter and shank/knife, or with three coulters. Schuldt says the lead coulter is standard on the row unit. Depending on configuration, the Edge units offers adjustable tillage depth of up to 9 and 10 to 12 inches in width.
The SoilWarrior Edge can help farmers reduce passes across the field by adding their fertility system to the unit.
"Traditionally, this system would be coupled with either a pull-behind dry fertilizer or liquid cart," Schuldt explains. "But even beyond that, farmers will be able to use some of their existing pieces on the farm to integrate with this toolbar. It also allows for that same flexibility with 4-wheel liquid or NH3 wagons or even saddle tanks for fertility delivery."
Experience on the farm
The company's unique rental option allowed Fickenscher to use a cart-based SoilWarrior strip-till machine in 2017, followed by a purchase the following season. That system covered 36,000 acres. The same durability carried over when he tried out the SoilWarrior Edge.
"It covered nearly 2,400 acres without a breakdown," Fickenscher says of the company's latest product. His customers agree.
"With the durability, the size, and the hardware on machine, it just does a lot better job than anything else we've ever seen," the owner of Upward Ag Systems adds. "Customers have repeatedly told us it's the most mellow strips they've ever planted into."
For more information on the SoilWarrior Edge, visit soilwarrior.com or call 507-332-2231.
Subscribe to receive top agriculture news
Be informed daily with these free e-newsletters
You May Also Like
---