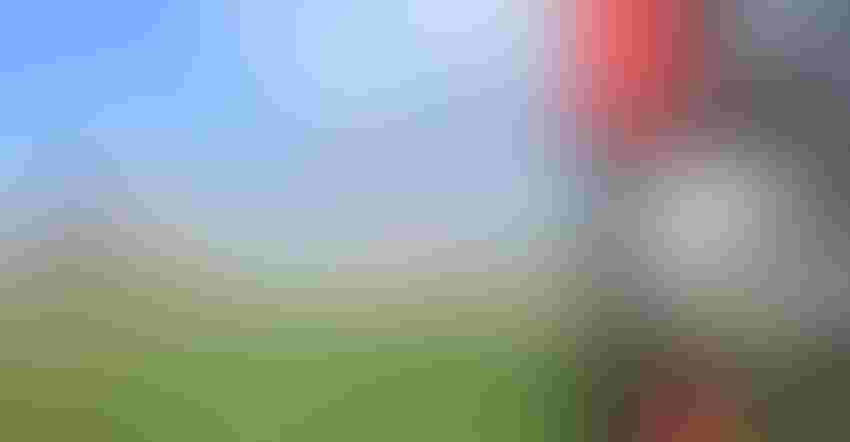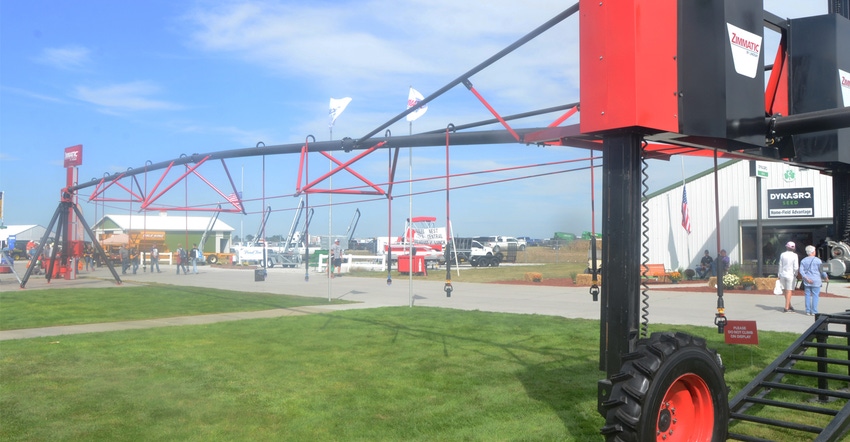 Visitors to Lindsay Corp.'s lot at Husker Harvest Days this year got a look at a novel concept — a new kind of center pivot built based on grower insight.
From the use of a carbon fiber composite with a unique paint scheme to the tripod-like pivot point to the dual motors on the tower, the Lindsay innovation concept pivot isn't quite like anything you've seen before.
While Sahil Sharma, Lindsay product manager, acknowledges there are some relatively new ideas incorporated into this pivot, he points out that as a concept pivot, it is just that — a chance to showcase and, hopefully, gauge the feasibility of new ideas and features that could be applied in future designs.
"There are a lot of different ideas, from one end of the pivot to the other, that make this concept unique," Sharma says. "On one end, we have the self-leveling tower. The idea is that as it moves through the field, it automatically adjusts its height to the terrain. It also features two motors — one driving each wheel, which makes the pivot capable of climbing difficult terrain."
It's not just about climbing hills, but traversing ditches, or even bumpy, rocky fields. Essentially, having a motor for each wheel means it works like four-wheel drive — except with two wheels.
An additional benefit of the self-leveling feature is it can serve to anchor the pivot by lowering the machine's height, helping to protect any upsets from strong winds. It also means the pivot can grow with the crop, applying water closer to the ground to reduce evaporative losses without the need for longer drop nozzles.
"This system grows with your crop. As the crop is just germinating, the pivot height starts at the tire height. As the crop grows, the pivot height rises with the crop," Sharma says. "One year, if you're growing corn, you can set it to a higher height, and the next year with soybeans, you can lower it, and you're saving water by applying closer to the ground. You don't have to change hose lengths or drops. The pivot is basically doing that for you."
The concept pivot also has a new truss design that allows it to be more flexible with the up-and-down motion of the pivot.
The pivot point is a completely new tripod design, with three legs surrounding the riser, allowing for easier installation.
Sharma says, overall, the concept is built around versatility and working in variable conditions.
"We're really interested in what the next generation of pivots will look like," he says. "Yes, it can put water on a field, but what more can it do?"
Revamping FieldNet
Since 2006, irrigators have used Lindsay's FieldNet to remotely control and manage their pivots through functions like starting and stopping the pivot. With the introduction of FieldNet Advisor in 2017, irrigators gained access to field-specific information to aid in irrigation scheduling and management. Now, Lindsay Corp. is doing a complete rewrite of the user interface for both FieldNet and FieldNet Advisor.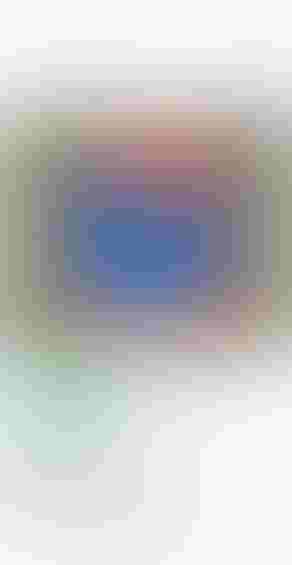 FEEDBACK-DRIVEN: Lindsay Corp. is doing a complete rewrite of the user interface for both FieldNet and FieldNet Advisor, using feedback provided by customers in a beta phase to make them more user-friendly.
"It's being slowly released into beta right now. What's changing about it is it's a much more field-centric, map-centric view of the grower's farm," says Michelle Marcuzzo, Lindsay software product manager. "When users open their account, they're going to see their pivots on a map. They can click on the pivot, and it takes them right to it and brings it to their dashboard. (Courtesy of Lindsay Corp.)
"Also, rather than having to click into a lot of other pages and fields to get information, once users find the field and the pivot they want, there's a list of layers in a centralized location that they can click on to get more information," she adds. "The information comes to them rather than having to seek it out. It's a much quicker way to manage your operation. It's a lot more intuitive."
Marcuzzo says the updates are based on years of customer feedback, as well as the launch of the Lindsay smart pivot, which will integrate the new user interface.
As with the original FieldNet, users can control pivot functions, including starting and stopping the pivot, as well as pumps, flowmeters and sensors from the dashboard. They can also monitor the pivot to make sure it's running smoothly.
Many of the upgrades to the user interface for FieldNet are being applied to FieldNet Advisor, which is also in beta. There are also specific updates related to irrigation scheduling.
For the FieldNet Advisor, "you can select your field and you have your field dashboard, which gives you a snapshot of everything going on in that field — planting information, aerial imagery of your field, weather, soil moisture levels, water stress," Marcuzzo says. "And it offers suggestions for irrigation scheduling. One of the features we added in the user interface is a whole new layer of weather. You can actually see weather events on the radar in relation to your fields in real time."
Lindsay is implementing upgrades based on customer feedback amid the early beta phase. The company hopes to have a full beta release for 2022.
"Even for those beta testers that started a month ago, they're already seeing changes being put into that beta site. So we're going to be adding more beta users," Marcuzzo says. "Once there's a full beta release, the new UI [user interface]will run in parallel to our legacy system for a full year — probably until fall 2022. At that time, we're hoping to move everybody over to the new system."
About the Author(s) Tyler Harris is the editor for Wallaces Farmer. He started at Farm Progress as a field editor, covering Missouri, Kansas and Iowa. Before joining Farm Progress, Tyler got his feet wet covering agriculture and rural issues while attending the University of Iowa, taking any chance he could to get outside the city limits and get on to the farm. This included working for Kalona News, south of Iowa City in the town of Kalona, followed by an internship at Wallaces Farmer in Des Moines after graduation.
Coming from a farm family in southwest Iowa, Tyler is largely interested in how issues impact people at the producer level. True to the reason he started reporting, he loves getting out of town and meeting with producers on the farm, which also gives him a firsthand look at how agriculture and urban interact.
Subscribe to receive top agriculture news
Be informed daily with these free e-newsletters
You May Also Like
---