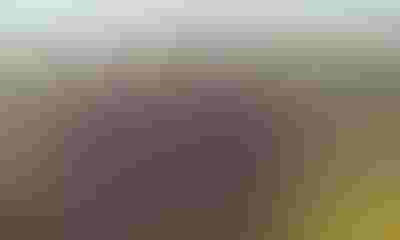 If Nebraska had a fragrance, many might decide corn, cows and prairie grass would make the perfect scent. But Kevin and Mim Klawonn of rural Hampton will argue for a strong note of lavender.
The Klawonns own and operate Country Lavender Farm 2 miles north of Hampton in Hamilton County, where you can smell their 750 lavender plants as soon as you step out of the car.
Starting as a second source of income in 2009, the lavender project has blossomed into a large enterprise.
"I'm allergic to a lot of different things," Mim says, "But I wasn't allergic to lavender. And lavender is not something everyone is going to pop up and do. We wanted something that would be unique to us."

BLOSSOMING ENTERPRISE: Mim and Kevin Klawonn of Hampton own and operate Country Lavender Farm. The lavender farm started out as a way to make additional income, but it has blossomed into a large enterprise.
The Klawonns are one of a small handful of lavender growers in the state. Kevin says this is because of the difficulty of growing the plants.
High-maintenance plant
"Everyone who is interested, I tell them not to quit their day job," Kevin says. "The tractor stays in the shed, and you are out here with hand tools. It'll be three years from first plant to harvest."
"You plant by hand, weed by hand, trim by hand, and harvest by hand," Mim says.
The Klawonns plant seedlings in the spring after all danger of frost has passed. They propagate plants under grow lights in their dining room. Lavender is not grown from seed; Mim says 100 seeds might only yield one or two plants, and then those plants are no longer considered true to their variety. Some of the varieties the Klawonns grow are Melissa, Buena Vista and Super Blue. The Klawonns have propagated a couple hundred plants themselves. They once drove their RV to Oregon and loaded it up with lavender plants to bring back and plant.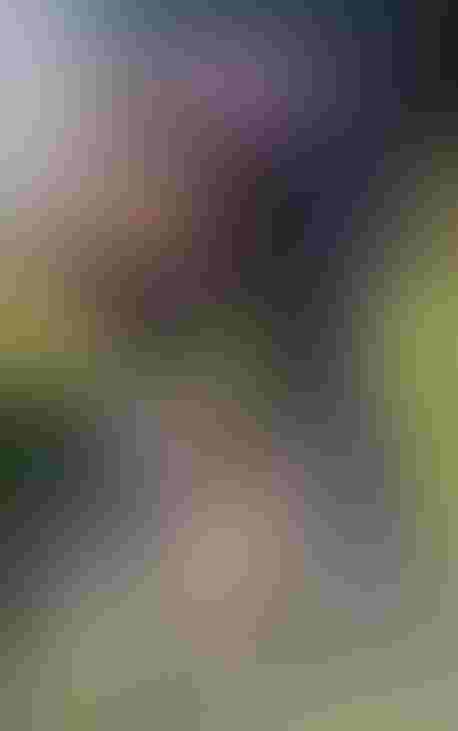 LAVENDER HARVEST: Mim Klawonn demonstrates harvesting lavender with a hand sickle. After harvest, the Klawonns dry lavender bundles in their basement while a dehumidifier runs. They then roll it, clean the buds and make the product.
"We're just learning, and we're just playing," Kevin says. "Like any farmer, we have the stories and the piles of stuff out back that say, 'Well, that didn't work.'"
"Propagating lavender is not the easiest," Mim says. "And it's a Mediterranean plant."
"Like seed corn or soybeans, a lot of them won't grow in your area," Kevin says. "Corn that grows in Texas won't grow here."
"There's even microclimates," Mim says. "What I grow in one plot won't necessarily grow in another plot."
Lavender needs very little water, and when it does, Kevin irrigates with an overhead traveling gun with a hose and reel. Other growers may be completely against overhead water and insist drip irrigation is the best. "If you think it needs water, wait a couple weeks and then water," Kevin says.
Lavender is susceptible to root rot, and prefer dry, rocky soil. "If you pack the soil down and make it wet, it'll die," Kevin says. "One time we got a lot of rain and the plants began turning yellow. We rototilled it, and it came right out of it."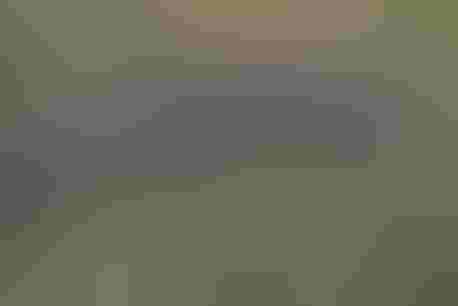 FIELDS OF PURPLE: Purple fields of lavender are a rare sight in Nebraska. Country Lavender Farm is one of just a few lavender growers in the state.
Lavender doesn't have a lot of bug problems, and deer and rabbits won't eat it. "I've watched a deer bite a plant, chew it, shake its head and spit it out," Kevin says.
After they harvest, the Klawonns dry the bundles in their basement, while a dehumidifier runs. They then roll it, clean the buds and make the product. Mim used to clean the lavender by hand, but then the Klawonns had special screens made for a fanning mill, which has cut cleaning time significantly.
Agritourism potential
The Klawonns hold several events at their farm to showcase their lavender. In addition to their lavender festival, which includes lavender lemonade and lavender ice cream, the Klawonns have partnered with Mac Creek Winery out of Lexington for a wine-tasting event, hosted a field day for a homeschooling organization with both fieldwork and classroom instruction, and welcomed a camping group.
"We have met so many great people doing this," Mim says. "People never cease to amaze me."
They used to open the gift shop four days a week, but discovered they had no time to care for the plants or make product. They are now open one day a week, and sales are steady. "I can't keep up with products," Mim says.
This is even more noteworthy considering that their only advertising has been on Facebook and from word of mouth. They operate two trade show booths a year — one at Husker Harvest Days and one at the Hamilton County Home & Garden Show/Outdoor Expo in Aurora.
Country Lavender Farm offers a wide variety of products — soaps, lotions, hydrosol, sachets, clay necklaces — and a rotating array of whatever Mim has decided to create. "I like making things," Mim says. "In whatever medium strikes me, I play.
"I didn't own anything purple before and now half my closet is purple," she says, gesturing to Kevin. "And everyone is always after him for not having enough purple shirts. They even find some for him."
Kevin waves his hand at his purple shirt and then at their farm. "Now we have a lot of purple," he says.
Kinley is assistant editor of publications at the Nebraska State Historical Society.
Subscribe to receive top agriculture news
Be informed daily with these free e-newsletters
You May Also Like
---