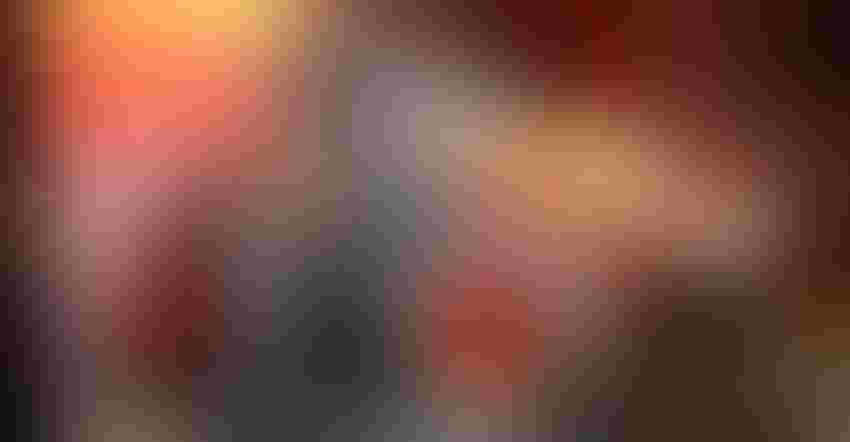 GOING BIGGER: With the launch of the M8 Series, Kubota expands its tractor line. Built by Buhler Industries, the new machines open new opportunities for the orange tractor line.
Willie Vogt
With plenty of fanfare, and a little obligatory concert fog, two new tractors rolled into view at a national Kubota dealer event this week. The news was the launch of the Kubota M8 series, built by Buhler Industries in Winnipeg, Manitoba, Canada. The new machines are Kubota-designed and will offer more power for key segments of the market.
Todd Stucke remembers starting the conversation in 2013 with Kubota about the need to grow bigger in tractors. Stucke is senior vice president of sales, marketing and product support for Kubota, and he notes that the challenge for the company was designing and building a totally new and larger tractor, without stressing "internal resources." The aim was to bring in bigger machines, and maximize engineering and design talent.
From that early idea came the approach of having the tractors purpose-built by Buhler Industries in Winnipeg. "This is a custom OEM [original equipment manufacturer] product that has Kubota DNA," Stucke says. "They've been good to work with, and responsive."
Stuck explains that Kubota brought its manufacturing practices to that Winnipeg plant, and that the process taught both companies new things along the way. And the process continued. "From when we saw prototype No. 1 through what we have today is an evolution that used their expertise and ours."
Stucke emphasizes that the M8 follows on the M7, and that product relationship is clear. Today, the M8 Series is a next-generation model for the company.
Some specs
While Stucke says the process started in 2013 to begin creating this new product, the relationship that created the original equipment manufacturing relationship was formalized in 2016. Essentially, it took six years to bring this tractor from idea to the market. In that time, Kubota also built on its brand, acquiring Kverneland, with its hay and tillage tools; and Great Plains, with its tillage, planting and application equipment. And in many cases, those acquisitions brought along implements that required more horsepower to pull than Kubota had available.
As Stucke says: "The M8 allows us to aggressively fill a higher-horsepower customer need across the large utility and midsize row crop tractor market — for material handling and hay-tool application on dairy and livestock operations, as well as a variety of fieldwork. Built with an operating experience focused on easy-to-control comfort, confident workability and intuitive controls for precision farming, the M8 will maximize return on investment for Kubota customers today and well into the future."
There are two models in the M8 Series, and both are powered by a Cummins six-cylinder B-Series, 6.7-liter diesel engine. The engine meets tough emission standards in the Unites States, and future tighter regulations called Stage 5 are proposed for Europe. Kubota does not make a six-cylinder engine, so management turned to this outside supplier for power.
The M8-191 clocks in at 190 engine hp. The M8-211 hits 210 engine hp. The Cummins choice was popular among dealers who got to see the new machine. "Cummins is well-known in the ag market," Stucke notes. "And when these machines come out, all service will be handled by Kubota dealers."
In some markets where Cummins power is used, service is provided by a separate Cummins-certified network, but Kubota and its leaders want to have customers going to Kubota dealers for support.
The engine is mated to either a semi-powershift transmission or the KVT continuously variable transmission that farmers are familiar with on the M7 Series. Both M8 models will feature four-wheel drive as standard.
The tractors feature a spacious cab that one dealer likened to the size of a combine cab. In fact, the cab has 148 cubic feet of space and is a roomy operating platform for the machine.
Production of market-ready models will begin in January, with a gradual introduction to the dealer network. Based on comments from dealers at the premier event, many are ready to go to market now. Preproduction models were on hand for the launch, and over the next few weeks, Kubota and its dealers will review these near-final models for any needed tweaks, Stucke says.
During the event, Haruyuki "Harry" Yoshida, president and CEO of Kubota Tractor Corp. and Kubota North America, said that in "five years we will look back … and celebrate the pioneers of this tractor launch. And we will not only meet the needs but exceed expectations."
Farmers will get their first look at the new machines at the fall farm shows starting with the Farm Progress Show, coming up Aug. 27-29 in Decatur, Ill. 
Subscribe to receive top agriculture news
Be informed daily with these free e-newsletters
You May Also Like
---