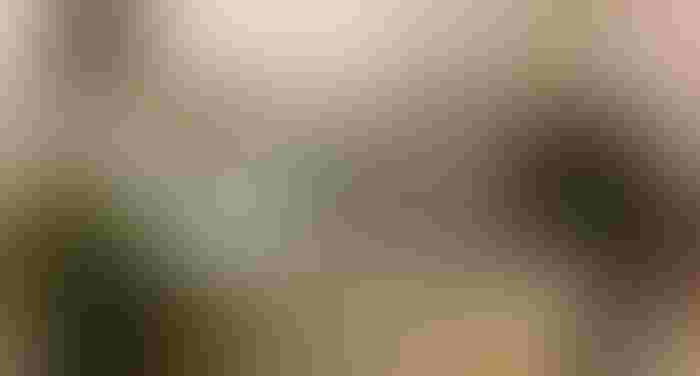 John Deere Tech students at Northwest Mississippi Community College. Alyssa Peyton
College is about more than just a great four-year experience. It's about finding employment in your chosen field. And for job placement rate, you can't beat the John Deere Agricultural Technology program at Northwest Mississippi Community College.  
"We have 100% job placement," said Jeremy Massey, John Deere program instructor at NWCC in Senatobia, Miss. "If a student makes it to the end and graduates, they are guaranteed a job." 
John Deere Tech, as the program is commonly known, prepares students to operate, maintain and service agricultural machinery and equipment. The two-year program covers internal combustion engines service and overhaul, electrical systems, hydraulic systems, power trains, air conditioning, grain harvesting equipment, spray equipment, row crop planting systems, cotton harvesting equipment, hay harvesting equipment, compact engines equipment servicing, cutting and welding, and service repair center management and operations.  
Perhaps most enticing for prospective students, John Deere provides brand new equipment for the classroom. 
"We always have the most current equipment and machinery for teaching," Massey said. "The complexity of satellite and precision ag is a big part of our training. As is remote programming and remote diagnostics. The students get to practice on the most state-of-the-art equipment, so they are prepared to handle real-world troubleshooting after graduation." 
John Deere Tech in the Delta
While John Deere Tech is offered at college campuses across the U.S., NWCC is the only institution offering the program in the Mississippi Delta region. The Senatobia campus serves Mississippi, Tennessee, Alabama and portions of Arkansas, Louisiana and Missouri. 
The program accepts 20 students each fall. Each student must be sponsored by a qualified John Deere dealership. The program includes two internships at the sponsoring dealership — one during spring planting season and one during harvest. 
"That's a big piece of our training," Massey added. "Not just learning the products but implementing what they have learned." 
At the successful completion of the program, students will be awarded an Associate of Applied Science degree and will have a job waiting for them at the sponsoring John Deere dealership, but according to Massey, the opportunities do not end there. 
"This program is recognized internationally. When a student gets this training in Mississippi, they can go anywhere in the U.S. and say, 'I'm a JD Tech graduate' and their skillset will be recognized," said Massey, who has served as instructor of the program at the Senatobia campus for 20 years. "We've had former students go on to become service managers, work for John Deere at the corporate level, I even have a former student who now has own farm equipment service company." 
"Agriculture is not going away, but the products are changing," Massey added. Our students are set up to be in the right place to market their skillset. You can take it anywhere." 
A job placement rate of 100% will certainly catch the attention of parents of prospective college students. Also eye catching, the prospect of job security at an affordable price. Current tuition prices a NWCC run at $1,600 per semester. 
To be eligible to enroll in John Deere Tech, prospective students must have a high school degree or equivalency. Students must also have a minimum score of 15 on the ACT. 
More information on the program requirements is available at the NWCC website. 
Subscribe to receive top agriculture news
Be informed daily with these free e-newsletters
You May Also Like
---