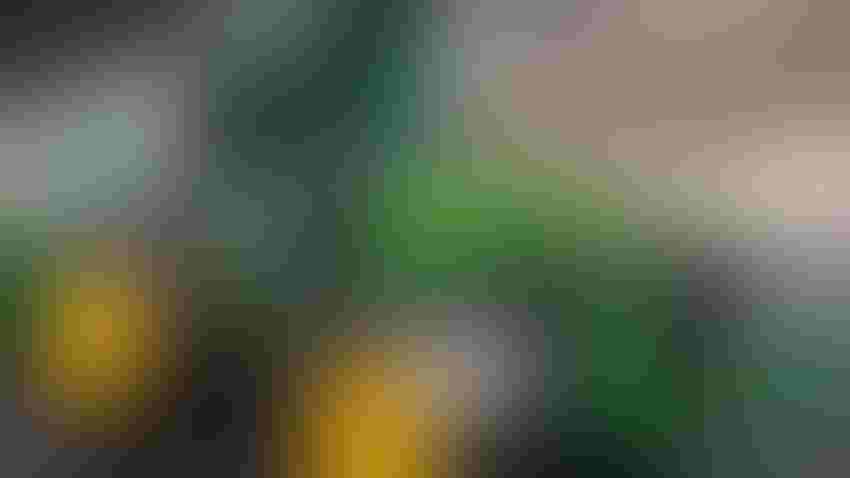 AUTONOMY-READY: For 2024 models, John Deere's 7, 8 and 9 Series will get a range of upgrades, including the option to make the machines ready for added autonomy later. The aim is to "future-proof" the machine.
Willie Vogt
Through the pandemic, engineers at major equipment companies kept working, and now the fruits of that labor are heading to market. The latest lineup of new tools comes from John Deere. The company is offering not only upgrades for model year 2024's 7, 8 and 9 Series tractors, but also a range of tools that can be added to existing equipment to bring new technology to the farm.
"The main theme with model year '24 is all about taking precision ag to the next level," says Ryan Jardon, marketing manager. "We're also preparing the way for autonomy in the near future."
The tractors will be getting the new Starfire 7000 Receiver, which features five years of repeatability, 73% faster pull-in times and 17% more accuracy when using SF-RTK, compared to previous models using the SF3 signal. The new receiver offers the farmer year-over-year repeatability without the need for base stations.
The new machines will also get the new G5-Plus CommandCenter display with a 12.8-inch touch screen. There's also an option to have G5-Plus Extended Monitor in the cab. The new monitors offer high-definition — 1,080-pixel video resolution for a clear, bright view.
"The new displays make applications that farmers like to run today, such as AutoTrac Section Control and AutoTrac Turn Automation and AutoPath, easier to run," Jardon says.
A new option for 2024 will be the autonomy prep package. "This puts all the hardware components that we know today to be needed for autonomy in the future," he says. The package includes a larger alternator, backup alarm and extra harnessing. The idea of offering this autonomy prep option is to future-proof the machine.
Another advancement is rear implement ethernet. It's a new way to link tractor implements in the field. "As we get more data that needs to go back and forth between the tractor and implement … we need the ability to transmit a lot of data," Jardon says. Using ethernet cable allows for a bigger data pipe to move information, which is key to maximizing autonomy in the future.
And a new option for 2024 is the Central Tire Inflation System, which lets users raise and lower tractor tire pressure from the cab. With newer IF and VF tires on the market, field operating pressures differ from those needed for transport.
With this option, a farmer can raise or lower tire pressure to the right setting. The optional system puts an air compressor on the tractor that can raise or lower pressure at about 2 psi per minute, Jardon says. "Basically, it will extend tire life and minimize compaction," he adds.
Raising display game
As Jardon mentioned, 2024 machines will have the G5-Plus monitor and Starfire 7000 receiver as standard. But the company is offering that new receiver beyond new machines. "We're really excited to be able to offer the Starfire 7000 on a universal variant that allows you to take that receiver from vehicle to vehicle to get maximum utility," says Matt Olson, precision-ag market leader.
He notes the 73% faster pull-in time gets a farmer into the field faster, but the bigger news is the SF-RTK, which provides the precision repeatability without the need for a base station.
"With this new technology, it's all satellite-based correction at the RTK level of repeatability. And we're giving you that from the sky. Shading has improved, repeatability is improved, and you may have RTK access in areas where you didn't before," Olson says.
The new G5-Plus and G5 displays offer that higher resolution, which gets more important as farmers add more cameras to equipment. "Farmers are using more cameras. What may have started as one on the grain cart 10 to 15 years ago is now multiple cameras," Olson says. "You can see more and do more, and that's what the G5 is all about."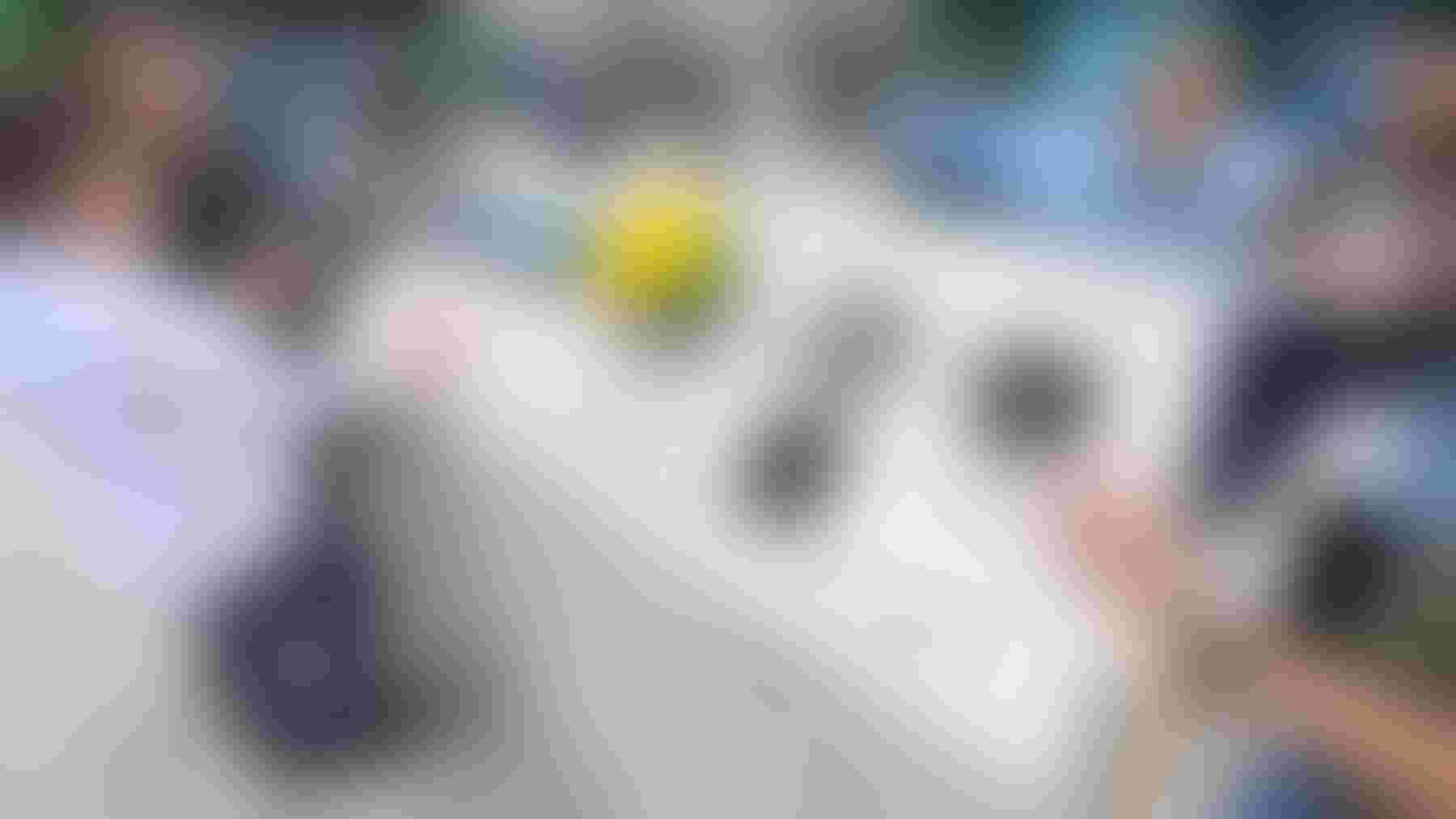 DISPLAY AND ANTENNA: The G5 and G5-Plus displays bring high-definition screens into the cab. The StarFire 7000 adds SF-RTK for repeatable guidance and a faster startup time. The R Modem has the most features, while the M Modem offers the opportunity to add connectivity to non-John Deere machines. (Willie Vogt)
While the G5-Plus display will be standard on 2024 models, universal options are available for farmers who want to upgrade a display in the cab. The new universal G5 displays and Starfire 7000 Series receiver will be available to order soon, Olson says.
The display shows two modems for farmers to consider. The R Modem is the premium model that allows farmers to use wireless data transfer, remote support, Service Advisor and other features.
The M Modem is a new option not only for older John Deere equipment, but it can be added to a non-John Deere machine. "You can put this on anything you want to track, Gators, trucks — no matter the brand. The key is that John Deere pays the cellphone bill for that data transfer," Olson says.
Aftermarket updates
When John Deere launched ExactShot at CES, a key feature of the precision starter-fertilizer system was the fact that it was a field add-on. Your dealer can add it to your John Deere planter. That trend continues with two new products announced for 2024.
First is Furrow Vision, a camera system you can add to your planter that gives you an in-furrow view as the planter moves through the field.
"We have technology here that is ready to go, ready to get into customer's hands," says Jordan Lang, performance upgrade product manager. "And what we're doing at John Deere is launching these two new products [ExactShot and Furrow Vision] as a performance upgrade, meaning we want to get it on machines as quickly as possible."
Furrow Vision, the latest tool, involves mounting three cameras on each row. The cameras will see into the furrow as it's opened into the trench. "You're going to get a visual in the cab that shows you the quality of the trench, the quality of the furrow, and it's going to give you your depth of the seed," Lang says. "You're going to be able to make adjustments. For example, if there's too much trash, you can adjust your row cleaners."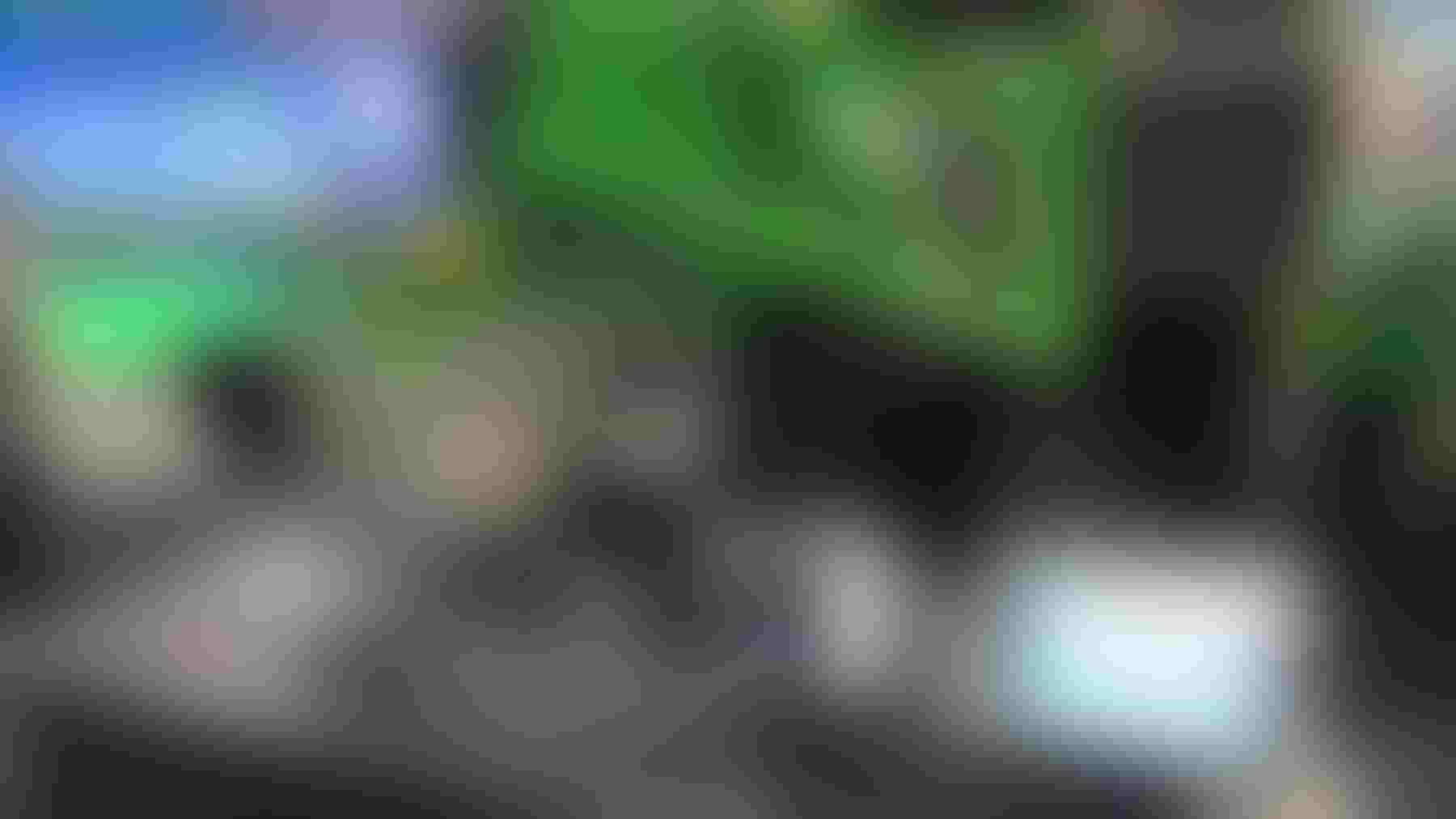 PLANTER CAMERA: The Furrow Vision system puts three cameras on a planter row unit, offering proof that seed is going into the trench properly. This is an after-market upgrade to existing planters. (Willie Vogt)
The system also provides visual proof that you're planting at your target depth. "When you pull into a field and start planting, you know you're getting seed in the trench. There's no need to get out of the cab and check," Lang adds.
Furrow Vision provides some documentation into Operation Center, but Lang says the technology is a stepping stone to future tools. The system will be in limited release for 2024.
Interested in See & Spray Ultimate, but already have a recent-model sprayer? John Deere has the answer: See & Spray Premium performance upgrade kit.
While offering green-on-green weed control with See & Spray Ultimate was a big step, Lang says there are farmers who bought new John Deere sprayers in just the last two or three years. "See & Spray Premium is our performance upgrade kit, and it will go on your current sprayer," he says.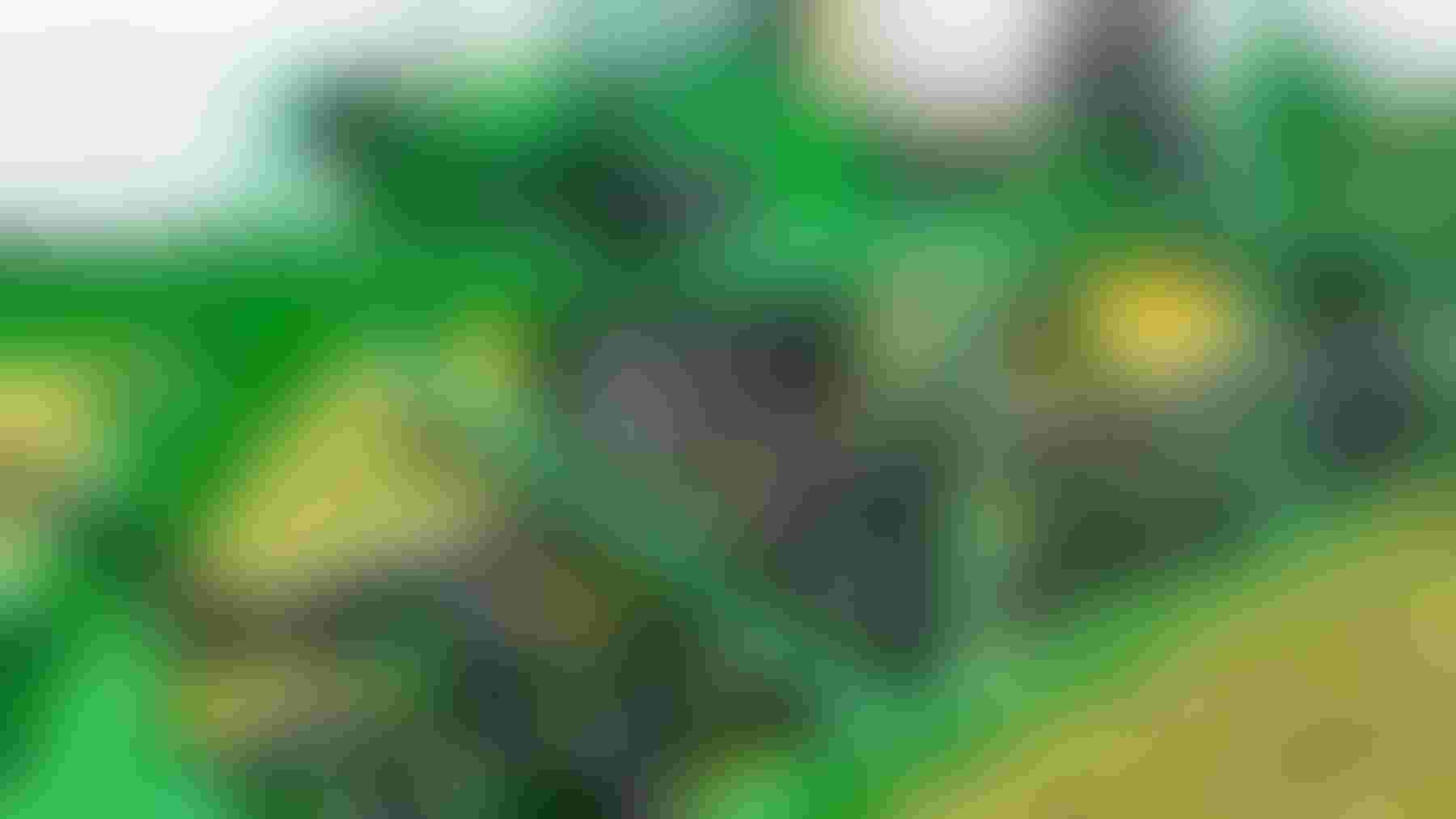 ENHANCE YOUR SPRAYER: The See & Spray Premium option can turn any 2018 or later model John Deere sprayer into a See & Spray machine — that's green-on-green, not just green-on-brown. (Courtesy of John Deere)
The upgrade is for model 2018 sprayers or later that are already outfitted with ExactApply nozzles.
The system involves adding those computers and cameras to the spray boom, which Lang says can handle the extra weight. The sprayer upgrade will be available for model year 2024.
On-the-go grain analyzer
Harvest Lab 3000 is a versatile system that is already capable of measuring nutrient content in forages coming off a forage harvester. It can be strapped to a manure system and provide nutrient readings on the go.
And now it's adding analysis for grains. It's possible to mount a HarvestLab 3000 to the clean-grain elevator of a 2018 or newer John Deere combine, and capture site-specific data about the quality of grain you're harvesting.
"We call it HarvestLab 3000 grain sensing," says Christopher Murray, marketing manager. "It's focused on small grains, so wheat, canola and barley. And what we can do is measure protein, starch and oil levels of those different grains."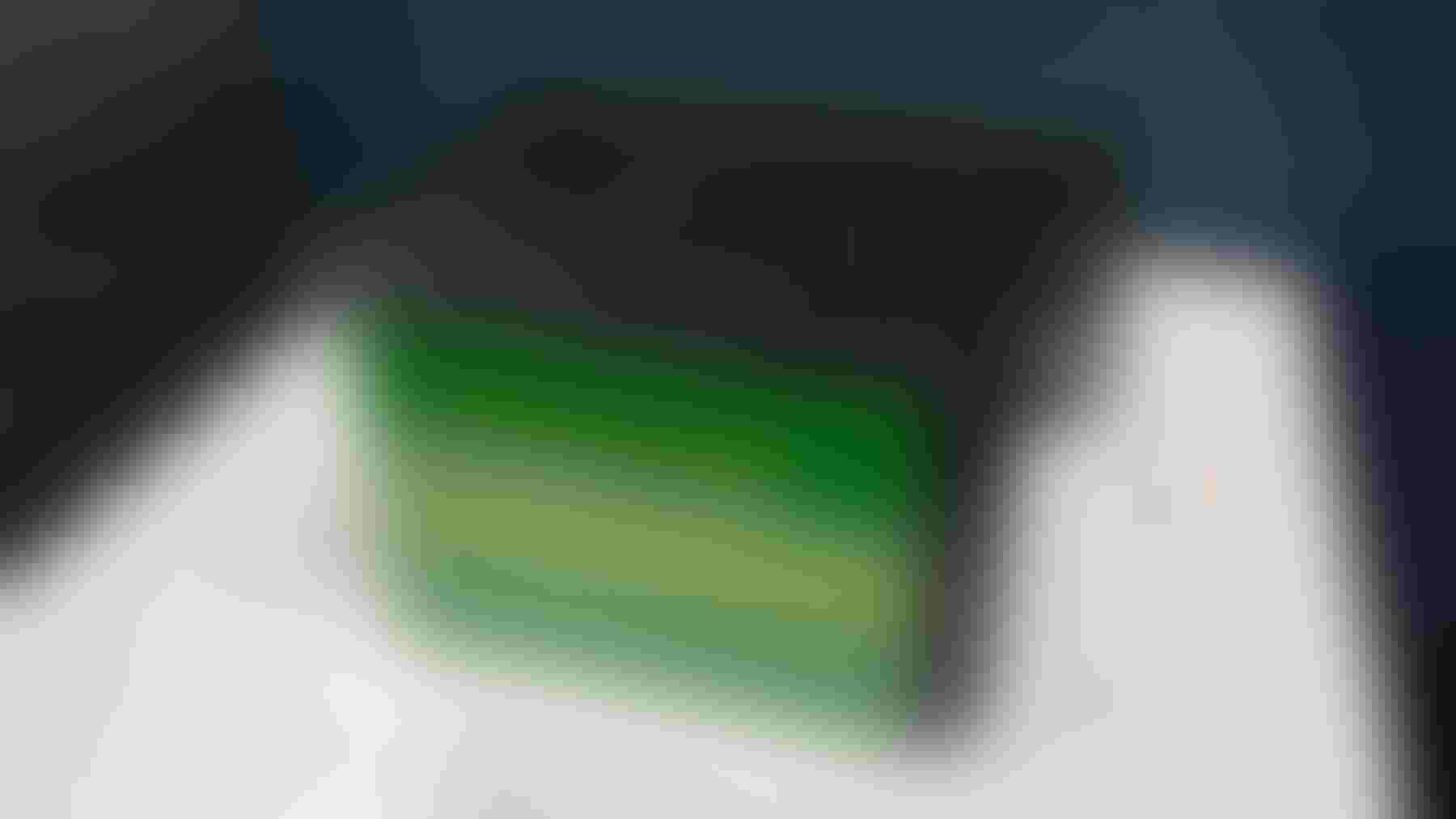 VERSATILE SENSOR: HarvestLab 3000 can detect factors in crops and even manure. A new upgrade allows it to measure oil, protein and starch content for wheat, canola and barley. (Willie Vogt)
The system is measuring crop quality on the go and recording that information. That's information a farmer can use at harvesttime, Murray says. "For instance, for wheat, there are elevators that pay a premium for high-protein wheat," he says. "Having an actual readout right there in the cab, you can segment that grain right in the field and send that higher-protein wheat to those elevators and get that premium."
The system can measure oil content in canola, and starch and protein levels in barley. All key factors for capturing market premiums right from the field.
You can learn about all these new products at johndeere.com.
Subscribe to receive top agriculture news
Be informed daily with these free e-newsletters
You May Also Like
---