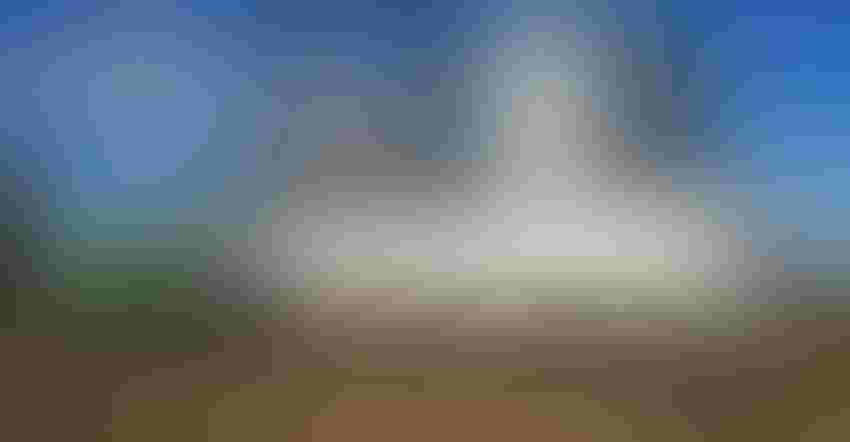 HEAVY HAULERS: Iowa's temporary weight limit exemption allows trucks transporting grain to be overweight without a permit.
Iowa Gov. Kim Reynolds last week extended two official proclamations to help with the 2019 harvest. The first proclamation provides an extension for the harvesttime ex­­emption for grain transportation weight limits; the second proclamation extends the hours of service allowed for trucks and drivers delivering propane.
The extension to the harvest weight proclamation grants a temporary weight limit exemption for trucks operating on Iowa roads. The proclamation will now be effective through Dec. 13, expiring at midnight on that date.
Applies to state roads, not federal
The 2019 harvest weight proclamation specifically increases the weight allowable for shipment of corn, soybeans, hay, straw and stover by 12.5% per axle (up to a maximum of 90,000 pounds) without the need for an oversize or overweight permit. The proclamation applies to loads transported on all highways within Iowa, excluding the federal interstate system. Trucks cannot exceed the truck's regular maximum by more than 12.5% per axle and must obey the posted limits on all roads and bridges.
The Iowa Corn Growers Association made the original request to Reynolds earlier this fall. She granted the weight limit exemption to begin Oct. 1, lasting for 60 days. It expired on Nov. 29, but with harvest running later than usual, ICGA worked with the governor's office to secure an extension so farmers can bring in the remainder of the crop.
The proclamation directs the Iowa Department of Transportation to monitor the operation of the proclamation and ensure the public's safety by facilitating the movement of the trucks involved. Farmers who are transporting grain are also required to follow their vehicle safety standards on axle weights. The proclamation can be found here.
Propane proclamation extended
The governor also extended her proclamation that temporarily suspended certain regulatory provisions pertaining to hours of service for the delivery of propane after many farmers experienced difficulties obtaining LP gas this fall. This one is extended through Dec. 14, expiring at midnight. The propane extension proclamation can be found here.
With propane in short supply, The Federal Energy Regulatory Commission last week launched an alternative dispute resolution process aimed at getting state and federal officials, along with gas pipeline owners, to work together to increase propane supplies in the Midwest.
"This is a first step, from a federal standpoint, to get pipeline companies, shippers and their representatives to explore actions they can take to alleviate the shortage," Reynolds said.
The federal agency's move came after Reynolds emphasized the need to immediate action to ease the propane shortage in Iowa. "The effects of this propane crisis are being felt now, and immediate action is necessary to prevent this situation from becoming a greater risk to human life," she said in a letter to FERC. "These conditions threaten the peace, health and safety of the citizens of Iowa and its agriculture industry."
Pushing to ease propane shortage
The spot shortages of propane and delays in delivery have resulted in some farmers being unable to dry their harvested crops, further delaying harvest. Propane retailers are unable to supply families and businesses with LP gas, and the state's livestock industry stands at risk of going without heat, Reynolds wrote. "I urge you to take any action necessary to increase the amount of propane in the pipelines in Iowa."
Bolstering Reynolds' case to FERC was a letter sent recently by farm groups, fuel distributors, co-ops and others to the governor and to Iowa's congressional delegation. The letter laid out the risks of inaction and urged officials to act sooner rather than later: "We urgently request human health and agriculture be priorities and that your office exert its influence in carrying this message to FERC so that our needs for propane be elevated to an emergency level requiring action."
Many organizations signed onto the letter, led by FUEL Iowa President Dawn Carlson and signed by Iowa Farm Bureau President Craig Hill, along with 50 farm organizations, co-ops and propane distributors. Also, Iowa's two U.S. senators, Charles Grassley and Joni Ernst, pressed FERC to consider its regulatory options to prioritize pipeline shipments of propane to Iowa.
FERC responds to Iowa's request
FERC issued a press release announcing the ADR process. "The commission takes this issue seriously," said FERC Chairman Neil Chatterjee. "We've been actively engaging with stakeholders and with Capitol Hill and the states, and receiving regular updates from pipeline companies. By bringing the pipelines and shippers to the table, we are building on these efforts and establishing a dialogue focused on exploring solutions."
Also last week, FERC approved the Enterprise TE Products Pipeline Co. to ship extra propane from Texas to a distribution terminal at Monee in northern Illinois for a period of 30 days. Enterprise requested FERC to allow it to provide emergency propane service to the region due to record demand for propane. FERC agreed and approved the 30-day waiver.
Subscribe to receive top agriculture news
Be informed daily with these free e-newsletters
You May Also Like
---