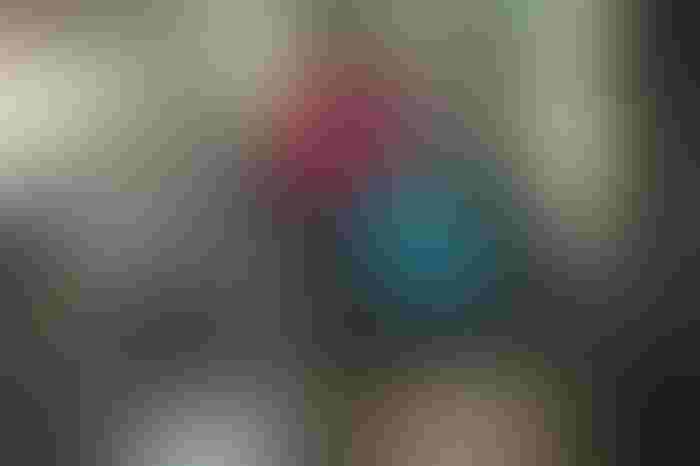 Welcome to the business class of farming!
New Holland has introduced the new T5 Series tractors, which are ready to redefine utility tractor standards for mixed farmers with diversified livestock and crop operations.
The T5.95, T5.105 and T5.115 offer engine powers between 98 to 115 engine horsepower.
"The new T5 Series is set to become the choice for professional, mixed farmers," says Michael Cornman, New Holland Dairy and Livestock Marketing Segment Leader. "Today's T5 offers outstanding visibility, ergonomic controls, an ultra-comfortable cab and segment leading performance."

Operator productivity coincides with comfort. The T5 Series was created to provide operators with maximum comfort for long days in the fields. The new VisionViewTcab has been designed to offer unparalleled ergonomic excellence.
All controls fall perfectly to hand for operators of all shapes and sizes. The most frequently used controls, including the acclaimed electronic draft control (EDC) mouse, PTO speed selection and hydraulic remote levers, among others, have been placed to the right of the operator on the ergonomic CommandArc console to reduce fatigue and increase implement precision. 
An optional dedicated bracket for monitors can be mounted just above the CommandArc, directly in the operator's line of sight for improved safety and comfort.
A dedicated foot pedal to adjust the position of the steering column is located on the floor between the clutch and brake pedals. This pedal provides operators with a comfortable driving position and an unobstructed view of the easy-to-read instrument cluster.
The optional high-visibility roof panel provides a perfect view of a loader throughout its entire operating range, even at maximum height. The cab roof incorporates a narrow roof to provide operators with maximum visibility.
The curved opening rear side windows offer a clear line of sight and protection from dust when operating an implement such as a New Holland Roll-Belt round baler.
The exhaust muffler is in line with the A-pillar, which significantly enhances visibility for a perfect view of the inner tire wall. This enhanced visibility is ideal when working in narrow row-crop applications.
An all-new dual-zone air conditioning system features 10 individually positionable vents that deliver even flow for total body comfort, thanks to dual-zone technology.
The B-pillar mounted controls can be intuitively adjusted while on the move. Natural ventilation has been further enhanced courtesy of the side opening windows and optional front and rear windscreens.

The T5 Series is fitted with new 3.4 liter Common Rail, turbocharged F5C engines developed by FPT Industrial. These engines feature Cooled Exhaust Gas Recirculation (CEGR) technology for Tier 4A compliance and develop between 98 and 115 engine horsepower.
Improved torque backup
Improved torque backup of an impressive 51 percent means that when the going gets tough you keep going, all while saving fuel. This engine has been designed specifically for agricultural applications, developing maximum power at 1,900 rpm.  
540 PTO speed is also achieved at 1,900 engine rpm to ensure constant productivity when PTO-driven implements are placed under load. The 540 ECO PTO speed equates to a mere 1535 erpm for reduced fuel consumption

Three aggressiveness settings on the ergonomic column mounted PowerShuttle can be swiftly and easily regulated. The soft setting is perfect for field activities such as baling, medium for standard work and the highly sensitive setting has been designed to offer almost-instantaneous direction changes for intensive loader work.

The T5 offers impressive hydraulic performance with its open-center tandem pump hydraulic system. Controlled from the comfort of the cab with color-coded levers, two pumps work independently: one dedicated for the rear remotes and three-point hitch functions, and one for steering and services.
The standard flow is a combined 27.2 gpm (103.1 l/min), the implement pump with 17.2 gpm (65.1 l/min) and the steering pump with 10 gpm (38 l/min). 
For those who need more flow, an optional, larger hydraulic system is available. This system features a 22.2 gpm (84 l/min) implement pump and an 11.4 gpm (43 l/min) steering and services pump for a total of 33.6 gpm (127 l/min) of combined flow.

The Category II rear three-point hitch on T5 Series tractors has ample lift to meet the needs of most rear three-point hitch applications with a lift capacity of 6,393 lbs. (2,900 kg) 24 inches behind the ball ends.  For those who need even more rear three-point hitch capacity, two 50 mm lift rams are available to lift a truly impressive 11,949 lbs. (5,420 kg).
Controls are in the form of the ergonomic New Holland mouse, which requires only one hand for operation. 
The fast link lower button makes returning an implement to work during a headland turn even easier, which helps increase productivity and operator fatigue. 
A control panel on the CommandArc allows operators to adjust their working depth, draft and mixed control, and lowering speed.  Draft forces are sensed by draft pins on the lower lift arms. Rear fender controls are standard on all T5 Series tractors. 
The optional, modular and semi-integrated front linkage and PTO is perfect for producers who work with front- mounted implements.
The impressive 3,968 lbs. (1840 kg) lift capacity, available throughout the entire range, means full compatibility with even the heaviest implements.
Furthermore, New Holland is unique in the segment in offering the choice between Electronic and Mechanical Draft Control, for precision management of front-mounted equipment.
The optional multi-function support enables the front linkage and PTO to be retrofitted, should a change in business focus occur.
For more information, see your local New Holland dealer, or visit www.newholland.com/na.
Subscribe to receive top agriculture news
Be informed daily with these free e-newsletters
You May Also Like
---