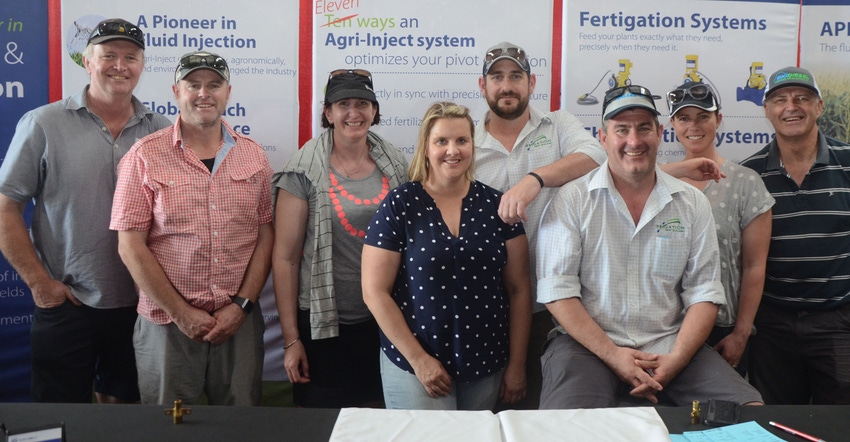 INTERNATIONAL DRAW: A group of visitors from New Zealand came to Husker Harvest Days and Nebraska to learn about various precision irrigation technology and fertigation practices: Greg Mills (left), Ben Donaldson, Keri Johnston, Haidee McCabe, Steve Breneger, Andrew Curtis, Mel Brooks, Gavin Reed and Graeme Pile.
When you think of international visitors at farm shows, the Farm Progress Show likely comes to mind — and for good reason. The show has hosted guests from more than 70 countries and boasts its own International Trade Center on the show grounds. However, as growers the world over are investing in new and efficient ways to irrigate their crops and forages, Husker Harvest Days has become an international destination as well.
For example, this year's Husker Harvest Days drew groups of visitors from at least four other countries, including New Zealand, Mexico, Argentina and Russia.
In the rush of everything that goes on in the three-day time span of HHD, I'll admit I only had a chance to visit with one of these groups at the show. However, a visit with the group of irrigators, vendors and other water stakeholders from New Zealand, hosted by Colorado-based Agri-Inject, painted a telling picture of the similarities and differences among the challenges faced by irrigators in different parts of the world.
One of the primary reasons for this group's visit to HHD and the Cornhusker State was to learn about precision irrigation and fertigation practices that can improve nitrogen efficiency and reduce groundwater nitrate levels. While the Midwestern U.S. has seen its share of ongoing debates surrounding nitrate and surface and groundwater, it's a different challenge for a country where, despite a total area of over 100,000 square miles, there's a population of nearly 5 million — compared to Nebraska, with just over 77,000 square miles of land but a population of 1.9 million.
Irrigation a challenge in New Zealand
New Zealand's geology also poses a challenge for irrigators. The country's topsoil, while fertile, is highly variable in depth between different points on both the North Island and the South Island. Beneath that topsoil, there's usually a coarse, porous rock formation, leaving ample space for water and nutrients to leach through. It's also worth noting that New Zealand's climate is largely temperate maritime — similar to the British Isles. This means it's wet the majority of the year. On top of this, groundwater on the South Island is recharged by runoff from snowmelt in alpine areas at higher elevations. However, this can also bring flooding, potentially putting nitrate at risk of leaching.
"Which is where precision technology comes in," said Andrew Curtis, chief executive at Irrigation New Zealand, a membership-funded industry organization that promotes excellence in irrigation in New Zealand. "The main thing we came [to Nebraska and Husker Harvest Days] to look at was advancements in precision irrigation. We don't do very much fertigation in New Zealand, so we came to look at fertigation potential as well."
There are nearly 2 million acres under irrigation in New Zealand — most of those acres on the South Island. While most of the irrigation in the country is used for forage for grass-fed dairy cattle, including perennial ryegrass and clover, it's important to manage nutrients on those acres carefully. This includes rotational grazing to redistribute nutrients on pasture in the form of manure, while preventing excessive nutrient accumulation in a single area.
Another big draw for the group was learning about Nebraska's foundation in water-related research and collaboration among various stakeholders, including the state's Natural Resources districts, University of Nebraska and Extension system, irrigators themselves and stakeholders at the municipal level.
"It's striking how Nebraska has a more complex web of stakeholders. Most of the people in Nebraska are either directly, or closely, connected to water use," said Greg Mills, advisory board chairman at BEL Group, a dairy producer in the Central Hawkes Bay region on New Zealand's North Island. "We've really appreciated the hospitality of Nebraskans, their willingness to invite us here — as well as the openness of growers in Nebraska to sharing ideas."
Subscribe to receive top agriculture news
Be informed daily with these free e-newsletters
You May Also Like
---