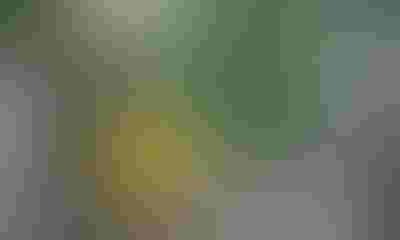 You will see the latest and greatest in farm technology at the 2015 Farm Progress Show. But what aobut your overall knowledge of farm equipment, especially from past years?
Here's a way to find out. Take our annual "farm equipment knowledge quiz." The questions and answers are based on advertisements and brochures for farm equipment.
Good luck!
1. Whose motto was 'Strength in tillage'and featured a blacksmith with a hammer in their emblem?
2. Which company referred to their trademark emblem as 'the symbol of service?'
3. This company ran with the slogan 'First in Power in every horsepower class' in 1960.

Here's a hint- Just so you get one right, this tractor model is the answer to question 14. It's owned by Kenneth Berkshire, Camden, Ind.
4. Which tractor maker claimed to set the world record for a model pulling the highest percentage of its own weight? Hint: the year was 1950.
5. What's the width of the grain head often promoted for John Deere's self-propelled model 40 combine?
6. This company offered a free intercom system for buying a new tractor in 1959.
7. This brand produced one- and two-row corn pickers called the 1-PR and 2-PR.
8. This company claimed 'bunch-free feeding' on this pull-type combine with an auger instead of a canvas feed.
9. Which company introduced the TW series of tractors?
10. Which company used the logo, printed next to a key: '____Blue, your key to greater quality?'
More clues on page 2
~~~PAGE_BREAK_HERE~~~
11. This company known for manure spreaders once sold two-wheel rubber-tire manure spreaders and four-wheel steel-wheel manure spreaders at the same time.
12. No one ever made a toy tractor of this tractor model from the 1960s.
13. This company produced the '66 all-crop harvester.
14. This John Deere two-cylinder tractor had a shift lever instead of the traditional six-speed transmission common on John Deere tractors in the 1950s.
15. Which company introduced R7/R6/R5 combines?
16. The 8070 brochure said 'The innovators offer what others will imitate.' Which company was it?
17. The Ford tractor was once paired with this famous corn picker.
18. This company produced a brochure called 'TracTracTor Farming: From plowing to harvest.'
19. 'Combines for every farm and every crop' was one of their logos
20. The booklet for this tractor used the phrase: 'For every hour you work a horse, you lose money'
21. How did the model 40 Allis-Chalmers 'all-crop' combine deliver residue?
22. This company used a shield and the phrase 'Finest in Farm Machinery'
23. This company made the model 446 and 566 round balers.
24. You may have seen this logo: '_____  _____ Credit -- My brand of financing.'
25. An early two-color brochure for this tractor featuring a rubber-tired model pulling a steel-wheeled drill.
Check out the answers on page 3!
~~~PAGE_BREAK_HERE~~~
Answers
1) Brillion; 2) IH; 3) Case; 4) Case 800, pulling 83.5% of its weight; 5) 8; 6) Case; 7) IH Mc Cormick; 8) IH model 80, 7-foot head;  9) Ford from the Ford/New Holland days; 10) Ford
11) New Idea; 12) Oliver 1600 and 1650; 13) Allis-Chalmers; 14) model 70; 15) Deutz-Allis (Gleaner), you must include the 'Deutz!'; 16) Allis-Chalmers; 17) Dearborn- Wood Brothers; 18) International Harvester Company; 19) McCormick-Deering Harvesters & Threshers; 20) Allis-Chalmers model C booklet;
21) Ok, trick question. Out the back-side delivery AC combines came later; 22) Oliver; 23) John Deere: 24) John Deere; 25) Oliver model 77
Scoring
21-25 right: You must be 90 years old! 16-20 right: Don't you have anything better to do?; 11-15 right: You're just an average farm guy! 6-10 right: Did you really grow up on a farm? 0-5 right: Wow! You've got a lot of catching up to do. Spend three days at the Farm Progress Show!  
Did you enjoy this quiz? Take our Weed ID quiz next and test your skills!
Subscribe to receive top agriculture news
Be informed daily with these free e-newsletters
You May Also Like
---