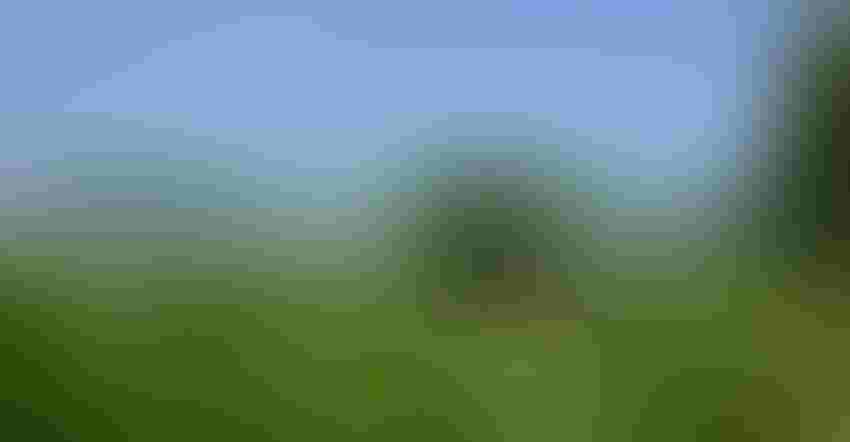 MULTIPLE TRIPS LOWER COST: This sprayer covers 15,000 acres per year on a 2,500-acre operation, greatly lowering cost per acre.
Tom J. Bechman
A self-propelled sprayer with high-clearance capacity pays for itself in a no-till and cover crop system. Mike Starkey, Brownsburg, Ind., a veteran no-tiller with 20 years of cover crop experience, is a firm believer in that concept, and he has the math to back it up.
When the dust settled after his last application this year, Starkey figured it cost him $2.50 per acre to own and operate the sprayer in 2021. Estimating another 50 cents per acre for fuel, he pegs his cost per acre for using his own sprayer at $3, not counting labor costs.
Related: Adding cover crops? Experienced no-tiller shares 10-point checklist
"The big benefit to me, besides lower cost, is that it's there when I decide I need to make the application," Starkey says. "In this kind of system, timing can be everything."
When he terminates annual ryegrass in the spring, for example, weather conditions must be right, with the cover crop actively growing. Even then, he only sprays a burndown for termination between 10 a.m. and 4 p.m. "That's tough to do if you don't have your own sprayer at your fingertips," he says. Various sources have confirmed that in the spring, herbicides work better on tricky cover crops like annual ryegrass when sprayed in the middle of the day.
Sprayer math
Starkey has about 2,500 acres of crops this year, including wheat. He treats his wheat as a high-management crop, which means two trips for applying herbicides, two for applying nitrogen and two more trips for fungicides during the year. He also split-applies nitrogen for corn, using the sprayer, and applies foliar fertilizer as well in some situations. He also does a very small amount of custom spraying for a neighbor.
"When I figured everything up, I covered 15,000 acres with the sprayer in 2021 alone," Starkey says, making it the most-used piece of equipment on the farm in terms of acres covered. He took his annual payment on the sprayer for the year on a loan and divided it by the number of acres covered this year.
"It came out to $2.50 per acre," Starkey says. "To me, that is my ownership cost for having the sprayer. It's very economical on fuel. Counting fuel cost, each trip with it across the field cost me about $3 per acre. "
Commercial rates for spraying in his area typically start at about $6 per acre. That makes his $3 per acre seem like a bargain. The only difference is he is supplying the labor, typically himself, to make the application.
"Having your own sprayer is something I recommend to someone serious about working into no-till with cover crops," he says. "You need to be able to know that you can make an application when it needs to be made."
Subscribe to receive top agriculture news
Be informed daily with these free e-newsletters
You May Also Like
---