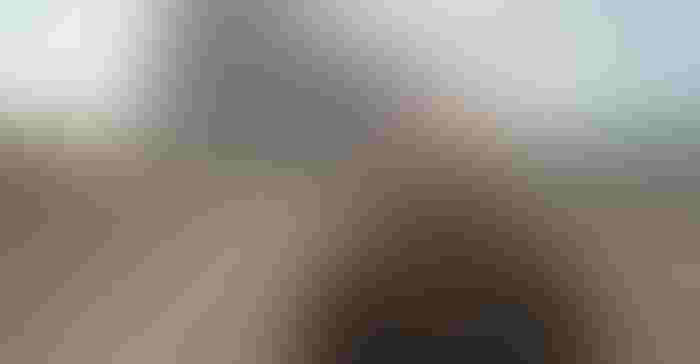 Seven-and-a-half hours. That's how long it takes the new shuttle loading facility at Midwest Farmers Cooperative's Syracuse location to load 110 train cars. "That will only continue to get better. We're loading 65,000 bushels per hour," says Eric Werth, location manager of the Syracuse facility. "We're not at full capacity yet. We can still greatly improve our loading speed."
In total, the facility has a capacity of about 3 million bushels, including about 1.5 million in a covered circle, 750,000 bushels in a GSI bin, and six smaller bins with a capacity of about 150,000 bushels each. The site employs six people, including a supervisor, scale and elevator operators and a grain originator.
The first 110-car shuttle at the facility was loaded in April, and No. 13 was loaded in August. This will be the new facility's first full harvest, and Werth notes they have the ability to handle two to three trains every 10 days during harvest.
"Our goal was to be able to load 110 cars in eight hours or less," says Werth. "We've already reached that early on, and we'd like to get that down to less than seven hours."
Speedy shuttle loading
How did it get there? A big factor in the facility's loading speed is its circle track, which allows it to load 110 cars without having to switch tracks, compared to a ladder track, where cars must be loaded in groups before moving them over to another line and switching in more cars.
This way, a single car can be loaded as fast as 3 minutes and 17 seconds, and Werth notes there are a number of factors that add up. "A 3.5-minute car gets you home a lot faster than a 4.5-minute car," he says.
When a 110-car shuttle arrives at the facility, the operations are precisely choreographed, Werth says.
From the rail loadout control room, an operator maneuvers the loading spout and controls the gate that lets the grain into the cars, while another mans the controls that blend grain going into the cars. Two employees, secured by harness, open lids on the car hoppers outside, rotating with two other employees. This all happens while federally-licensed grain inspectors in a room adjacent to the control room inspect grain for shipping. The facility also has an employee sampling grain to keep the process up to speed.
The next step to getting below seven hours is speeding up car movement. "Car movement now is our biggest factor. You've got to start and stop three times each car," Werth says. "We're going to go from just stopping on each hopper to moving slowly and loading all hoppers in one continuous movement. I think that will be the next win for us."
Automation makes life easier
Fortunately, automation and the Internet of Things help ease the burden. The entire facility can be controlled through the PLC (programmable logic controller) system from three locations – in the receiving control room, in the rail control room, and in Werth's office.
RFID (radio frequency identification) tags are used on railcars to monitor grain capacity based on bulk weight, and load cars to within 100 pounds of their capacity.
The facility uses RFID cards to keep track of in-bound and out-bound weights as trucks are weighed on the scale, as well as grading for grain coming into the receiving facility and two truck pits — each of which have a 20,000-bushel capacity.
The facility's grain storage is controlled by a Rockwell PlantPAX system, which manages the two truck receiving pits, directing grain to the right bin, or using any of the reclaim systems. "It stages and cycles every piece of equipment needed to run," says Werth. "Just push play. It's literally that easy."
The PlantPAX system also monitors and controls bin levels monitored using a BinMaster SmartBob system. When a bin is nearing full capacity, the system will stop the feed conveyor automatically.
Meanwhile, temperature cables keep track of grain temperature within each bin. If there's a 5 to 10 degree F rise in temperature, the system turns on the aeration fans.
The PlantPAX system also monitors the facility's 7,000 to 14,000 bushel-per-hour dryer, which is used to dry grain down to just the right amount to load the train, usually about 15% to 15.5%.
Looking to future
Werth notes the facility was built with the future in mind. "The elevator is designed to be easily added onto. If you look at it from the steel bin perspective and the tower on top of the steel bin that feeds it, we can add another 750,000 bushels right next to it and tie into the existing equipment," he says. "The other component is in the track space we have. Right now, the biggest trains that the railroad can service are 110 cars. We have the capacity to hold 140 cars, anticipating that down the road the industry will get bigger."
Subscribe to receive top agriculture news
Be informed daily with these free e-newsletters
You May Also Like
---