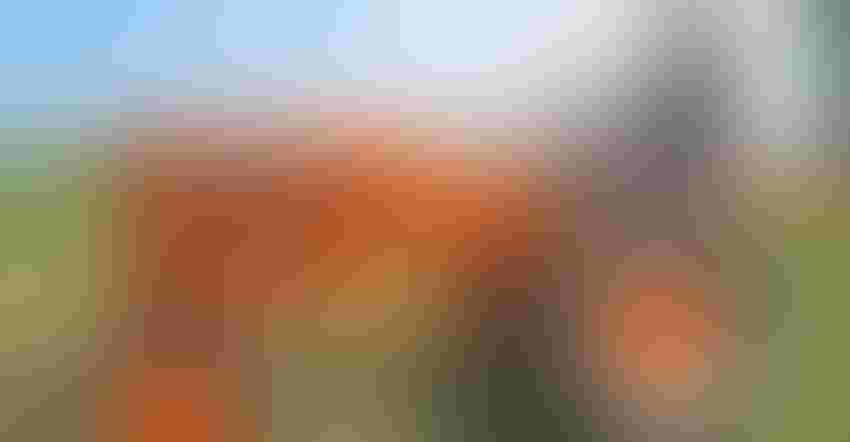 LABOR OF LOVE: Harlie Zahn of Green Bay, Wis., completely tore apart this Allis-Chalmers B tractor, and sandblasted, primed and painted everything the same orange color.
Harlen Persinger
Harlie Zahn's favorite tractor, a 1945 Model Allis-Chalmers B, literally came out of the woods. A friend didn't want to see it scrapped, so he decided to sell it to Zahn, a former mechanical engineer from Green Bay, Wis., for a good price of $300 if Zahn agreed to restore the machine.
"I took a winch to load the tractor, and once back at my place, I discovered the engine was tight, there was rust and water in the cylinders, and all the glass in every gauge was broken," says Zahn. "However, the sheet metal was still in good condition, so I knew it would be fairly easy to solve different mechanical problems."
He tore the entire tractor apart, and sandblasted, primed and painted everything the same color with Sherwin-Williams Persian Orange No. 1, the same color used when the tractor was manufactured. The paint cost $350 and the rebuilding process took 300 hours.
In 2014, Zahn loaded the tractor back on the trailer and showed it to the individual who sold it to him. This model of Allis-Chalmers tractor was built from 1938 to 1957 in West Allis, Wis., and Southampton, England.
The original price in its last year of production was $1,500. It was specifically designed to enter into the small-farm market, and early literature focuses on the economy of using tractors instead of horses. Rated at 19.51 hp on the drawbar, features included: three forward and one reverse gear, dry disk clutch, wide front end, belt pulley, foot brakes, two headlights in the front and one in the rear, toolbox below the gas tank, 73.4-inch wheel base, and a top road speed of 7.8 mph. It was equipped with a left and right plow, and could easily cultivate one row at a time.
Zahn has restored three other tractors: a 1937 Model Allis WC, a 1939 Model Allis-Chalmers B and a 1945 Model Farmall H.
"The AC's are my favorites because I enjoyed driving them on the farm while growing up, and they were a perfect fit for me," he adds.
Persinger lives in Milwaukee. To have your favorite tractor featured, email or send in a photo of yourself with your tractor, along with a 300-word write-up about the tractor, to: [email protected] or Wisconsin Agriculturist, P.O. Box 236, Brandon, WI 53919.
Subscribe to receive top agriculture news
Be informed daily with these free e-newsletters
You May Also Like
---