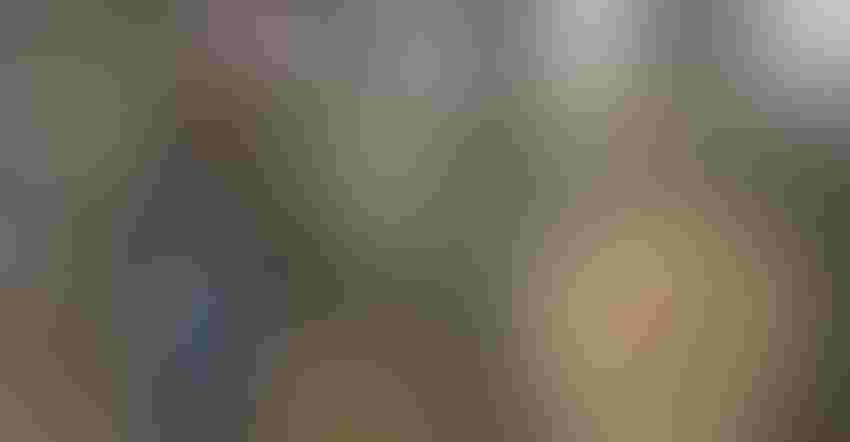 FAVORITE TRACTOR: Harley Koenig primarily uses his 2510 John Deere to cut weeds, mow hay and provide rides for the grandchildren.
A 1966 model 2510 John Deere Tractor checks in as the favorite tractor for Harley Koenig. It was purchased, along with an attached 246 John Deere 7-foot mower, off the showroom floor by Koenig's father, Laverne, for $3,500 from Berning Implement in Reedsburg. "At that time we only had a model 50 and a John Deere A," recalls the Reedsburg farmer, who tills 140 acres of corn and soybeans. "I had to climb aboard to learn how to shift because it was so much different than the hand clutches on those other tractors."
The 2510 raked hay, ran the two-bottom plow and two-row cultivator, disked, drag-hauled manure, moved chopper boxes and operated the two-row mounted New Idea corn picker. Features included a narrow front end, power steering, a complete hydraulic package, eight forward and two reverse gears, cushion seat and attached toolbox. This row crop gas tractor had a road speed of 15 to 16 mph, 52 hp rating on the drawbar and a 90-inch wheel base. It used a 2020 engine fitted to a modified 3020 chassis. There were 15,114 models built in Waterloo, Iowa, between 1965 and 1968.
In 1990, Koenig purchased the 2510 from his father for $2,500, and he estimates it has operated around 6,000 hours. Today, it's primarily used for a couple of days to cut weeds, mow hay and provide rides for the grandchildren. The only required maintenance is changing the oil, but it does need a new set of rear tires. "I first drove the tractor when I was 16, and one day while dragging, I hit the electric fence while sweeping around a corner. It took some fix-up time and Dad's blessing in order to continue that job," Koenig adds.
"In those youthful days I always enjoyed raking hay with this tractor, and it remains my favorite because it had excellent maneuverability, was easy to get on and off, and always delivered top-notch performance. The 2510 has been an integral part of the family for over 50 years, and as my dad notes, "That was money well spent."  
To have your favorite tractor featured, send in a photo of yourself with your tractor, along with a 150-word write-up about the tractor, to: Wisconsin Agriculturist, P.O. Box 236, Brandon, WI 53919.
Subscribe to receive top agriculture news
Be informed daily with these free e-newsletters
You May Also Like
---