Groundwater export plan raises ire of California farmers
Groundwater export plan raises ire of California farmers
Merced County does not have a ground water management ordinance, though most other San Joaquin Valley counties do.Ground water pumping has increased in California as regulators ceased surface deliveries for agricultural use.The increasing number of permanent crops increases plant water needs.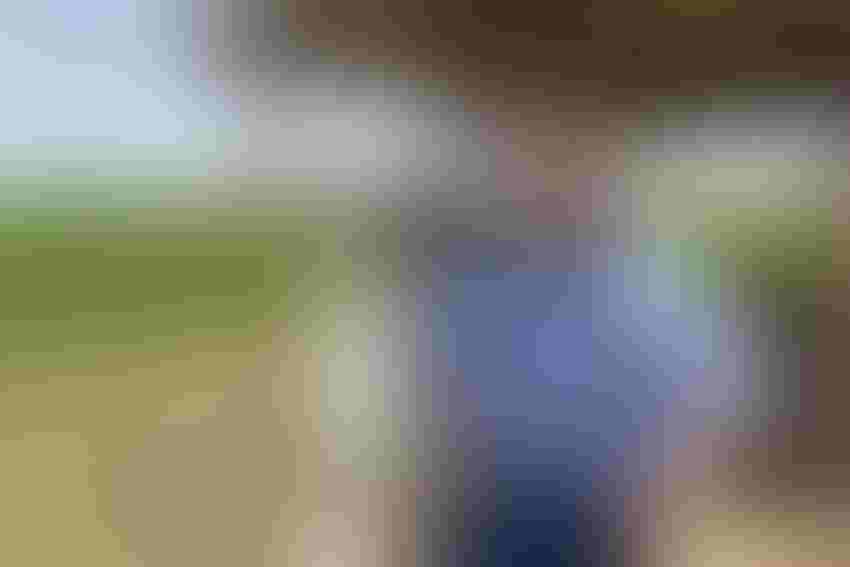 <p>Farmland next to Billy Grissom&#39;s alfalfa field could be used to pump 26,000 acre feet of water for export to an adjacent county. Grissom remains concerned that his water table could be significantly impacted by the plan.</p>
While some growers in Central California's Merced County are none-too-thrilled with a proposal to export water to an adjacent county, others see the deal as vital to keep their permanent crops alive in a year where surface water is unavailable due to state and federal decisions.
Permanent crop grower Jim Jasper, owner of Stewart and Jasper in Newman, Calif., says the need for water is paramount. He has trees to keep alive this year.
"This would be extremely helpful for the farmers in our area to get this water," Jasper said.
Jasper's farming operations have no surface water allocations this year and little well water. Jasper is in a fight for his existence. He is a multi-generational grower in the region with almonds, cherries, and citrus in Stanislaus and Merced counties.
Stewart & Jasper handles about 40 million pounds of almonds annually; about 2 percent of California's total almond crop. Some growers who ship to Stewart & Jasper are in the same boat.
For more than 10 years, Anthea Hansen, general manager of the Del Puerto Water District (DPWD), has been forced to look on the open market to fill the annual void caused by insufficient surface water deliveries from the Bureau of Reclamation's Central Valley Project (CVP).
The latest proposal to purchase a maximum of 26,000 acre feet of water at about $1,000 per acre foot raised some immediate concern, not due to the price, but because of the relatively large amount of ground water that opponents say will be exported from two farms in central Merced County.
With 45,000 acres in Stanislaus, Merced, and San Joaquin counties to serve, Hansen needs approximately 140,000 acre feet of water each year for the district. This year she received zero water from the CVP.
The proposal
Del Puerto Water District directors originally proposed to buy 23,000 acre feet of water per year for four years from Merced County landowners Steve Sloan of 4-S Ranch Partners LLC, and Stephen Smith of the SHS Family Limited Partnership. The two ranch properties are located northeast of Los Banos, just north of the San Joaquin River.
This was before word got out and talk of the proposal escalated.
The DPWD board opted instead for a pilot project of only two years with no contract extension available. The amount of water pumped would also be scaled back to 13,000 acre feet per year.
Pending approval by the U.S. Bureau of Reclamation, the plan seeks to convey ground water pumped from central Merced County through the San Joaquin River and other existing water structures.
The USBR is involved since federal water structures, including the Delta Mendota Canal, could be used. There is also a chance some water could be stored in the UU.S. Bureau of Reclamation's San Luis Reservoir.
The water would come from 14 wells on the Sloan and Smith properties. According to the environmental document drafted by DPWD, the standing water level in these wells ranges from 12 feet to 84 feet.
According to Hansen, the move is necessary to help growers keep permanent crops alive this year. Time is of the essence.
"I can guarantee you this water will not be used for row crops or new plantings," Hansen said.
Hansen said no formal deal has been signed by the parties. She defended water costs as "reasonable" given that recent water sales in the San Joaquin Valley have reportedly been signed for more than $1,300 per acre foot.
Ground vs. surface water
While surface water is regulated in California, ground water is not. Some counties, including Stanislaus and Madera, which neighbor Merced County to the north and south have implemented groundwater ordinances, as have other San Joaquin Valley (SJV) counties.
Merced County has not implemented a ground water ordinance, though county officials brought up the subject at a May 24 meeting in Merced, according to Amanda Carvajal, executive director of the Merced County Farm Bureau.
Ag officials say the move towards local ground water ordinances is to demonstrate to the State of California that local agencies are working to address issues related to overdraft and subsidence.
There is a real fear among growers and farm groups that the state will regulate ground water pumping, which the various interests want to avoid due to the legislative and regulatory tendency of California politicians to over-regulate issues.
There are reports of several ground water bills under debate by lawmakers in Sacramento.
The reason the ground water issue has become so contentious of late is because of the absence of surface water that commercial growers have commonly relied upon to produce crops. Since surface allocations have continually been reduced to growers, well water is used to augment those supplies.
For some growers, ground water is too salty or unavailable; making it even more critical to find other sources of water to keep permanent crops alive.
Opposition hits crescendo
Criticism of the proposal was almost immediate and overwhelming – almost, since people on both sides admit the process was nearly a done-deal when word-of-mouth reports of the proposal reached county supervisors and the call for a public hearing was apparently too much for some county leaders to ignore.
As a result, supervisors barely made the legal deadline to place discussion of the matter on their May 20 agenda. The public hearing lasted several hours, and according to those in attendance, most were opposed to the deal.
"It was a surprise to most of us," said Amanda Carvajal, executive director of the Merced County Farm Bureau.
At the heart of growers' concerns are the alleged 'glaring holes' in the environmental report drafted by DPWD.
For instance, the report reads: "The area is relatively isolated with little immediate adjacent commercial or agricultural activity."
Billy Grissom owns 6,000 acres next to Sloan's 4-S Ranch. Grissom says the project will impact him and others.
Many wells, one aquifer
One of Grissom's wells is within 200 yards of the project site, an additional four of Grissom's wells are within two miles, and eight more are within four miles of the 4-S Ranch. Grissom grows 1,200 acres of corn, including 400 acres of certified organic. He also has 500 acres of alfalfa and 1,000 acres of permanent pasture irrigated for his beef cattle.
Grissom's cattle have been left on irrigated pasture all year since California's drought left his normal grazing ground to dry west of Los Banos. He has purchased $100,000 of hay to feed his cattle.
Public maps indicate a string of agricultural properties adjoining each other surrounding the project area. These properties grow a variety of crops including corn, alfalfa, wheat, and others.
Grower Bob Weimer of the Livingston area, growers sweet potatoes, peaches, almonds, and walnuts. He says the aquifer that feeds the project site stretches east into the Merced County foothills. It provides water to numerous small-acreage growers in eastern Merced County. There are numerous domestic wells that also rely upon the aquifer.
"They fail to recognize if you take water from here then how it will impact those of us on the east side," Weimer says.
The report states  wells for the proposed project are "finished in the upper portion of the unconfined and semi-confined aquifer above the Corcoran Clay (and is) recharged from rainfall on overlying lands, seepage from neighboring water courses, overlying irrigation lands. and nearby wetland areas."
Weimer and Grissom do not contest this. They do contest how the export of this water could forever leave a deficit in the aquifer that now gets some of its recharge from irrigation directly above it.
Hansen said the project will include close monitoring of ground water depths as there are reportedly two water tables with a hard, clay layer separating them. Project pumping is said to come from the upper aquifer.
"This project is very important to us," Hansen said. "We have every intention to make this work without harming nearby properties."
Get the latest agricultural news each day to your Inbox. Click here for free Western Farm Press Daily e-mail newsletter.
About the Author(s)
Subscribe to receive top agriculture news
Be informed daily with these free e-newsletters
You May Also Like
---