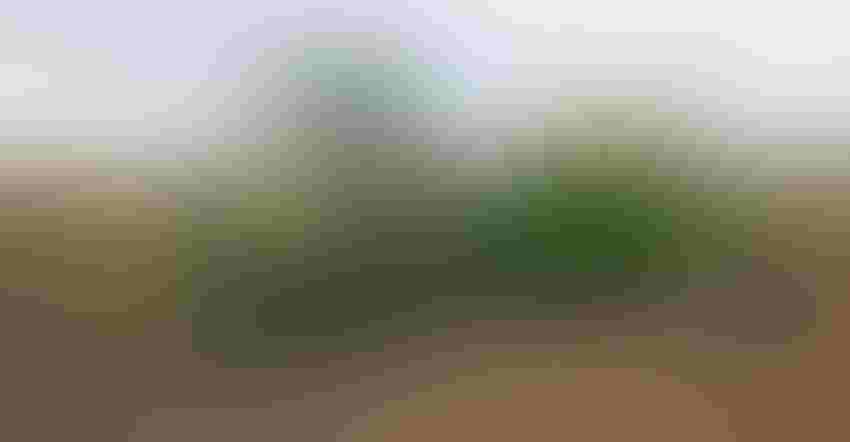 The PL5200, Great Plains' newest planter in the PL-Series, has a unique side-shift adjustment option to convert from twin- to single-row spacing in the field within an hour.
Great Plains Mfg., Inc.
Great Plains introduced the newest planter in the PL-Series, made with the Delta in mind.
During a recent press conference in August, Rye DeGarmo, Vice President of Engineering at Great Plains Manufacturing, and Chris Coleman, Engineering Manager for the Great Plains Ag Division, presented the new PL5200 planter and discussed other planters in the PL-Series.
"We're excited to round out our PL-Series of planters," DeGarmo said. "We have four core models, and we are continuing to add to our robust line-up with accurate and efficient planters."
Available on all the PL-Series planters is the Air-Pro Meter with a larger seed pool. This allows farmers to plant at faster speeds, and uses a shorter closing wheel system, for exceptional seed-to-soil contact in the trench.
The PL5200 Planter
"If you need the row unit to stay in place when you put it in the ground on narrow beds, our newest planter will fit your farm — the stackable PL5200," DeGarmo said. "This planter will be beneficial for ag producers in the Delta and follows the current stack-fold, on-row hopper design we've had in the past. It's a 12-row system with 36-inch, 38-inch, and 40-inch single and twin-row configurations. The PL5200 has the 5000 series Air-Pro Meter for accuracy, and we have added a bulk fill option to allow producers to efficiently cover more acres in a day."
The PL5200 planter has an industry-leading 50-bushel bulk hopper, and lift-assist is not required but is an available option for those who do not have at least a category 4 hitch.
"The PL5200 has a unique side-shift adjustment option to convert from twin- to single-row spacing in the field within an hour," he said.
The PL5200 is available with ground, hydraulic, and electric (IRC) drives and is ISOBUS-compatible to fit a producer's technology needs — whether it be more for practical use or more advanced to allow for prescription mapping and variable-rate planting.
"One of the exciting things about this new planter is a new entry-level 7-inch ISO monitor, which allows all the normal features for precision agriculture along with remote monitoring and remote technical support," Coleman said. "Now, I can use my smartphone to do a seed calibration or use the meter fill feature while standing at the row unit.
"Also, if I have trouble, I can call technical support from my console in the tractor and have it fixed using remote monitoring."
PL-Series lineup
The rest of the lineup includes the PL5500, PL5700, and PL5800 planters.
For farms with smaller roads and irregularly shaped fields, the PL5500 series planter has a transport width of 9 feet and 9 inches, allowing producers to get down the road easier.
"This planter is an 8-row, 30-inch configuration and fits in the sweet spot of 115 to 130 horsepower," DeGarmo said. "One of the key features of the PL5500 is the ability to apply dry fertilizer. It can hold up to 53 cubic feet of capacity, which is not something we have in the rest of the lineup."
To take it up a notch, the next largest PL-Series planter is the PL5700.
"If you're looking for a planter larger than the PL5500, but you want to start with the basics and advance at your own pace, the PL5700 front-fold planter is the one for you," Coleman said.
Features on the PL5700 include a 12- or 16-row, 30-inch configuration and the 5000 series row unit.
"The PL5700 has the choice of 3-bushel row hoppers or two 50-bushel hopper bulk tanks, and a liquid fertilizer capacity of up to 600 gallons, delivered by either frame-mounted fertilizer coulters, row unit blade separators, Keeton seed firmers, or closing wheel-mounted dribbler tubes," he said.
One unique aspect of this planter is the rear hitch with a hydraulic option, so a cart can be added for additional capacity.
"As with all our PL-Series planters, it is ISOBUS compatible and ISO-compliant," Coleman said. "Our system is Agricultural Industry Electronics Foundation (AEF)-certified, so you can plug into your tractor and it will run through your AEF-certified console. The PL5700 is a versatile planter that can be configured to what is needed on your farm."
For producers who require a bigger planter with twin-row applications, the PL5800 is an option.
"The PL5800 is a large-capacity planter with robust frame design, and it is available in 15 inches up to a twin-row, 36-inch," Coleman said. "It is available in single and twin-row configurations and is an excellent high-capacity planter."
Subscribe to receive top agriculture news
Be informed daily with these free e-newsletters
You May Also Like
---