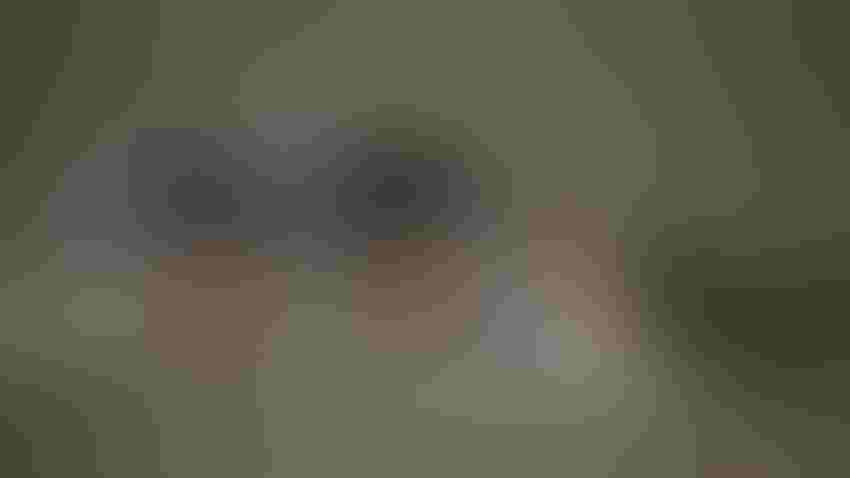 SPRAYING: A self-propelled sprayer applying agriculture chemicals to a crop.
Willie Vogt
The ability to take care of a crop in-season has evolved over the last decade, as more farmers have invested in crop spraying tools for their farms. While custom application is an important management tool, if you've invested in a sprayer, whether a tractor sprayer or a self-propelled sprayer, a new free report from the editors at Farm Progress offers prep tips ahead of that busy season.
The timing for applying the range of crop protection products like herbicides, fungicides and insecticides you use is critical. If your sprayer is down, you lose valuable weed, insect and disease control time. And while it may appear that a sprayer is simply a tank, pump and nozzles, there's a lot more to these machines today. Keeping them in application trim is key.
The free report tackles a range of tasks and tips to help you get that machine prepped and ready to roll. Here's a rundown of the topics covered in this report.
Prep checklist
Like any pilot about to take off on a trip, the sprayer checklist is a critical tool to make sure you're ready to roll at spraying time. This report starts with the basics, check over the operator's manual. It's likely been months since you've looked at that sprayer – tractor-pulled or self-propelled. Do you recall all the operating parameters for the products you plan to use? The owner's manual is the place to start.
Download the FREE sprayer prep report
From there the checklist gives you the basics from reconnecting the battery to checking tire pressure. Having this checklist in hand (the report is mobile friendly) is a solid idea to walk through before each day's spraying. It's an extensive look at key features on the machine and can help jog your memory of what it takes to make sure the sprayer is ready to roll accurately and efficiently.
A key part of that checklist involves more than the sprayer. What will you be applying and when? New chemistries, or legacy products with new uses like dicamba, require added attention. These products require pumps at proper pressures, and nozzles to maximize application speed and minimize drift.
Maintenance tips
The checklist gets you going, but keeping that sprayer working in the field requires maintenance. In this section, the report digs in on ways to make sure nozzles are set up and ready to use.
A key part of your sprayer and one often overlooked is nozzle replacement. With changing crop chemistries, it's key that the right nozzle is at work on your sprayer at the right time. There are strict nozzle requirements for drift reduction with dicamba and 2,4-D, and the report offers insight into that challenge.
There are also ideas for measuring nozzle type and performance as well is insights for keeping nozzles working at peak performance. Note that some products can clog nozzles, or wear them out faster, and a ready exchange to new tips can make a difference in sprayer performance.
Working forward from the nozzles, maintaining those hoses and pumps is important too. A sprayer is a complicated plumbing machine with pumps moving material through pipes and hoses to get to those nozzles. Along the way trouble can occur. The report digs into that issue offering tips on best practices for keeping material flowing from tank to nozzle.
Get the FREE sprayer prep report
And finally, the machine if self-propelled, needs to be maintained. Proper hydraulic flow to pumps, and engine operation is key. For pull-type machines making sure all the pumps are working right and the PTO pump for the sprayer is in top shape.
Cleaning checklist
Once at work, dirt and crop protection products can do a good job of fouling the sprayer. In this report section, you'll find another valuable checklist. The earlier one referenced is before you roll, this list is designed for your return to the shop after a day at work.
Walking through that checklist from tank emptying to exterior cleaning, you'll find solid reminders of what it takes to keep the machine in top shape. Cleanout of a sprayer is an important task, especially if there is residual material on board. That can gum up pumps and nozzles, turning that efficient machine into little more than a standing sculpture for the farmyard.
Working through the checklist can make sure the machine remains in top-running shape to get you through the season. And note, a cleaner machine will have a higher trade-in value.
Spraying tips
Now that the report has covered all the factors for starting and maintaining your sprayer for accurate application, it turns to putting the machine to use. In this section you'll find solid ideas for making sure you're making the most of that sprayer.
FREE report offers sprayer tips
From timeliness to weather, from drift to ground speed, the report offers a wide range of insights on boosting your spraying game. It's also a handy tool for the less experienced operator on your team to make them better applicators.
A well-maintained sprayer should cover the crop efficiently, but there's more to it than that and this section offers operational insights for best machine use. The report also notes the value of putting the tech available to work for the best application benefits.
New sprayer considerations
During this season you might find your current sprayer isn't up to the chore for this season, or you'll push through but what about next year? This section digs in on what to consider if it's time to trade your old sprayer for new iron.
This section deals with the decision between self-propelled and pull-type when considering a sprayer. The report delves into the cost factors to consider when you're deciding what kind of new sprayer to get. Is it time to upgrade to a self-propelled machine? Is a larger pull-type the better answer?
The report also explores whether it makes more sense to spray or have your fields custom sprayed. The costs and time are important considerations, which this section explores.
Prep that sprayer
In a special Farm Progress 365 video, Tommy Butts, University of Arkansas, extension weed specialist, offers a look at some key considerations for spraying this season. The video features a look at nozzles, types of pump systems and includes a conversation about sprayer best practices.
It's part of our Farm Progress 365 series of seasonal sessions, and you can learn more at FarmProgress365.com.
Subscribe to receive top agriculture news
Be informed daily with these free e-newsletters
You May Also Like
---