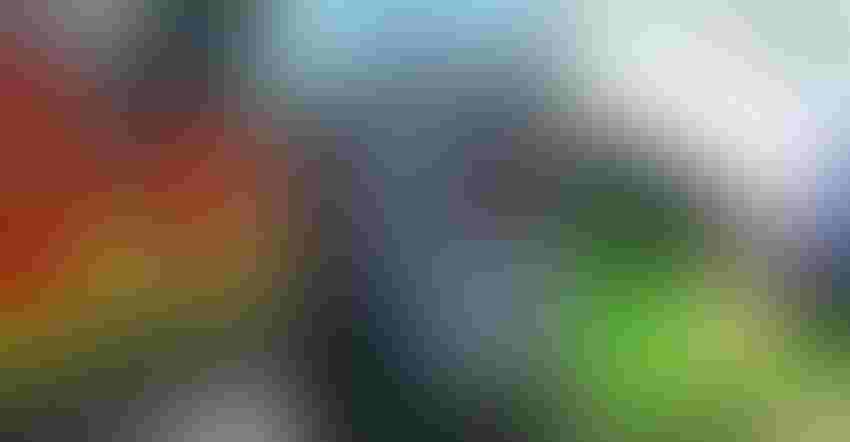 CHECK OUT THESE PRODUCTS: The 2022 new product guide is a digital document rounding up everything Farm Progress editors found at the 2022 fall farm shows. This is a living document that will be revised through the end of 2022. Get this free report.
Farm Progress
Traveling to a farm show can be a joyous time wandering through the exhibits finding new ideas and tools for your business. But seeing everything at any farm show is no easy task. To solve that Farm Progress divides the work and visits every exhibitor at the shows. The result is a collection of more than 200 new, or interesting, products for the farm and ranch.
And while those products are featured online, a new free report is designed to make finding the information easier.
The 2022 New product guide highlights products from the Farm Progress Show and Husker Harvest Days. Presented in an enhanced digital format, it's easy to find the category you want to search out to see the latest tools you may need. And this digital document will keep refreshing through the end of 2022 as the latest new products become available.
A highlight of the digital report format is the ability to zoom into any photo to see a larger version of any image to get a closer look. It's a unique feature of this new digital format. Check it out.
Here's a rundown of the key categories so far, but keep checking back using this link to get the latest report.
Combines and accessories
There were some key announcements for combines at the 2022 shows. From the new Claas Trion 740, a smaller machine launched at the Farm Progress Show, to the largest corn head ever introduced from Geringhoff.
You'll also fined details on a new flex draper from Claas, news of an upgrade kit from Calmer for Drago corn heads, and details of the New Holland/MacDon partnership which includes a new flex draper head.
You'll find a wide range of accessories as well from concaves to combine head trailers, reel enhancements to stalk stompers for corn heads. There's also information about a new seed destructor tool for combines that can significantly reduce the farm's weed seed bed.
Download the 2022 New product guide
And editors tracked down a special 100th anniversary commemorative Gleaner Special Edition with custom livery and a vintage logo.
Grain handling tools
In this section, as defined, you'll find a healthy roundup of tools for moving, storing, and handling grain. In an industry that has seen tremendous change, this is one section where farmers will see some value. From a new tube conveyor for gentler grain handling from Brock to a faster grain bagger from Neeralta, the list is diverse.
In this roundup you'll also find that Mathews Company is expanding its line to include accessories. There are new augers that boost the speed you can move grain on the farm. And grain monitoring technology continues to advance as farmers work to manage stored products to maintain quality 24/7.
And there are new tools for moving air more efficiently through bins, safety add-ons to make time on top of a bin less perilous. Maintaining grain quality is money in the bank for any farm and these tools help make it easier.
Fertilizer efficiency
Given what's happened to fertilizer prices in 2020 and beyond, any tools that can help make the most of this key input investment will pay off. In this section you'll find new tools for applying fertilizer more efficiently, and ways to upgrade existing fertilizer tools to be more effective.
Whether you're talking about broadcast applications of granular products or more precise application of liquid nutrients, this section shows the latest tools available. For example, the new Fast Ag Solutions narrow-transport system makes moving from field to field easier, but provides plenty of coverage when ready.
Get your free guide to 2022 new farm products
You'll also find new precision technology applied to more conventional approaches, including the Kuhn Advance precision fertilizer spreader that can accurately apply granular products. And additions to existing equipment such as the Aguru Machinery integrated fertilizer tube for applying dry fertilizer with a strip till unit.
There are also innovations like the Visum Airflow blockage sensor that makes applying granular fertilizer with an air-boom or air-spreader easier – this system lets you know when lines are blocked. There are new ideas in tending tools including the Heartland Ag Systems VPA 1000 that can load from either side, offering users more flexibility when spreading.
Livestock care
Keeping livestock fed and comfortable is key to success. While a commonsense statement, having the right tools for the job can make those chores go much more easily. In this section you'll find some diverse equipment ranging from the Bazooka Farmstar Renegade agitation trailer for pulling manure out of a lagoon to the Jones hay grinder that makes picking up feed and getting it into the grinder much easier.
You'll find new cattle handling tools including the Ranger XL cattle chute available either as a manual system or with optional hydraulics. And portable corral – the Conquistador from MJE Livestock Equipment – that removes stress in moving from pasture to pasture.
There are high-tech tools for alerting you when water tanks need refilling and advanced minerals to boost cattle health. This section contains a wide range of innovations with livestock handling and safety in mind.
Precision ag
The phrase precision agriculture has evolved in the last decade, and the innovations keep on coming. In this roundup of what editors found at the shows you'll find plenty of new ideas for the farm.
If you're thinking of using a drone to apply products to fields, the Agras T30 from DJI might be the answer; or consider the Hylio AG110 from HTSAg; and learn about the Pegasus Spray XAG P100. You can learn about all those different drone choices.
There's also the Mantis from Augmenta, which is a cab-mounted camera solution that makes variable-rate technology application possible on virtually any sprayer. And consider the Jaltest from Cojali USA that allows farmers to diagnose and repair their machines.
Keep up with new tools, download the 2022 New product guide
New apps are coming to agriculture including GHX from Golden Harvest which can track scouting records, yield predictions and track actual yields to help manage fields. Syngenta also launched the Cropwise Imagery system to help farmers collect key information in one place for decision making.
This section offers news of improved implement guidance systems, including the AcuraTrak, which is now owned by Copperhead Ag. And Farmwave has a grain loss detection for a combine that can help put more grain in the tank, not on the ground.
There's also information about new RTK modems for precision application, high-tech soil probes that provide readings right in the field and even lidar systems for precision obstacle avoidance for the future.
Living document
Note, this interactive digital publication will be expanded beyond these sections but downloading the link will provide you the latest version with every visit. This is a kind of living document that exists only as a digital publication.
Check it regularly to capture the latest information and in 2023, this becomes a final reference tool for new equipment for the farm.
Subscribe to receive top agriculture news
Be informed daily with these free e-newsletters
You May Also Like
---