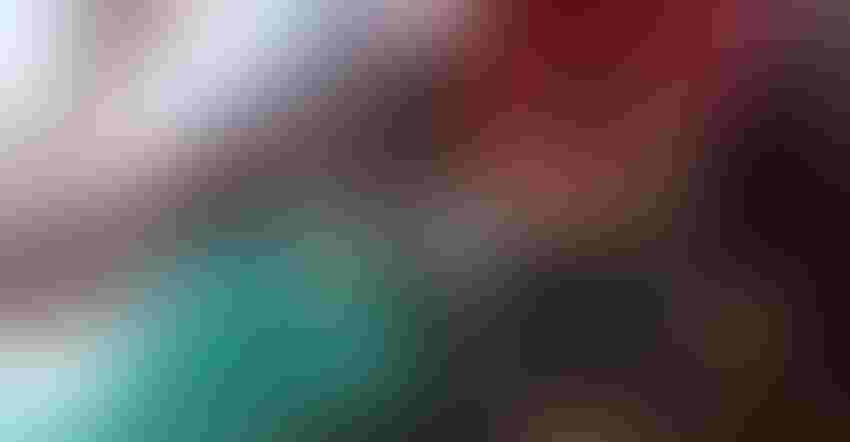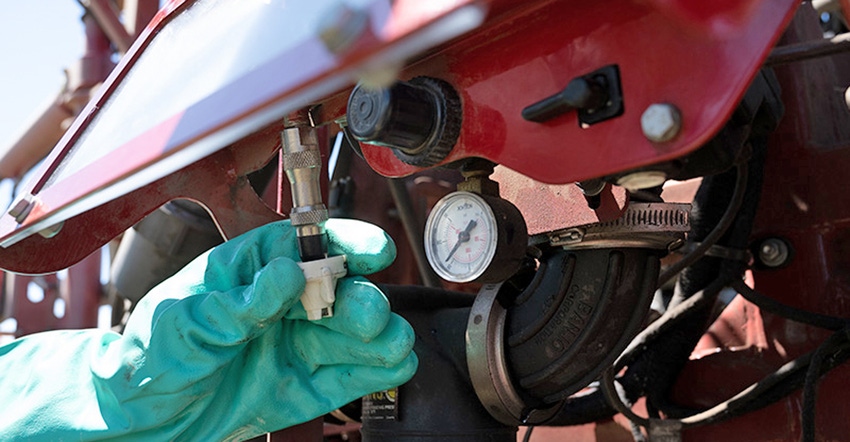 READY FOR STORAGE: Winterizing your sprayer is critical. The larger booms seen on most modern sprayers require growers to pay closer attention to rinsing hoses, filters and nozzles.
Courtesy of Case IH
At 84, Drew Stabler of Laytonsville, Md., has slowed down considerably. He's largely passed on most of his farming duties to his two partners on the 1,700 acres he farms in central Maryland.
But he still does the spraying. In fact, he's been running a sprayer since he was 16.
"The only thing is the equipment is so much more complicated and bigger than I started out with," Stabler says. But when it comes to winterizing his sprayer, some things don't change.
He runs a John Deere 4830 with guidance and boom control. Spraying season isn't over yet, but once he's done, he'll get busy getting the sprayer ready for winter storage.
For Stabler, he starts by cleaning out his sprayer with cold water. Then he gets the RV antifreeze out — it takes 25 to 30 gallons of the antifreeze to do the job. He runs it through the booms and cleans out the nozzles and filters. Then he pressure-washes the sprayer and waxes it down.
Winterizing the sprayer is critical. But with PWM (pulse-width modulation) sprayers on booms becoming more and more popular, and the sheer number of plastic plumbing components increasing, it's become even more critical to ensure nothing is freezing inside those nozzles, says Alex Caldwell, product marketing manager for New Holland.
"As you have more and more plastics and sensitive components, around the boom or on the sprayer, the new technology is what sticks out more and more, but it doesn't make the stuff that's been around forever any less critical," he says.
Erdal Ozkan, Extension state specialist of pesticide application technology at Ohio State University, says the larger booms seen on most modern sprayers require growers to pay closer attention to rinsing hoses, filters and nozzles.
"End section of long booms on each side are more prone to spray mixture still remaining in this section even after the boom is rinsed by pushing clean water or water with a rinsing agent has been pushed out through nozzles," Ozkan says. "This could be a problem especially when dry formulations of chemicals are in the spray mix. Having the boom ends open during the rinsing process pretty much eliminates this problem. Many new sprayers have closed-loop chemical transfer systems. It is important to make sure this system is also rinsed and cleaned out just like any other plumbing part on a sprayer."   
What to focus on
Caldwell says growers should concentrate on these key systems when winterizing a sprayer:
Main product delivery loop: This includes the pump, main strainer, flowmeter, control valve, boom shut-off valves and boom plumbing.

Rinse loop: This includes rinse plumbing and tank cleaning nozzles in the product tank.

Agitation loop: This includes the electric agitation valve or manual agitation valve and agitation nozzles.

Chemical eductor fill tank and line.
Sprayer control components such as pressure transducers, flowmeters and regulator valves can be costly to replace if they are not winterized properly, Caldwell says.
Other parts that producers often forget, he says, are educt circuits, secondary/tertiary fill points, fender nozzles, and optional rear booms for front-boom sprayers.
The pump, Ozkan says, is the most important part to think about.
"Improperly winterizing it before the temperature falls below freezing could lead to cracking of pump components, and the pump may not do its job properly in the upcoming spring when growers cannot afford to take the time to repair or replace a pump," he says.
Some tips he provides:
After the complete interior rinsing and draining using clean water is done, a small amount of antifreeze should be put into the tank, and this mixture should be pumped out until this slightly colored liquid starts coming through the spray ends.

For even further protection against freezing of water, a small amount of oil can be put in the pump, and the pump should be rotated by hand four or five revolutions to completely coat interior surfaces.

In some cases, flushing the system with antifreeze or coating the pump with oil is easily forgotten. Pour a small amount of antifreeze into the tank and run the pump until the colored liquid starts coming through the spray ends. A small amount of antifreeze left in the bottom of the pump or hose lines will be fine.
Caldwell says to not forget foam marker systems and hand-wash tanks.
"It's one of those things where the main operator might not have used them during the season, but maybe someone else did, so make sure you thoroughly winterize everything," he says.
What to use
Some growers like to winterize a sprayer using a liquid fertilizer combination — likely 32% nitrogen — but Caldwell says to use caution as nitrogen can be corrosive.
Blue-colored windshield washer fluid has also been used as a cheaper alternative to RV antifreeze and fertilizer, but Caldwell recommends against it because of scaling that can be left applied when it dries, which could plug valves and tips when take out of storage.
RV antifreeze, he says, is the best way to go, as it prevents freeze damage and remoisturizes the gaskets, diaphragms and O-rings.
Caldwell suggests running some sort of catch system under the nozzles in a couple of different places to check the color of what's coming out. "You can tell with the color of it how diluted it is getting," he says. "If it's too clear, that means you're flushing likely too much water with that antifreeze and the residue that you're leaving inside is not as pure as you'd like it to be, so it might necessitate the need of another pass."
Things to not forget
Ozkan says growers should make sure no spray mixture is left in the tank after spraying is done.
Also, make sure no pressure buildup exists in the sprayer plumbing lines when it's taken to storage.
Blowing out the hose lines with compressed air after final rinsing and plumbing is a good way to get rid of any rinse water that might remain.
And, of course, read your owner's manual for any specific instructions from the manufacturer.
Resources
Ohio State University: Fall sprayer maintenance
About the Author(s)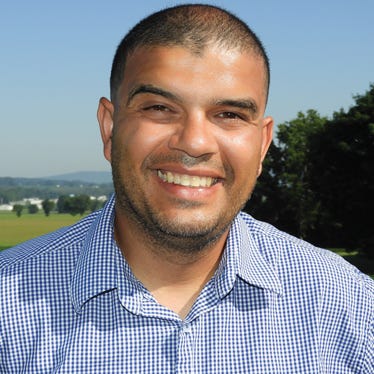 Editor, American Agriculturist
Chris Torres, editor of American Agriculturist, previously worked at Lancaster Farming, where he started in 2006 as a staff writer and later became regional editor. Torres is a seven-time winner of the Keystone Press Awards, handed out by the Pennsylvania Press Association, and he is a Pennsylvania State University graduate.
Torres says he wants American Agriculturist to be farmers' "go-to product, continuing the legacy and high standard (former American Agriculturist editor) John Vogel has set." Torres succeeds Vogel, who retired after 47 years with Farm Progress and its related publications.
"The news business is a challenging job," Torres says. "It makes you think outside your small box, and you have to formulate what the reader wants to see from the overall product. It's rewarding to see a nice product in the end."
Torres' family is based in Lebanon County, Pa. His wife grew up on a small farm in Berks County, Pa., where they raised corn, soybeans, feeder cattle and more. Torres and his wife are parents to three young boys.
Subscribe to receive top agriculture news
Be informed daily with these free e-newsletters
You May Also Like
---