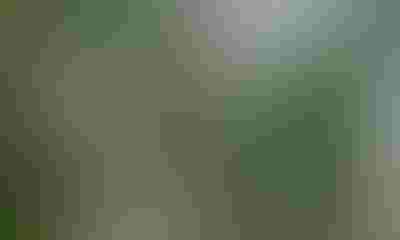 If you've walked in any corn fields at all around this time of year you've likely seen some brown lesions on corn leaves. Those are typically caused by fungi, and are diseases that can eventually take over the plant later in the season if conditions are right. How quickly they come in and how quickly they take over leaves and shut down the photosynthesis factory can determine the size of any potential yield losses.
Corn Illustrated 8/11: Keep UAV crop scouting, data collection on your radar

To the top! Note that even the uppermost leaves of these plants have foliar disease lesions caused by a fungus.
By the time silks turn brown, about two weeks ago across much of the Corn Belt, Dave Nanda worries if lesions of any disease organism have reached the ear leaf. That's the leaf that comes out of the stalk at the same point the main ear is attached.
"This year leaf disease is rampant in some places," says Nanda, a consultant for Seed Consultants, Inc. "Even hybrids with a good package of tolerance may not be able to hold it off."
Indeed, checking a field last week, we found an abundance of disease. And we saw a first, at least for me. Even the uppermost leaves, just below the tassel, were dotted with numerous disease lesions. Many ear leaves were peppered with lesions. The bottom two to four leaves on many plants were already completely brown or nearing that stage due to disease.
We found the exact same level of severity in disease in two different hybrids from two different companies in the same field.
Both hybrids were supposed to have good tolerance to gray leaf spot and northern corn leaf blight. The vast majority of the lesions were caused by gray leaf spot, which makes small, rectangular shaped lesions that grow and eventually grow together. A few lesions of northern corn leaf spot, which are wider, irregular, and often shaped like a cigar, were also found.
Corn Illustrated 8/4: Some corn diseases aren't worth your worry
How much will this damage yield potential? Nanda says it is too early to tell.
One of the issues could be that if the plants die prematurely, test weight will be lighter than normal because plants will no longer be able to put sugars into kernels.
Subscribe to receive top agriculture news
Be informed daily with these free e-newsletters
You May Also Like
---