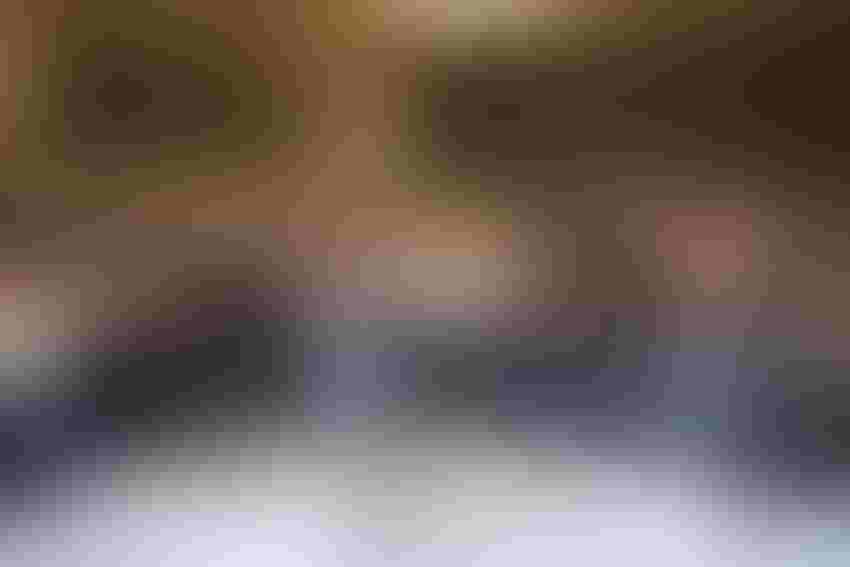 Panelists, from left, Ponsi Trivisvavet, Travis Bayer, Poornima Parameswara, and Dan Vradenburg, moderator, discussed the role agriculture technology will play in mitigating climate change. The panel discussion was part of the 65th annual meeting of the Southern Crop Production Association in Charleston, S.C.
Ron Smith
The challenge facing agriculture 20 years into the 21st Century includes more than feeding the anticipated 9.5 billion to 10 billion people expected to inhabit the planet by 2040.
In addition to feeding a rapidly growing population, the demands on agriculture include "keeping the planet habitable," says Dan Vradenburg, CEO, Trace Genomics.
Vradenburg, speaking as moderator for a panel discussing "Disruption Leads to Progress" at the 65th annual meeting of the Southern Crop Production Association in Charleston, S.C., said the disruption caused by climate change, in addition to the increased demand for food and fiber, mandates new production techniques that protect natural resources.
"We have taken natural resources for granted," Vradenburg says. "We have not properly stewarded them."
He contends, however, that agriculture will play a pivotal role in preserving and protecting those resources.
He noted alarming data that show land mass disappearing under rising ocean levels.
"Just this past summer, the temperature increases across Europe resulted in 400 billion tons of the Greenland ice sheets melting — just from one summer. That's a staggering amount. We're watching the destruction of fragile ecosystems: The Amazon rain forest, the oceans' coral reefs, and regional temperatures that force migration of crops."
He says water pollution from nitrate and phosphorus runoffs threaten critical water sources — rural wells streams, rivers, lakes.
"Thousands of the world's most reputable scientists, climatologists, forecast catastrophic consequences from climate change by 2040. Our planet is in jeopardy."
Vradenburg says those dire predictions offer both good news and bad news for agriculture.
He says in the past agriculture has been linked to soil degradation, air and water pollution and greenhouse gas emissions. Important considerations for the future, he adds, are "nature's fragile balance and preserving natural diversity."
Agriculture is the solution
The good news, he says, is that "agriculture is the solution to mitigating and possibly correcting the consequential impacts that I've outlined and towards keeping this planet habitable.
"So why do I care? Well, my first grandchild is now one year old, and I think about what this planet is going to be like in 20 years. As we forecast these catastrophic events by 2040, she'll be 20 years old.
"But we have time to do things. So how do we change? Let me give you a few examples. How about understanding the most critical component of crop production — the soil, the complex associations between soil biology and chemistry, which helps crops grow.
"Develop production programs with new insights that have not been available until now." He says, "Soil intelligence will drive more optimal sustainable production practices.
"Or how about advancements in the most foundational crop input, seed, utilizing decades of regional insight, coupled with the most advanced gene technology? We can now promote genetic diversity better suited to the land being farmed, improve yields, and vastly improve the economic and environmental benefits."
He says amplifying beneficial organisms, "billions of living organisms in the soil, new, novel, unique, natural chemistry that's never been used before that can turn on a plant's natural ability to feed and protect itself when under biotic stress factors. Plants use nutrients in the soil more efficiently."
The three panelists, all with start-up agriculture technology companies, discussed their roles in mitigating the impact of climate change.
Ponsi Trivisvavet is CEO and director of Inari, a company exploring the potential to tap natural diversity of plants, using new genomic technology to develop new varieties faster and cheaper.
Poornima Parameswara, co-founder and president of Trace Genomics, looks at advanced soil analyses to develop strategies to address yield-limiting factors.
Travis Bayer, co-founder and CTO, Sound Agriculture, also looks at the diversity of soil organisms as critical factors in improving productivity and reducing costs.
Technology's role
Trivisvavet says climate change is part of the reality we live in and that agriculture is already playing an important role in mitigating the damage.
"Farmers have been helping to address climate change," she says. "We see a role for technology that can bring in even more advancement into how we solve that challenge together."
She says opportunities include how to reduce the amount of water used in crop production, how to reduce the amount of chemicals or fertilizer we are using.
"Inari is bringing back genetic diversity to help address those challenges by bringing in the type of seeds that address those challenges. I think the greatest opportunity is to reduce our carbon footprint," Trivisvavet says.
Farmers on front line
"The way we look at it, farmers are on the front line of climate change," Bayer says. "On the one hand, they have to deal with all the effects of climate change — more extreme weather patterns, more drought. A lot of issues affect what happens in the field and on the farm."
Farmers can be a big part of the solution, he adds. "Soil can help sequester carbon. Higher productivity is now possible while using fewer inputs more efficiently. That can go a long way to reduce carbon emissions. We see agriculture as a part of the solution for climate change."
Bugs in the soil
"Soil can be a source and also a sink for carbon and for greenhouse gases," Parameswara says. "Bugs in the soil help sequester carbon. Bugs in the soil help sequester greenhouse gases. So, if we can outfit our farmers with the right tools, the right set of management practices, or the ability to choose the right inputs and the right management practices, we help them not only increase productivity, but also help them be stewards of the land. Land is their biggest asset and the key to how we can equip them to be better stewards of their land."
She says new technologies constantly coming to the farmgate offer "a great opportunity to stay one step ahead of climate change."
Smaller footprint
"Farmers have an opportunity to adopt new technologies," Vradenburg adds. Reducing dependence on electricity and fossil fuels, he says, may reduce production costs and improve conservation.
"Instead of burning fossil fuels, farmers are adding cover crops, growing a different crop mix and adopting cropping systems that sequester carbon out of the atmosphere.
"We're counting on agriculture," he says, "not only to mitigate but also possibly to correct some of the problems and challenges we face with greenhouse gas emissions."
Subscribe to receive top agriculture news
Be informed daily with these free e-newsletters
You May Also Like
---