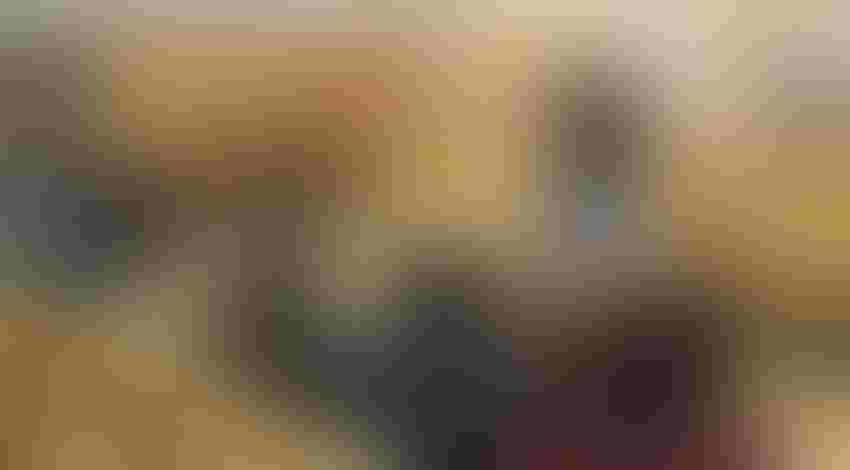 OSU technology and media support coordinator Victor Villegas shows a drone to 4-H students attending a summer camp near Salem, Ore., hosted by Oregon State University.
Tim Hearden
In the Spanish language, the word for success is "exito." And at a recent summer camp hosted by Oregon State University, about 150 mostly Latino 4-H members were inspired to strive for it.
The university's annual 4-H Outreach summer camps for elementary and middle school students stressed the importance of gaining an education and developing skills for next-generation industries such as robotics.
Designed for Latino and underserved youth in third through eighth grades, the annual camps in the woods west of Salem, Ore., focus on helping youths improve academic skills, develop leadership abilities and participate in healthy physical activities, university officials said.
"We're doing hands-on workshops to help kids explore different career opportunities," said Mario Magaña Alvarez, OSU's 4-H outreach specialist. "We also have college students … share their experiences with the youth. We also bring Latino professional speakers representing different careers."
Providing skills
The camps' purpose is to prepare kids for the next generation of jobs – and encourage them to take pride in their culture, too.
"About 90% of the kids come from farming or low-income families," Alvarez said. "Most of their families work for other farmers … or work in agriculture. Others work in restaurants and hotels. We have a few Caucasian and a few Asian kids.
Related: Colleges, universities train students in ag-tech
"Most of the Latino families have a very low understanding about different career opportunities," he said. "Most have a good understanding about teachers, counselors, lawyers and doctors, but they don't think about those careers because they think they're too expensive or difficult. Their focus is very narrow."
The camps helped them consider careers in a wide swath of industries. Their activities focused on:
Technology, including Lego robotics, GPS and solar cars, and wind energy.

Natural resources, including forestry, water quality, wildlife and agriculture.

Physical activities, including soccer, volleyball, basketball, swimming and camping.
Kids inspired
On one morning during the camp, groups of about a dozen kids rotated through stations learning about different careers and opportunities. At one end of a gymnasium, OSU technology and media support coordinator Victor Villegas was teaching about drone technology, while at the other, instructor Mary Chui Gonzalez was giving a presentation on culture and dance.
Outside, Alvarez spoke to another group of youngsters about the importance of getting a college education, noting that they can either work to save money for college or obtain student loans or scholarships.
The talks inspired Diego Palacio, an incoming eighth-grader from Albany, Ore., who wants to study business and become an entrepreneur. He's been coming to the camps for about four years.
"A lot of people are talking to us about our future," he said. The camp "builds great communication skills, things like that … You build really good friendships."
First-year attendee Kari Bazan, an eighth-grader from Hermiston, Ore., wants to study to be a veterinarian. She thought the camp sounded interesting, she said.
"I think it's important to educate kids my age so they know, because if you didn't know how to get to school in the future, now you know," she said.
Related: Tech training for workers crucial to ag's success, CEOs say
Some past enrollees at the camps later work as counselors. About 25 high school students joined about 30 adult volunteers this summer at OSU's 4-H Center, where the camps were held. One was Kaylee Azcue, who's beginning her junior year at South Salem High School.
"I think the connections you make with camp counselors" have a lifelong impact, said Azcue, who attended for three summers as a camper. "I think it's really important just because a lot of kids haven't been exposed to the activities we do here.
"It's so exciting because at first they're so shy, but they come out of their shells so much," she said. "It's so much fun."
Outreach efforts
The 4-H camps are one of several efforts by OSU to encourage underrepresented youth to seek higher education, according to Ivory Lyles, the university's Extension director and vice provost of its Division of Extension and Engagement. Among other offerings:
A state lottery-funded outdoor school available to all fifth- and sixth-graders in Oregon to give kids an opportunity to experience nature.

Open Campus, with which the university works with families that haven't attended college to help parents understand the value of higher learning.

A new program, Access OSU, available to Portland area students of color to support and guide access to higher education.
"We want to increase that target population at OSU," Lyles told reporters during a recent tour of university facilities.
The 4-H camps' focus on technology comes as other universities, community colleges and trade schools in the West are providing training to Latino farmworkers and their families in how to operate drones, automated tractors and other new equipment.
For instance, the University of California, Davis' Smart Farm is focused on advancing healthy and safe working conditions for farmworkers while providing experiential learning opportunities where students develop the skills needed to tackle the interrelated challenges of environmental stewardship and worker equity, according to its website.
Related: When the robots arrive, what happens to farmworkers?
The University of Arizona's Yuma satellite brings in area middle-school and high-school students for week-long summer institutes in working with robotics and other technology, and a similar collaborative approach is employed by California Polytechnic University, San Luis Obispo.
Hartnell College, a Salinas, Calif., community college, has been working with California State University, Monterey Bay on a three-year track for a bachelor's degree in computer science and is working ag into the curriculum. The college also teams with large ag operations such as Driscoll's and Taylor Farms to offer non-credit farmworker education courses.
"I think that's a great initiative," OSU mechanical engineering instructor Joe Davidson said of Latino outreach efforts. "Extension and outreach to people who do this work is really important. We have people on our team who are Spanish-speakers and work with these communities. Nothing happens in a vaccuum."
Land of opportunity
Alvarez, the OSU 4-H specialist, grew up with 14 siblings in a family of farmworkers. A native of Mexico, he came to the U.S. in 1983 to work in ag in Washington state and eventually attended OSU, where he earned an interdisciplinary master's degree in forest resources, adult education and Spanish in 1999.
He learned about 4-H while doing an internship in the mid-1990s and decided to devote his career to the educational club. He's been a 4-H instructor for OSU since 2000.
"It's a very satisfying job because most of the kids are in the same or worse situation than I was in before I came to college," Alvarez said. "I wanted to be able to help families in difficult financial need who don't have skills to send their kids to college."
About the Author(s)
Subscribe to receive top agriculture news
Be informed daily with these free e-newsletters
You May Also Like
---