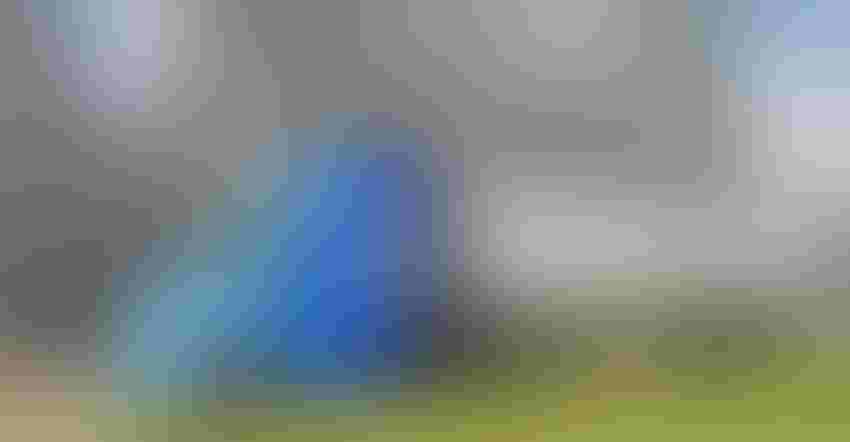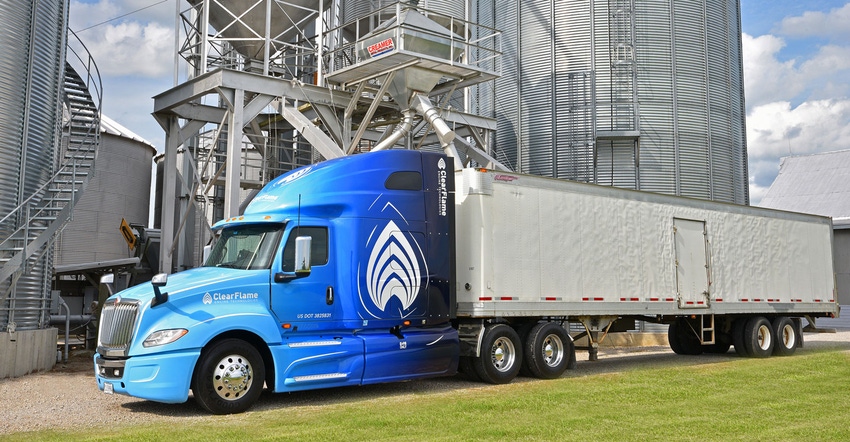 ETHANOL BURNER: ClearFlame is hitting its development targets — and partnerships are making it possible. Beck's is part of a coalition formed, in part, to help supply ethanol for the truck.
Courtesy of ClearFlame
Farmers have expressed a fair share of interest in work done by ClearFlame. The startup created by two Stanford University grads developed technology that will retrofit a diesel engine to run on pure ethanol. While the trip from new idea to marketable product can be a challenge, it helps to have partners along the way.
Recently, four Indiana ag companies teamed up to work with ClearFlame along the development road. The group, organized by Beck's, includes CountryMark, Co-Alliance and Central Indiana Ethanol. Brad Fruth, director of innovation at Beck's, tells Farm Progress how the coalition was formed.
"We do some work with the Ag Startup Engine at Iowa State University," Fruth says. "I met BJ [Johnson, a founder of ClearFlame] and was very intrigued about it."
In his role, Fruth evaluates and implements "disruptive change." When seeing the diesel-to-ethanol technology, "I was like holy cow," he says. "If they could burn 100% ethanol in an existing engine" that would boost ethanol demand.
Beck's is already known for its Practical Farm Research program, and Fruth saw an opportunity for the company to help ClearFlame generate an "on-the-road" data set as the engine development process continued. That also involves running what's called an "alpha truck" to collect information. This truck is still in the early stages of product development, but can run and provide real-world experience beyond a dynamometer for ClearFlame.
Finding pure ethanol
Fruth was committed to working with ClearFlame to test the truck. "We have some friends in agriculture here [in Indiana] that can help us with the fuel part," he says. "But I couldn't pay for it."
He had contacted Central Indiana Ethanol to acquire fuel, but the ethanol plant wasn't legally set up to do commerce. The plant sells directly to blenders.
In essence, Beck's could not buy ethanol directly; the company needed some partners. Hence, the alliance between Beck's, CountryMark, Co-Alliance and Central Indiana Ethanol was born. At the heart of that is the fact that the infrastructure for buying and selling pure ethanol isn't yet set up. The law requires pure ethanol be mixed with 2% gasoline, making it E98, to denature the fuel so it's not drinkable.
Beck's made the extra effort to get fuel. Fruth says the company sees ClearFlame as disruptive technology and understands the need to help collect information to further develop the product.
Johnson and his co-founder Julie Blumreiter got their start in 2016, and the goal back then was to develop diesel engine technology that would remove the need for diesel exhaust fluid to meet emission standards.
"We could never have guessed diesel would go to $5, and people were talking about it staying there," Johnson says.
That changed the economics of the engine technology, and while taking DEF off the table for big diesel engines might be a future benefit, that's not the focus for on-road trucks today.
But other roadblocks have been a challenge. Getting the industry to understand the process of making the ethanol purchase simple was "harder than we thought," Johnson says. "It also took the market a while to realize that decarbonization was going to take a range of different solutions, not silver bullets. But I see that narrative changing."
Combustion engine still has role
In his early days, Johnson battled people who focused solely on battery and electric vehicles, and didn't see the need for internal combustion engines. But he sees that regulators and others in the transportation industry are seeing that the process of reducing carbon is going to take longer, and internal combustion engines using lower-carbon fuels will play an important role.
But ClearFlame is hitting key development targets, including:
having a pilot fleet of four trucks at Beck's

signing memorandums of understanding with Reviva and Vander Haag's Inc. to integrate the technology into a Class 8 truck

making that first commercial fuel purchase through the Indiana coalition
Johnson says the company is on track with EPA and with data collection for that approval. "We predicted to get that complete in 2023," he says. "With beta pilot demonstrations [coming soon], we'll use those to actually solicit orders. While we can't book revenue, we can get a contingent purchase order from a fleet to buy a certain amount of product when we get approval."
Those pre-orders would allow ClearFlame to start building conversion kits and align training for mechanics to support units in the field. The company anticipates work to start on conversions in early 2024.
A technology that could help bolster demand for ethanol in an industry seeking new lower-carbon fuel sources offers opportunity. ClearFlame is also working with John Deere and is in development of an ethanol-burning version of the 9-liter engine.
Johnson also sees the potential of the technology for generator sets. The technically off-road applications may be possible without the need for DEF. As for a DEF-free on-road truck? He notes that's a bigger lift that ClearFlame will take on down the road.
Learn more at clearflame.com.
Subscribe to receive top agriculture news
Be informed daily with these free e-newsletters
You May Also Like
---