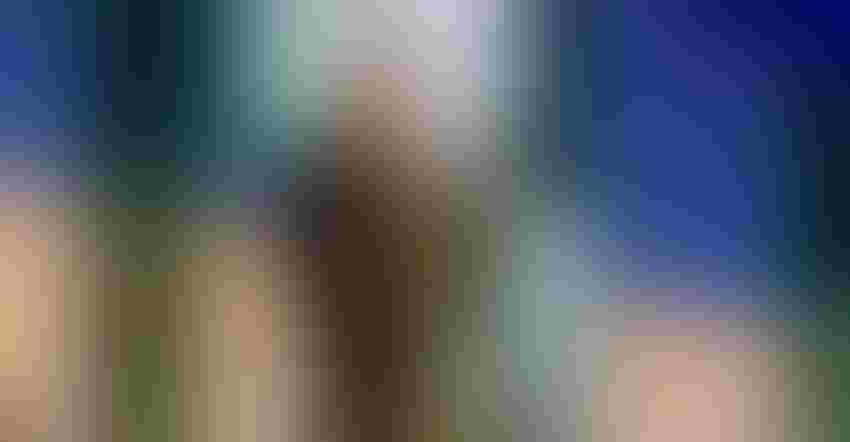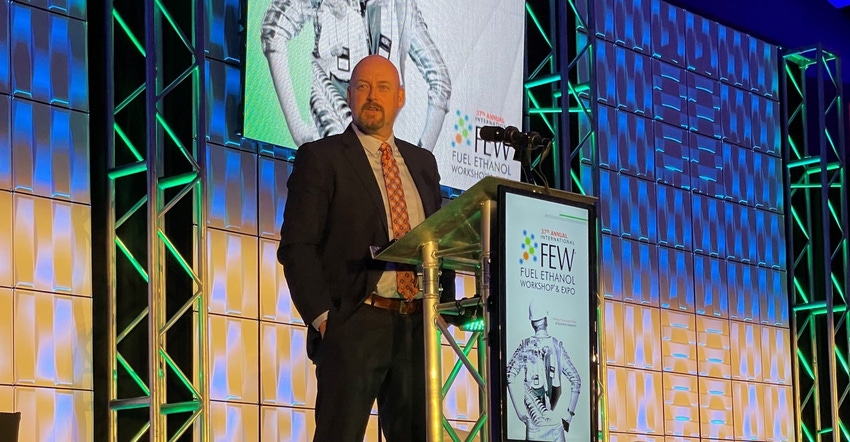 SUNNIER DAYS AHEAD: "For the past several weeks, it feels like we've had our share of torrential rains in the ethanol industry," shares Renewable Fuels Association President and CEO Geoff Cooper. However, he shared at the International Fuel Ethanol Workshop and Expo on July 14 that he believes sunnier days are ahead.
RFA
Low-carbon ethanol's "brightest and sunniest days remain ahead" despite recent judicial setbacks and a growing policy push on electric vehicles, Renewable Fuels Association President and CEO Geoff Cooper shares in keynote remarks July 14 at the International Fuel Ethanol Workshop and Expo.
Even after two recent disappointing court decisions, "The ethanol industry is still in a stronger position today than we've been in for years," Cooper told the Des Moines audience. "Our outlook remains bright, despite what the headlines and our opponents would like us to believe."
The potential impacts of the June 25 Supreme Court decision on small refinery exemptions and the July 2 D.C. Circuit Court decision to reverse year-round E15 sales will be more limited than some believe, Cooper says.  
I'll be the first one to admit that these court decisions have been disappointing and discouraging," Cooper says. "But now that we've had more time to digest what these court rulings really mean, we think both decisions will prove to be hollow and short-lived victories for oil refiners who remain intent on keeping ethanol in an E10 box. These decisions are temporary setbacks. They are bumps in the road."
The Supreme Court, for example, did not address two aspects of the 10th Circuit decision: that refiners asking for an exemption must prove that the claimed economic hardship is caused solely by the RFS, and that refineries of all sizes pass through their RIN costs in the wholesale prices of their refined products. "It will be next to impossible for refiners to establish that the RFS itself has harmed them," Copper says, noting that EPA has indicated its agreement with the 10th Circuit decision.
Regarding the year-round E15 ruling, Cooper expects E15 will remain available through this summer season as any appeals of the D.C. Circuit decision are considered.
"But what about next summer?" he asks. "And every summer after that? RFA is considering all available options to protect and expand the market for E15. In addition to pursuing a rehearing in the D.C. Circuit or an appeal to the Supreme Court, EPA could explore other potential regulatory workarounds that would allow retailers to continue selling E15 all year long."
Cooper stressed strong general support for ethanol in Washington, from Congress to the White House to the EPA.
"Renewable fuels continue to enjoy strong support from both political parties and in both chambers of Congress," he says.
"And while the judicial branch of the federal government has let us down in recent weeks, we are confident that our executive branch remains on the right side of the renewable fuel debate—even though they are under enormous pressure from the oil industry, and even though many of the administration's energy priorities seem focused on electrification," Cooper adds. 
Strong demand
Gasoline consumption for the week ending July 2 eclipsed 10 million barrels per day for the first time in history. Ethanol consumption perked up as well, reaching its highest level since August 2019. "One week doesn't make a trend, but the numbers are certainly encouraging," Cooper says.
Ethanol's resurgence is being driven by favorable blending economics. The marketplace is rewarding blenders and refiners who are using as much ethanol as possible. And those favorable blending economics are being primarily enabled by the RFS and strong renewable identification number or RIN values.
Cooper shares the week prior, a fuel blender could buy a gallon of ethanol that came with a free RIN attached for $2.20. When that ethanol was blended into gasoline, the blender could separate the RIN and sell it for $1.50 to refiners who refuse to blend ethanol. That means the real wholesale cost of ethanol to the blender was just 70 cents per gallon, compared to about $2.25 for a gallon of gasoline blendstock.
Ethanol exports also continue to gain traction. "After bottoming out last summer, U.S. ethanol exports strengthened in the fall and began 2021 with a bang. Following a 31-month hiatus related to the trade war, China has begun importing U.S. ethanol again as the country takes steps to address its air pollution problem," Cooper says.
Role in carbon discussion
Finally, Cooper notes that ethanol could—and should—play a major role in efforts to greenhouse reduce emissions from the transportation sector, especially if additional state low-carbon fuel standards, or a national LCFS program, are adopted.
"Even after accounting for all of energy and emissions associated with every step of the ethanol production process, today's corn starch ethanol is shown to reduce greenhouse gas emissions by nearly 50% compared to gasoline," he says. "Clearly, we are already on our way to 'net zero' with ethanol. Proper accounting of soil carbon accumulation in cornfields, using biogas for thermal energy, or adopting carbon capture and sequestration could make corn ethanol carbon neutral—or even carbon negative."
Cooper concludes: "We'll continue to experience bursts of rain and the occasional downpour—just like we have over the past few weeks. But after every storm, the clouds part and the sun shines through. And I continue to believe our brightest and sunniest days remain ahead of us."
About the Author(s)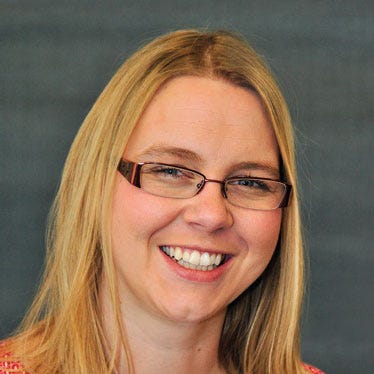 Policy editor, Farm Futures
Jacqui Fatka grew up on a diversified livestock and grain farm in southwest Iowa and graduated from Iowa State University with a bachelor's degree in journalism and mass communications, with a minor in agriculture education, in 2003. She's been writing for agricultural audiences ever since. In college, she interned with Wallaces Farmer and cultivated her love of ag policy during an internship with the Iowa Pork Producers Association, working in Sen. Chuck Grassley's Capitol Hill press office. In 2003, she started full time for Farm Progress companies' state and regional publications as the e-content editor, and became Farm Futures' policy editor in 2004. A few years later, she began covering grain and biofuels markets for the weekly newspaper Feedstuffs. As the current policy editor for Farm Progress, she covers the ongoing developments in ag policy, trade, regulations and court rulings. Fatka also serves as the interim executive secretary-treasurer for the North American Agricultural Journalists. She lives on a small acreage in central Ohio with her husband and three children.
Subscribe to receive top agriculture news
Be informed daily with these free e-newsletters
You May Also Like
---