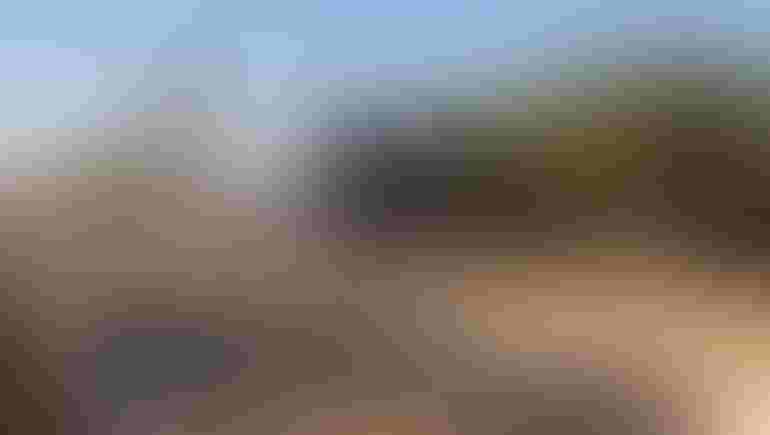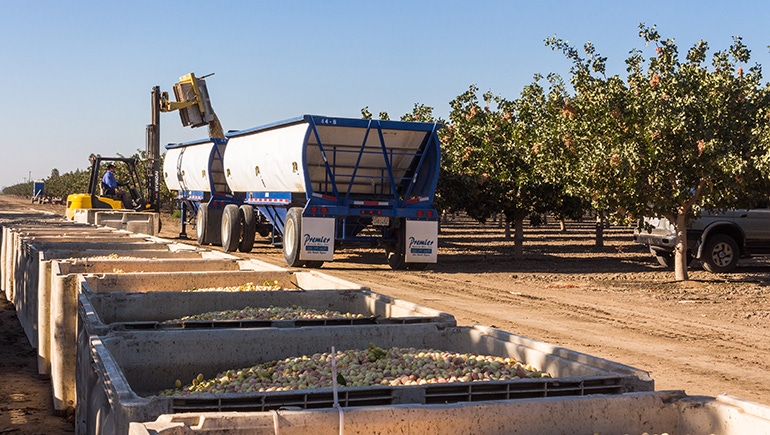 Pistachios are harvested in California's San Joaquin Valley. A new University of California study finds that dust residues that interfere with pistachio pollination can reduce fruit set and yields.
Todd Fitchette
Tree nut growers are accustomed to being urged to minimize orchard dust, particularly during almond harvest as nuts are being swept and collected from the ground.
But there may be another reason to cut down on dust besides air quality, at least for pistachio growers.
University of California researchers found that dust and pesticide residues from springtime field work can interfere with pistachio pollination during bloom, to the point that it may increase instances of "blanking" or splitting of developing nuts.
In a 2017 study led by UC Davis postdoctoral researcher Lu Zhang, who is now a professor at Oklahoma State University, scientists applied dust to blossoming flowers at different levels of thickness to simulate mowing, tilling and pesticide applications. Afterward, they saw increases in the June drop rate and in the trees' production of "blanks" – shells with no nut inside.
Some commodity growers apply water to fields and orchard floors to cut down on dust, but pistachio growers might find it easier just to adjust their work schedules because their bloom happens so quickly, notes Phoebe Gordon, a UC Cooperative Extension orchard crops advisor in Madera, Calif.
"While working wet soil reduces dust, it can cause compaction and smearing, and I do not recommend working the ground in that condition; it's better to just work around bloom," Gordon wrote on the UC Division of Agriculture and Natural Resources' website. (She was not involved in the study.)
"It is also an excellent idea to avoid applying herbicides during bloom, especially since nearby bee colonies can sometimes collect pollen from pistachio orchards," she added.
The study by Zhang, Bob Beede, Gary Banuelos, Christopher Wallis and Louise Ferguson was published in November in the American Society for Horticultural Science's journal.
Pistachios unique
As Gordon explains, pistachios are unique in that the hull and shell will grow before the embryo of the nut, which then begins to fill the center. If pollination begins and isn't completed, the hull and shell can be stimulated to grow without the embryo developing, which is one cause of blanking, she asserts.
Stressors like drought can also cause blanking if the embryo begins growing but aborts later, she notes. Meanwhile, insufficient heat hours or insufficient carbohydrates can affect split percentages, she advises. Split percentages are typically higher in "off" years for the alternate-bearing nut, she adds.
To maintain control over conditions, Zhang and his team hand-pollinated flowers with varying pollen and dust mixtures and treated some of the soil with glyphosate and saflufenacil – herbicides typically used in spring fieldwork.
They found that pollen contaminated with dust had less of an ability to germinate and that dust blocked the pollen from reaching the female stigma, sometimes reducing the fruit set. As the amount of dust in the mixtures increased, so, too, did the June drop rate and blanking, the scientists found.
Split percentages – the ratio of split to unsplit pistachios at harvest – also decreased when the dust percentage was 75% or higher, they observed. Herbicide-contaminated dust also prevented embryo growth, they found.
Gordon acknowledged the study doesn't show clearly whether tillage or mowing generate enough dust to interfere with pollination.
"To put it another way, we just don't know whether this is happening in the real world," she wrote. "From what I've personally observed, tilling bone-dry ground creates a heck of a lot of dust that could travel high enough to get into the tree canopy.
"However, given the strength of the results and the short time period when pollination occurs, it would be a good idea to avoid mowing or tilling during bloom," she added, "especially if the orchard has had herbicides applied recently."
For more news on tree nuts as reported by growers and farm advisors, subscribe to the Tree Nut Farm Press e-newsletter.
Subscribe to receive top agriculture news
Be informed daily with these free e-newsletters
You May Also Like
---