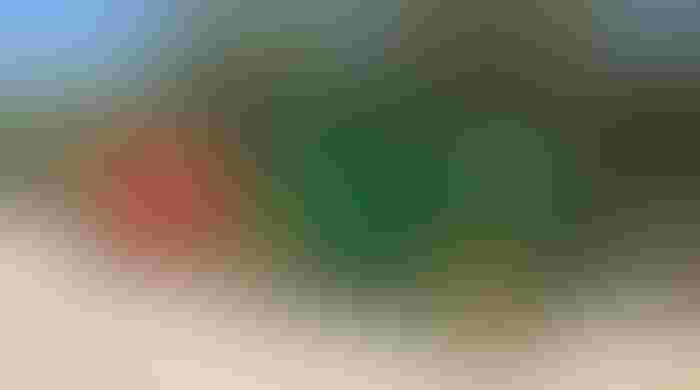 A John Deere 5115M utility tractor pulls a Pul-Blast sprayer near an orchard north of Bakersfield, Calif. A heavy base gives the 5115M utility tractor dependable stability, even in adverse conditions. Plus, with a heavy-duty 3-point hitch, operators have a wide range of implement versatility for any kind of job. Tim Hearden
John Deere's newest equipment for high-value crops varies widely in size, from compact tractors that slip seamlessly through vineyard rows to huge bedded-crop planters that are as tall as buildings.
But the one feature that ties all the machines together, other than the signature green paint, is technology. The 184-year-old company has gone all-in on precision agriculture -- a necessity when nurturing crop seeds that can cost as much as $875 an acre.
High-tech, precision features are paramount in Deere's line of tractors, loaders and sprayers customed to perform the diverse job needs of high-value crop growers. Among the company's offerings are cloud-based services such as JDLink, which enables a grower to track his machines' work in the field, and AutoTrac, which enables hands-free steering of tractors by using GPS coordinates.
Related: John Deere launch shows innovation in many areas
"JDLink is free for customers," said Greg Christensen, a go-to-market manager for John Deere. "Pretty much every tractor you see out there can be equipped with JDLink."
Christensen and other Deere marketing professionals recently hosted a field day for media in Bakersfield, Calif., to highlight some of the new features in the company's equipment lineup for high-value crops, which include not only vineyards and orchard crops but also myriad field crops including carrots, melons, onions, pumpkins, lettuce, peanuts and pine trees.
"To an outsider, when they think of John Deere, they might think of a corn field or a wheat field," Christensen told Farm Progress. "But we have a ton of products built specifically for high-value crops -- in California, Oregon, Washington, or in the Northeast, or citrus in Florida. They're built for crops that are very different than what the steel plow was invented for."
Push for efficiency
Deere has long touted its machines' versatility and durability, but the company's push in recent years has centered around efficiency. Its web-based John Deere Operations Center includes features such as a work planner, which enables customers to set up jobs for their employees during the day and send the data to the machines, Christensen said.
Last year, Deere entered an agreement with Smart Guided Systems to sell its Smart-Apply Intelligent Spray Control System for use with its tractors in high-value crop applications. The system is an add-on kit for towed air-blast sprayers, and company officials say the product can drastically reduce the potential for chemical drift and help decrease the amount of product being applied.
"The Smart-Apply system will help ensure that only the canopy gets sprayed, and it automatically adjusts spray volume based on plant density per nozzle zone," Christensen said. This feature saves input costs while contributing to environmental sustainability, he said.
Related: John Deere's latest purchase will move ag forward
Deere followed up earlier this year by acquiring Silicon Valley-based Bear Flag Robotics to accelerate autonomous technology on the farm. The Bear Flag team consists of agriculture professionals, engineers and technologists focused on autonomy, sensor fusion, vision, data, software and hardware, according to Deere.
The Bear Flag purchase was one of several recent acquisitions by Deere that enable the company to expand its product line for high-value crops. The company in 2016 acquired Monosem, a European maker of precision planters, then in 2017 purchased Mazzoti, a sprayer manufacturer based in Italy. Monosem and Mazzoti retained their names, trademarks and commercial agreements.
Here is a look at some of the new and updated John Deere tractors and other equipment displayed at the media field day. For details on all of Deere's products, visit deere.com.
Subscribe to receive top agriculture news
Be informed daily with these free e-newsletters
You May Also Like
---