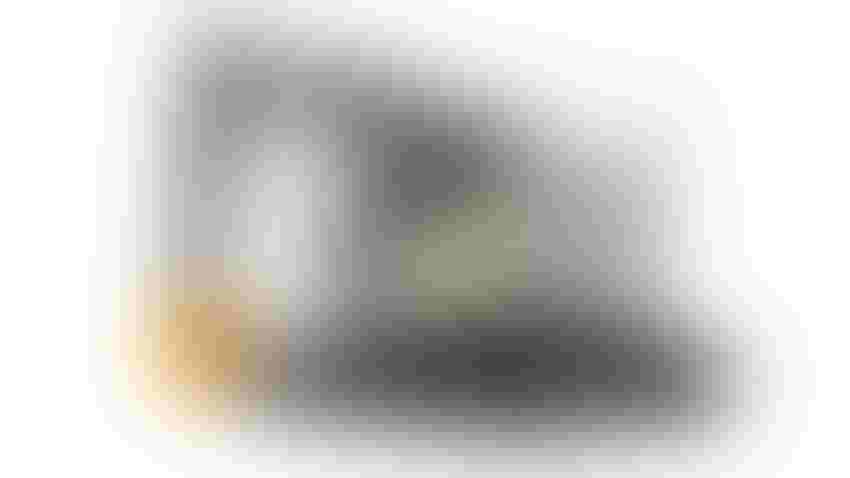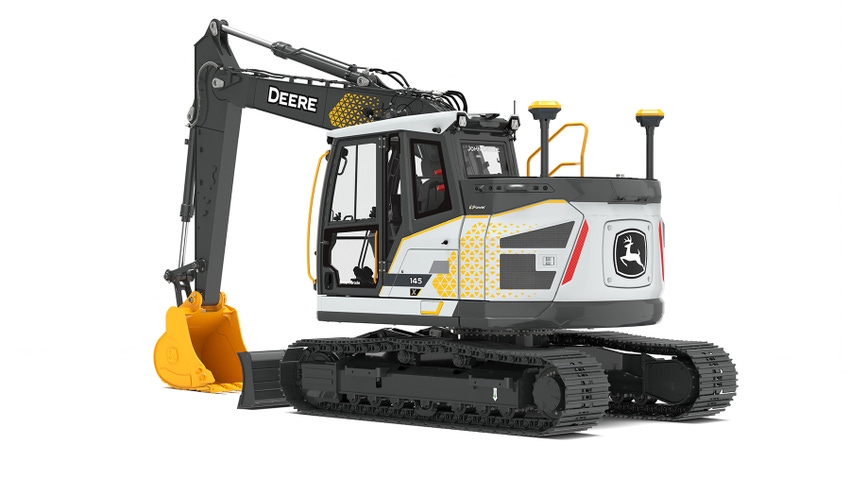 ELECTRIC EXCAVATOR: The 145 X-Tier excavator with electrical drivetrain was shown at this year's ConExpo in Las Vegas. Deere is planning to release its first all-electric, autonomous tractor by 2026.
Courtesy of John Deere
Whenever he talks about electric tractors, Jon Gilbeck always gets the inevitable question: When will big green tractors be electric powered?
Well, don't expect any battery-powered 7R or 8R John Deere tractors anytime soon, but you can expect a smaller electric-powered John Deere tractor in a couple of years.
Gilbeck, John Deere's construction equipment product management and electrification lead, says the company is aiming to produce at least one fully electric autonomous tractor by 2026.
Speaking at a recent media event at John Deere's Austin, Texas, area test farm, he said the company is taking a multipronged approach to alternative energy, as more customers want the company to develop "sustainable solutions" to power its fleet.
This includes the development of more energy-efficient diesel engines that will reduce fuel usage 5% to 10%, and the promotion of more alternative fuels.
"John Deere engines are 100% compatible with a drop-in renewable diesel production, as well as up to 20% biofuels," Gilbeck said.
But fully electric machines are on the company's wish list, too. Last fall, Deere bought a majority ownership stake in Austrian company Kreisel Electric, which has developed a proprietary battery cooling technology that it claims results in longer battery life and higher performance.
A press release on the Kreisel deal stated that Deere is planning to speed up battery production at Kreisel's facility in Austria, as well as opening a new facility at its own production facility in Saran, France, and adding a battery production facility in the U.S.
Gilbeck said that tractors and other machines that put out less than 120 hp are ideal for electrification because they are more optimized for the lithium-ion technology that is available.
"It's really because of battery density," he explained. "So, an example is an 8R tractor running at 75% load over 14 hours. In order to do that with full-battery electric, you'd have to have a tractor that's two times the size, two times the weight and four times the cost. And that really equates to 27 extended range Ford F150 trucks. So, that's not quite feasible with the technology today."
Along with the battery-powered ag machine, Gilbeck said the company is committed to developing at least 20 electric-powered construction vehicles by 2026.
Zimin Vilar, C&F battery electric platform manager, said electric battery power can be looked at in two ways: how much power needed for equipment to put out instantly, and the amount of energy needed for cumulative power during the day.
Based on data collected by the company and customers using its equipment, Vilar said the smaller the equipment, the less duty cycle, hence the smaller batteries needed to power them.
She said the company already has all-electric machines in the turf and residential application side.
But Deere will be several years behind other companies that have already developed their own all-electric tractors.
Monarch, of which CNH has a minority stake and a multiyear licensing agreement for its battery technology, recently rolled out its first all-electric autonomous MK-V tractor from the FoxConn assembly line in Lordstown, Ohio. The tractor is being sold exclusively in California, but the company hopes to sell nationwide by the end of the year.
Another company, Solectrac, is already selling three fully electric tractor models — ranging from 25 hp to 70 hp — at 85 dealer locations, mostly in the West and Northeast. The company is led by Mani Iyer, former CEO of Mahindra.
Still, few companies can match John Deere's scale and size, with thousands of dealerships worldwide and numerous manufacturing facilities, giving it the ability to scale quickly.
Subscribe to receive top agriculture news
Be informed daily with these free e-newsletters
You May Also Like
---