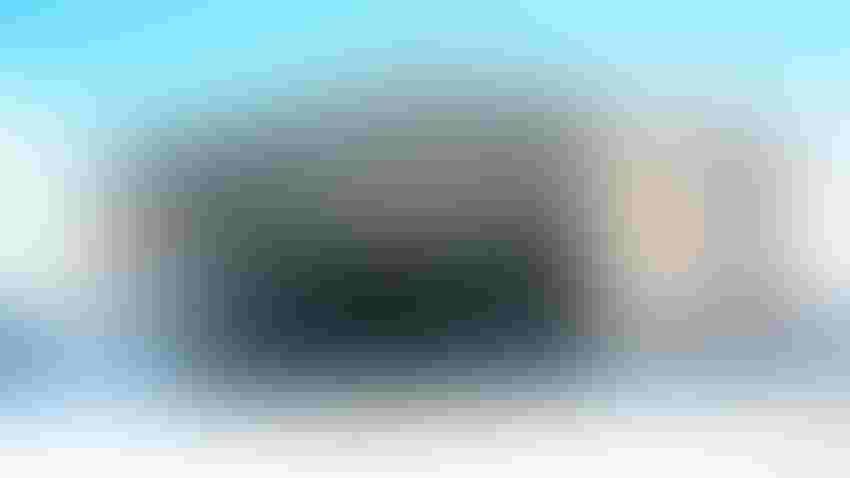 BIFOLD CHOICE: A farm shop could benefit from a wider door with a remote opening. This Schweiss door, installed at the Brian and Bruce Frank farm near Bird Island, Minn., offers easier access to the farm shop. Schweiss also offers hydraulic swing doors.
Courtesy of Schweiss Doors
When building a new shop, or upgrading an existing facility, consider the main door. Is it time to consider a swing or bi-fold door for that shop? And what are the considerations?
The sliding barn door, or even the conventional "garage door" does have its benefits, but moving to a swing door, or bifold, approach offers advantages over those more conventional approaches.
In discussions with manufacturers, there are some advantages for considering a move beyond conventional barn doors.
First, a single-panel door will seal better than a sliding door. It's possible to insulate those traditional doors — but that can add weight, making opening and closing more difficult.
Second, you can go wider with a single-panel swing door, or bifold door. Notes Jon Fehr, I-Beam Sliding Doors, Chenoa, Ill.: "You can fit a bigger door on a smaller wall. On a 60-foot building, we can put a 50-foot door."
Third, a swing or bifold door can be automated. "You can operate the remote from up to 1,000 feet away," says Mike Schweiss, Schweiss Door, Hector, Minn. There are benefits to that, including the need for less help when moving equipment in or out of the structure.
A fourth benefit of this single-panel or bifold approaches is that there are no door guides. "There's less going on to hold the door shut," Fehr says. "The security is better than a sliding door."
Fehr's company got its start making sliding doors, and it continues today. But a few years ago, I-Beam Sliding Doors innovated the swing door business by using a screw-jack approach, with an I-beam design to raise and lower a single-panel door.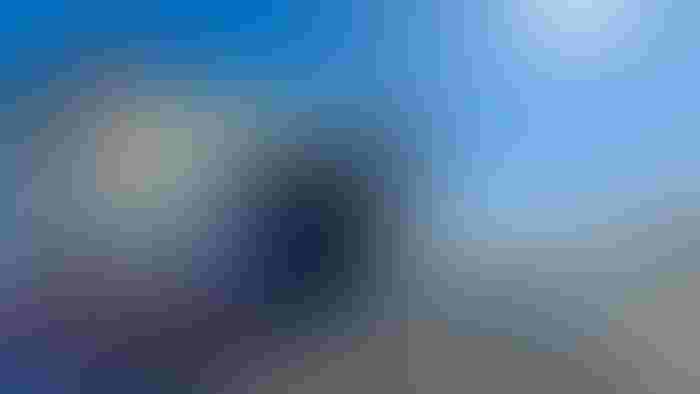 INNOVATIVE CHOICE: I-Beam Sliding Doors now offers an innovative swing-door design that doesn't use hydraulics to raise and lower the door. Instead, a screw jack controlled by a computer does the job. The manufacturer says the design incorporates a range of safety innovations. (Courtesy of I-Beam Sliding Doors)
Schweiss, long known for its belt-driven bifold doors, also makes single-panel swing doors. The single-panel doors use hydraulic cylinders to open and close. Schweiss notes that there are few limits on the size of single-panel or bifold doors for width — though a single-panel door does need more swing area ahead of the door for parking.
Making the decision
If you decide to upgrade to a swing or bifold door, you'll find they have fewer moving parts. Fehr notes that a sectional garage door has many pieces and while the industry has worked to reduce the parts numbers, it's still complicated to maintain. Sliding doors also have bearings and tracks to maintain. Swing and bifold doors have fewer parts to get the job done.
If you choose a swing or bifold door for that new shop, or to upgrade your existing shop, the conversation starts with your builder. Both Fehr and Schweiss note they provide detailed measurements and specifications a builder can use to set up the opening for these upgraded doors.
Both companies offer the proper headers and supports for their doors — a key for both new or existing buildings.
"The door discussion should be at the beginning of the conversation with your builder," Schweiss says. "Do you want a 60-, 70-, 80-foot door? We can make that, but start the conversation early." He says the company sends the specs for the customized door to the builder, including header locations, side columns and by-the-inch measurements.
And consider the features of the door. Each manufacturer has specific features. For example, Fehr says his motorized system uses advanced software to manage the door for raising, lowering and safety. "And we have optional battery backup, so you can raise or lower the door if the power goes out," he notes.
Schweiss adds that when thinking about a swing versus bifold door, consider the area in the path of the door. A bifold door takes considerably less "swing space" that a single-panel door. He adds that there's a myth about bifold doors, too.
"There's a myth that with a bifold door, you lose headroom," he says. "We hang our doors up and above the outside of the building, providing appropriate space."
Schweiss has experience installing its doors in unique spaces, from the Sacramento Kings stadium to a recent installation at a SpaceX facility in Cape Canaveral, Fla. Bigger doors offer options for a range of users.
Building the optimum shop space involves dealing with a lot of specifics, from heating to insulation to overall design. But access in and out of the building is a consideration, too. Consider your door options at building or remodeling time.
"These doors are an investment for the long-term use of the shop," Fehr concludes.
Learn more about hydraulic and bifold doors at schweiss.com And for the I-beam doors, check out ibeamdoor.com.
Subscribe to receive top agriculture news
Be informed daily with these free e-newsletters
You May Also Like
---