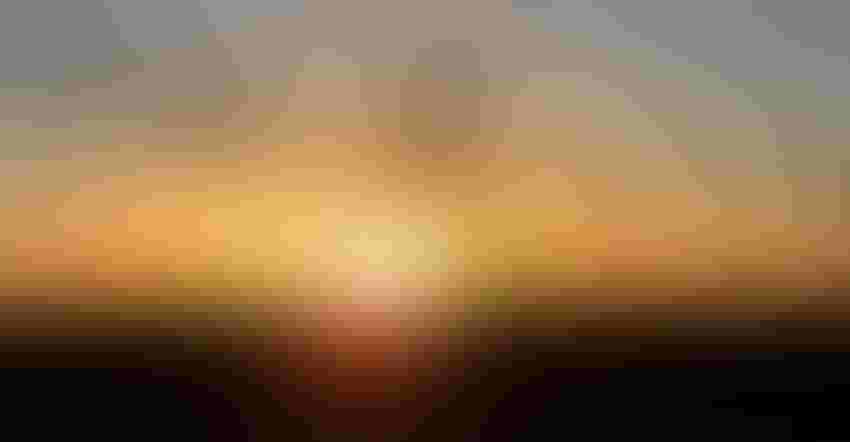 FUTURE CHALLENGE: Irrigation is getting increasingly more complex, challenging university Extension programs in many ways to promote irrigation water management. The issue was addressed at the recent decennial meeting of the American Society of Agricultural and Biological Engineers at the Irrigation Show.
Qnita/Getty images
The advance in irrigation water management over the past few years has been tremendous. The rising availability of sensors to help with scheduling, new science in ways to reduce water use while still getting top yields and advanced analysis are all offered to growers. Yet the move to irrigation water management and maintaining momentum in the future is a challenge.
During the 6th Decennial National Irrigation Symposium, held at the 2021 Irrigation Show, an article was presented showing new ways for extension to reach out to growers. The decennial symposium was delayed a year due to the pandemic, and even some presentations at the event remained virtual; but over two-and-a-half days, engineers explored a wide range of topics.
Yet how will farmers deploy all this new tech on the farm?
Daren Rudnick, associate professor and irrigation management specialist, University of Nebraska-Lincoln, presented information from an article titled "Innovative Extension Methods in the U.S. to Promote Irrigation Water Management." He notes that Extension educators work to "get irrigation water management information to stakeholders."
Rudnick worked on the engineering article with authors at UNL, Oklahoma State University, Colorado State University, Kansas State University, Auburn University and Texas A&M University. What they found is that the role of Extension will likely need to change to more tech ideas from test field to farm field.
The changing producer
"We have to rethink what we do with producers as the audience continues to evolve," Rudnick says.
Extension engineers know that future water availability concerns coupled with increased competition for freshwater resources will challenge farmers in the future. There are already significant technologies available to help with the issue, from advanced irrigation scheduling tools to sensors to remote sensing models. However, as the tech advances, it is not being widely adopted.
"The issue is very complex: Irrigation water management education does not work in one way," he says. "We have to look at innovative ways to reach the audience."
The article aimed to look at recent innovations and nontraditional Extension programs that promote the use of more efficient irrigation water management across the continental U.S.
Rethinking communication
What's happening, as Rudnick pointed out, is that Extension educators and engineers are getting more creative in the way they promote the use of new tech. They know communication works.
The paper points to two trends and how Extension may have had a role. The first was the growth of soil water monitoring in Nebraska, which rose from 6% in 1998 to 31% in 2018. The other was in Kansas, which had vast growth in scheduling using evapotranspiration data — rising from 7% in 1998 to 17% in 2018. In both cases, UNL and K-State promoted those practices, so Extension work did move the needle.
But today's farmers are changing how they want to get information, and how they take that advice and deploy it, Rudnick says. This is leading to new approaches to education.
Competitive programs like the Most Crop Per Drop program at the University of Arkansas, where farmers compete to show they can reduce water use.
Rudnick pointed to another approach — the TAPS program — which OSU, K-State and UNL use to help educate. TAPS, which stands for Testing Ag Performance Solutions, is a way for farmers to experience new technology for their farm.
In Nebraska, Rudnick says the program is a farm management competition where each "farm" on paper includes 3,000 harvested acres, where the farmer makes decisions. But those decisions are imposed on randomized plots held under variable-rate irrigation at the West Central Research, Extension and Education Center in North Platte, Neb.
"This is competitive-style engagement, where we're simulating a farm," Rudnick says. "This demonstration allows producers to decide the best management practices against peers using the tech available."
In this way, farmers can evaluate that new technology and see what works — and competition does get farmers more engaged. "They can see what worked and what didn't work in this demonstration," Rudnick adds.
The TAPS program has expanded from one competition with 20 participants to six competitions involving more than 160 participants from six states, and the program is expanding into Colorado. The program also involves more than 80 partners and sponsors to showcase technology. And the article's authors found that the program shows a high potential for individuals to learn and incorporate new ways of thinking about irrigation water management.
Certification approach
Another example cited in the article Rudnick presented is the Master Irrigator program, which has specific goals for participants but also involves 24 hours or training. The program was launched in Texas, Colorado, and Oklahoma — the High Plains region.
Those who take on the program do the extensive training, and through the program, producers connect for peer-to-peer exchanges as well. "They're working to maintain productivity on their land but maximize water use," Rudnick explains.
The training is intense, including work on everything from residue management to irrigation scheduling, from irrigation uniformity to using imagery. A certified Master Irrigator can also reach out to others to promote improved irrigation management.
In the Texas program — where 117 producers covering 354,000 irrigated acres have taken part — the program is moving the needle. The classes of 2016 and 2017 reported they were taking on one or more of the techniques taught, with 87% reporting increases in water use efficiency and 58% saying they've reduced relative water use.
These are just two examples of programs where Extension educators retooled their thinking to better reach a changing audience. Innovation isn't just happening on the farm.
About the Author(s)
Subscribe to receive top agriculture news
Be informed daily with these free e-newsletters
You May Also Like
---