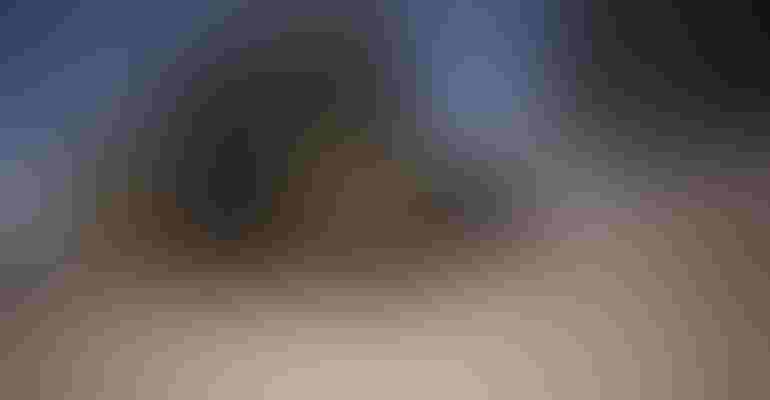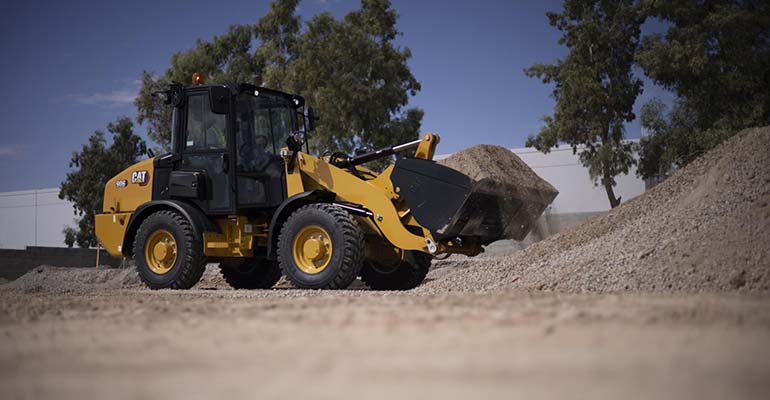 NEW COMPACT LOADERS: Caterpillar is launching three new compact wheel loader models with a range of user comfort and productivity features.
Courtesy of Caterpillar
The compact wheel loader is a popular machine in a range of industries from waste handling to landscaping. And in agriculture, these versatile tool carriers are a common sight on many operations. Caterpillar is raising the stakes with three new compact models bringing a lot of new features.
"This is the biggest change to these machines in 15 years," says Eli Abi-karam, product application specialist, Caterpillar.
Abi-karam presented the machine in a virtual event along with Jas Kundra, compact wheel loader sales and marketing manager. Abi-karam notes that there are three key areas where the new machines have received upgrades. He explains that the new machines now feature the full-size wheel loader cab on these compact machines; there are more features and options for the powertrain; and the hydraulics and machine structure have been modified to improve working capacity.
There are three new models – the 906, 907 and 908. The company will retain the original 903 in this part of the line, but the three new machines replace their predecessors.
Kundra climbed into the cab to show new features. The machines do maintain that two-door design, making it easy to clean the cab. The front wind screen is now a single piece of glass allowing 60% better wiper coverage.
"And you can make adjustments to upper and lower attachment kickout right from the cab," Kundra says. He adds that there is cylinder snubbing to provide the operator added protection. The in-cab programmable kickouts have high-definition rotary sensors mounted to loader arms to provide better protection from unwanted shock and vibration. Proper kickout operation can save up to 20% of bucket cutting edge life.
That cab also provides enhanced sound insulation, cutting in-cab sound to 71dB. Combine that with seat-mounted controls and these new machines boost operator comfort.
Powertrain improvements
The rear hood maintains the sloped design of previous models. Ali-karam says the new 2.8 liter engine is Cat designed and Cat assembled. The new engine has the same 74 hp output. "But there's more torque than the previous generation, providing more power," he says.
He also points out an auto-reversing fan for high-debris environments. Service access is like the previous model, but new LED lights have been added for improved visibility. There is an option for the powertrain providing a 25 mph top speed, which is up from 22 mph. That can reduce time moving from job to job, boosting productivity.
The three machines also get a boost in fuel tank size. The 906 gets a 30% increase and the 907 and 908 see a 12% increase in fuel tank size. This allows operators to work longer hours. Ali-karam noted that larger fuel capacity for the 906 will be valuable for agriculture – this is a popular machine size.
The new loaders now feature a standard pressure compensation valve allowing users to control implements and operate hydromechanical attachments seamlessly.
Ali-karam explains the previous models has a parallel or tandem valve. "With the pressure compensation valve, you get what is essentially the same system we have on larger machines," he says. "It uses the same software, and we're bringing that larger machine platform to the smaller machine."
He notes that customers unhappy with how previous models performed when using a tool that required power for rotary operation – brushes or snowblowers – will see an improvement.
Features for agriculture
"We have a lot of attachments for the agriculture and waste markets," Ali-karam says. "In the United States and Canada the focus is on skid-steer attachments. The interface and hydraulics are now in the same position relative to the attachment on a skid-steer."
The machines work with a wide range of tools including snow blowers, snow wings, snow pushers, ag bale spears, light material buckets and side-discharge buckets. "The side-discharge bucket is used to distribute bedding for ag applications," he says.
The 908M can also be optioned with a high-lift kit which he adds would be beneficial in ag applications where reaching over large trucks or feed systems can be a challenge.
The compact wheel loader offers skid-steer tool use while providing efficient material handling. Caterpillar has made "big machine" features part of the in-cab experience on these machines. You can learn more at cat.com
Subscribe to receive top agriculture news
Be informed daily with these free e-newsletters
You May Also Like
---